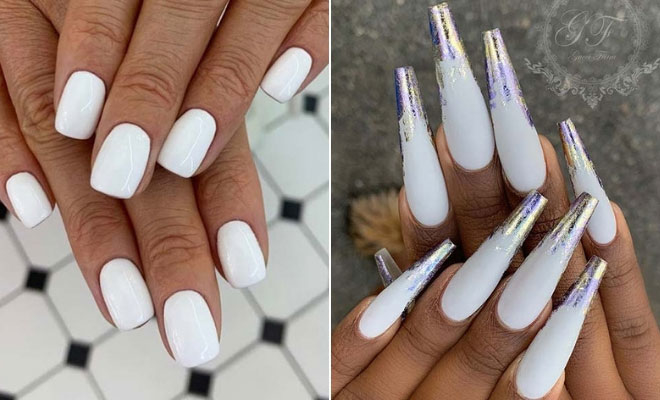 Instagram
Beauty
23 White Nail Designs That Are Always Trendy
By
|
There are so many different nail colors available and each one has many different shades. One color that is a must-have for your nail polish collection is white. White suits everyone, is easy to wear and it looks amazing during every season. You can have fun and bright white nails in the spring and summer and wintry white nails for the fall and winter. Not only that, but it can be elegant and it suits all other colors and nail art designs. With that said, we wanted to show you just how amazing white nail designs can look and have found 23 of the best ones. We have simple art, dazzling rhinestones, trendy patterns and more. Some of these can even be created by complete nail newbies. So, take a look and see what wonderful white nails you can find.
1. Simple White Short Nails
We would like to begin by showing you this simple white nail design. For this, the nails are painted white and are a short length. A mani like this is easy way to wear and it will suit everyone. You can easily recreate this look with a white nail polish and it will look stylish on any nail length and shape. This is a beautiful, chic and easy nail idea.
2. Beautiful Butterfly Nail Design
Butterfly nail art has become so popular and with designs like this, we can see why. Here we have long white nails and two nails on each hand are decorated with beautiful butterflies. This is a pretty and cute design. You can recreate this mani with any colored butterflies as all will compliment white. Butterfly nail stickers can be bought online or you can hand-paint them. Tutorials for butterflies can be found on YouTube. Many designs are painted with a thin brush.
3. Luxury White and Gold Mani
Give your nails a luxurious makeover with a nail design like this one. Two nails are simply white and the rest are decorated with gold. One nail is completely gold and the other two have trendy gold art. We love the white and gold combo, it is so stylish and glam. You can recreate this look or try your own white and gold art. White and gold is perfect for the summer.
4. Chic Chevron Nails
Next, we have a white nail design with chic chevrons. So, all of the nails are white and there is one accent nail. The accent nail has a clear chevron design. Similar nail art can be created by using nail tape that is placed on the nail in that shape. Place the tape on the nail and paint the whole nail. Then remove the tape and the clear chevron will be revealed underneath. You can buy nail tape online.
5. Floral Nail Idea
The next nail idea features beautiful flowers. Most of the nails are simply white and two nails on each hand feature trendy floral art. This is a fun, beautiful and unique mani. You can recreate this or use any colored flower. You can buy flower nail stickers online and use nail tape to create the black lines. Either use black tape and leave the tape on the nails or use it as a stencil or guide for the black polish.
6. White and Silver Nail Art
This is one of our favorite white nail designs! Here we have short white nails and some of the nails have an amazing silver glitter design. Silver glitter has been added to the nails in a unique zig zag shape with a black outline. It is such a cool and artistic idea with a little glitz. You can try a similar look or use any glitter color as all will compliment white.
7. Glitzy Rhinestone Design
Speaking of glitz, this next idea has plenty of that! This mani features long nails that are painted in a soft white shade. The nails are also adorned with two different sized rhinestones. We love the rhinestones because they are easy to wear and add glamour to the nails. A mani like this would be great for special occasions and for weddings. You can buy flat back rhinestones online and stick them on with nail glue.
8. White Nails with Black Dots
White nail designs can be worn all season long, and that's one of the reasons we like them so much. Next, we a have a cute and stylish nail idea. So, for this look, the nails are painted white and one nail on each hand also features a black dot. Black and white is such a chic color combo and even though the design is simple, it makes an impact. You can create the dot with a dotting tool or thin brush. Recreate this or put the black dots on all nails.
9. Nude Nails with White Tips
White nail designs can be classy and elegant or simple and easy. Our next idea features a classic white nail design. The nails are nude with brilliant white tips. This a popular mani worn by women of all ages. It is chic, easy to wear and timeless. You can try this more traditional version or use a softer white shade for the tips. The design can be worn on different nails shapes and you can be creative with the tips. Choose a thinner tip or try a trendy v tip. The ideas are endless!
10. Trendy White and Silver Nails
Another amazing color combination is white and silver. Don't just take our word for it, check out this next idea! The nails are all painted white and are adorned with silver nail tape. For this look, the tape has been used to create a different pattern on each nail. You can recreate the whole mani or just one design on all nails. Just buy some silver nail tape which can be found online, paint your nails white and stick it on.
11. White, Pink and Purple Nails
This next nail idea is so cute and pretty! Here we have white and short nails. Some have either a pink or purple tip and two nails have cuticle art in the same colors. It is a unique and creative version of nails with tips. This is a fun and bright look that will be great for the summer. The mani was created with polishes from the Nailfluencer collection. Recreate this or try using two different bright colors.
12. Glam White Nail Design
Glam up your nails with this next design. For this look, the nails are either painted a soft white shade or have white and clear ombre. We love this because clear nails are a must-have look. Some nails are also decorated with sparkly rhinestones. It is a stunning, glitzy and elegant idea. Try and recreate the mani or you can have just soft white nails with rhinestones.
13. Smokey Nail Art
If you like to wear modern, artistic and trendy nails, then this idea is for you! Here we have short white nails and three nails in total feature smokey nail art. The nail art uses warm shades of red to create a fiery smokey look. It is a unique manicure that will make you stand out from the crowd in style.
14. White and Clear Nails
Earlier in the post we shared a white mani with clear chevrons. If you loved the white nails with the clear art, then you need to take a look at this. Here we have another version but this time the nails are white with clear stripes instead of chevrons. As you can see, the different shape creates a completely different mani. This is a trendy, modern and super chic nail look. You can recreate this design with nail tape like we previously talked about but just make a stripe instead of a chevron.
15. White and Silver Nail Design
Next, we have another white and silver nail idea. Some nails are covered in silver sparkle while the others are white. One white nail is also adorned with rhinestones. This is a beautiful, glitzy and glam nail idea. It would be perfect for a special occasion where you need nails that will wow. You can also try a similar version with gold instead of silver.
16. French Ombre Stiletto Nails
Like the chic and elegant nail ideas? If so, you will love this! Here we have a different version of the classic French manicure and it is called French ombre. This design uses the classic colors but uses them with ombre art rather than the striking white tips. It is a soft and beautiful version and it will look amazing on everyone. A design like this can be as casual or glam as you like. You can wear it for work or your wedding, it is that versatile.
17. Stunning Stiletto Nails with Flowers
We love this next nail idea, it is stunning! This mani features sharp white stiletto nails. Some of the nails are also adorned with delicate and colorful flowers. It is a gorgeous design that will be perfect for the spring and summer. You can try a similar look or you can use any flower colors that you like. The design will also suit other nail shapes and lengths.
18. Stylish White Marble Mani
Another nail design that looks great with white is marble. Below is an image that shows how to wear marble art in style. The nails are long and some are white. While two of the nails have a grey marble design. It is a chic, trendy and modern look. You can even try to recreate this mani yourself as there are lots of easy to follow marble art tutorials online.
19. White Nails with Colorful Foils
The next nail idea features a stunning foil design. So, for this look, the nails are long and coffin shaped. The nails are also matte with colorful gold foils added to the tips. We love this because it is such a chic and glam way to add color to your white nails. Different colored nail foils can be bought online so you can create so many different versions of this mani.
20. Gorgeous White Nails with Rhinestones
If you love to wear rhinestones and have dazzling nails, then this idea could be perfect for you. This mani features white coffin nails and they adorned with rhinestones in different shapes and sizes. This is such a pretty design because one of the nails looks like it has a rhinestone heart. White nail designs are quite attention grabbing, and this design proves that.
21. White Chrome Stiletto Nails
Next, we have a trendy and statement making mani to show you. These nails are a must-have stiletto shape and all are white. The white color used here has a chrome effect. It is a simple but striking mani that will make you stand out in style. A white color like this will look amazing on all nail lengths and shapes.
22. White, Marble and Gold Nails
Love the marble designs like the one we featured earlier? If so, you need to see this next idea. Here we have another marble mani but this one has added gold foil. As you can see, the gold foil really jazzes up the marble and gives it a more glam and luxurious look. You can wear the other version of marble every day and add some gold if you are wearing the mani for a more special occasion.
23. Bold White, Black and Red Nails
The last nail idea features black and white nails. If you're not feeling all white nail designs, you could always add other colors to your look. Here is a great example. Some nails are black, some are white and red rhinestones have been added as well. There is even a pop of silver glitter on the black nails. The red, white and black color combo is so stylish and statement making. While the whole mani is sparkling and dazzling. This is a fun and glitzy look that is perfect for nights out and parties.
We hope you enjoyed looking at this white nail designs and have found one to try!