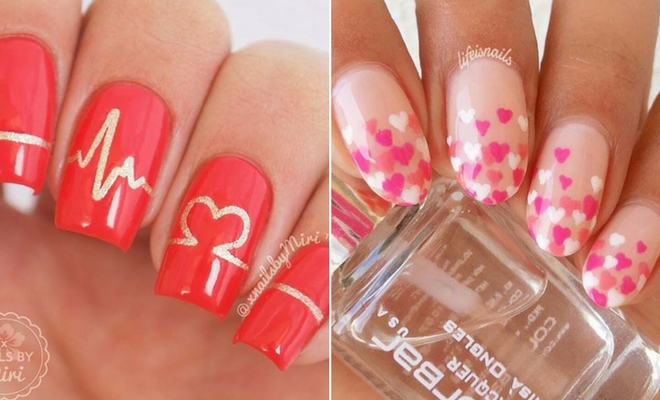 Instagram
Beauty
41 Cute Valentine's Day Nail Ideas for 2020
By
|
21. Stylish Love Heart Nails
Next on our Valentine's Day nail list is this beautiful heart design. The long nails have been painted in a natural color and have small multi color hearts on the top. You can use any colors for this, but you will need a stencil to keep the hearts looking neat. Art like this will take some time but it will be worth the effort!
22. Valentine's Day Nail Idea for Coffin Nails
Next, we have a super cute Valentine's Day mani to show you. Most of the nails have a different design that includes pink glitter, a clear nail with hearts and pink nails with hearts. It is a fun and pretty design that will suit anyone. Something similar can be created on any nail length and shape.
23. Elegant Heart Art
If you want nail art that celebrates the occasion but also want an elegant mani, then this is for you. Here we have shorter nails that are all light colors. There are also two accent nails with love heart art. It is a pretty and easy to wear design. This look was created with Essie polishes in colors Romper Room, S'il Vous Play and Coconut Cove. A heart stencil by The Base Coat was used as well.
24. Stiletto Nails with Heart Tips
Looking for a creative and stylish nail idea? If so, you will love this. These stiletto nails all have a different design that includes white and nude colors with glitter and rhinestones. The nail art that is our favorite is the nude nail with the red heart tip. It is such a simple and statement making idea. You can hand-paint this art with red polish. Avoid square nail shapes like the coffin though as it won't give you the heart effect.
25. Purple, Hearts and Glitter
Valentine's Day is associated with pink and red. However, that doesn't mean that you can't use other fun and vibrant colors. Purple is a great alternative and here is how to wear it in style. Two nails are purple, one is gold and the other is pink with purple hearts. This is a fun and easy to wear mani. You can view a short tutorial for this look and see what nail polishes were used on the Instagram page below.
26. Matte Red Heart Nail Design
This next nail idea is another one of our favorites! Here we have long coffin nails and each one has a matte red design. Some nails are all red, one is red with a nude heart and the other nail is nude with red hearts. It is such a stylish and romantic nail design. Recreate the whole look or just put one design on all nails.
27. Pink Nails with a Rhinestone Heart
Like your nails to have a little sparkle? If so, check out this mani. These nails are all light pink and matte. There are two accent nails and each one has half of a heart created with rhinestones. When the two fingers are put together, the heart becomes whole. It is a unique and pretty idea. You can recreate this look yourself and you can buy rhinestones online and stick them on with nail glue.
28. Hearts and Polka Dots
Next, we have a cute and easy to wear mani. For this, some nails are pink with polka dots and one nail is light pink with a heart in the center. The polka dots look so pretty with the heart. You can create neat dots like these with a dotting tool. There is also an image that shows you how to hand-paint the heart on the page below. You can check out what polishes were used there too.
29. Cute Pastel Valentine's Nails
Another color alternative you can use for Valentine's Day are pastels! This mani features nude nails with pastel colored hearts and as you can see, they look so stylish. We love this mani because it combines trendy colors with Valentine's Day. You can recreate this with pastel nail polishes and a heart stencil which can be bought online.
30. Cute Heart Nail Design for Short Nails
If you love Valentine's Day and all the classic decor and themes that come with it, then this mani is for you. Here we have short nails and each one is painted light pink. Each nail is also decorated with small red love hearts. This design uses the iconic colors and shapes of the occasion. You can recreate this or you can have one heart design on all nails. Maybe even have all pink nails with one red heart accent nail.