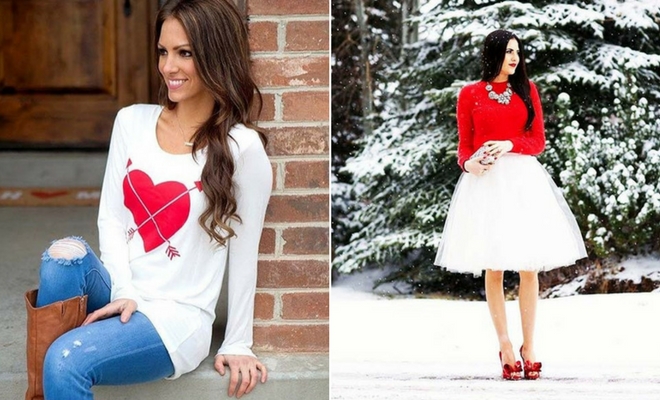 21 Valentine's Day Outfit Ideas
Valentine's Day is not far away. You may have been thinking about gifts and what you should do to celebrate the occasion, but have you thought about what you are going to wear? Valentine's is the perfect opportunity to dress up and wear a gorgeous outfit so make the most of it and dress to impress. To help you out we have found 21 of the best Valentine's Day outfit Ideas. Whether you are having a romantic Valentine's or fun Galentine's we have a look for you.
1. Red Heart Sweater
First up we have this cute heart sweater idea. The sweater features a red heart with two arrows going through it, there are many other designs available to. You could wear something like this casually with jeans or glam it up with a skirt and heels. A sweater like this is perfect for Valentine's Day and for the ladies who want to show they are celebrating.
2. Glamorous Skirt and Heels
If you are going out for a special date night, then try wearing a glamorous outfit like this one. The outfit features a frill hem pencil skirt with a sparkly top and gorgeous gold heels. You could recreate an outfit like this in any color but keep it light for an elegant look. A plain pencil skirt would look great to.
3. Trendy Red Dress
Valentine's Day is a day where you want to dress to impress. So, why not wear your trendiest dress. This next idea features a long, red cut-out dress that has been paired with nude high heels. A dress like this is perfect for the ladies who want to celebrate the day of love but in a stylish way that isn't over the top.
4. Romantic Dress
Your Valentine's outfit doesn't have to be red and full of hearts you could wear something elegant and feminine like this. The light, floaty and floral dress looks pretty and romantic. You could wear it for a dinner date or even for a night on the town. Dresses like this look beautiful in all colors.
5. Red Jumpsuit
If red is more your color then our next outfit idea is for you! This fashionista is wearing a stunning red and lace jumpsuit. We love jumpsuits because these are easy to wear one pieces that look glam and stylish. You could get just a red jumpsuit or find one with lace. Black jumpsuits also look very chic to.
6. Figure Hugging Dress
Looking for an outfit that will wow? Then this idea could be for you. Here we have a Bardot dress with a hem that sits just below the knee. A dress like this stylish and shows off your figure while keeping it classy. There are so many similar Bardot dresses available that feature long off the shoulder sleeves.
7. Cute Red Skirt
Our next outfit idea is so cute! The outfit features a gorgeous red skirt with a pretty blouse and red shoes. You could wear with tights like the spotty ones worn here or wear without. A red skirt can also be worn with any blouse. We love this outfit!
8. Chic Statement Outfit
You can subtly add in the holidays most iconic colors to your outfit. We can see in this outfit that a long black dress is being worn or skirt and top, that would be up to you. She is also wearing a stylish light pink and black jacket. The pink jacket is perfect for Valentine's Day but it isn't over the top. An outfit like this would be gorgeous on Valentine's day and long after.
9. Valentine's Red Dress
Make a statement in red this Valentine's Day in an outfit like this one. We love this outfit idea as it is perfect for the holiday and it will bring vintage glamour to the occasion. The dress and hair capture the pretty, feminine and elegant look of time gone by. A dress and hair like this would be a great choice for a special date night.
10. Relaxed Pink Casual Outfit
Planning a more relaxed Valentine's Day? Then this next look could be for you. This outfit is made up of a pink top, pink faux fur jacket and jeans. Something like this would be perfect for a daytime date, a day out with the girls or just to celebrate the occasion. Pink is a must-have for Valentine's Day.