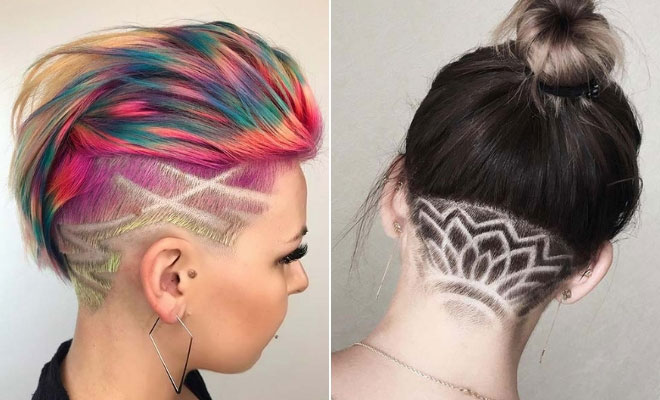 Instagram
Beauty
21 Cool Undercut Designs for Badass Women
By
|
11. Mandala Undercut Design
Our next idea is pretty and stylish. For this look, the hair is long on the top and there is a shaved section near the back of the neck. The shaved section features a stunning mandala pattern. We love the mandala undercuts as they are so trendy. You can also make your hair unique by creating your very own mandala.
12. Stylish Blonde Hair Idea
Next, we have a summery and trendy hairstyle. The hair is a beautiful brown color with blonde highlights at the front. It is short and choppy on the top layers and it is shaved around the back and sides. This is an easy to wear undercut style and the blonde will make your hair look sun-kissed just in time for summer.
13. Colorful Undercut Bob
Love the bold colors and trendsetting cuts? If so, this is perfect for you. Here we have a colorful bob with a unique short cut on one side. One side of the hair is also shaved too. The colors used on this bob are amazing and the cut makes the hair look very unique. You can recreate this look or try the cut in a different color. If you like the colors, then you can use them on shorter undercut styles too.
14. Swirl Pattern Undercut
A cool undercut pattern you could try is swirls! This hairstyle features long hair with a shaved section at the back of the head. In the shaved section. an amazing swirl design has been created. It is such a unique and stylish pattern. We love this look and think the swirls would look amazing with different vibrant colors. It could even be blue to look like the ocean. which would be perfect for those who love mermaids and the beach!
15. Cool Black Blue Hairstyle
The next hairstyle we have to show you features another trendy color and cut. For this look, the hair is shaved on one side, the shaved section is quite big so it does make a statement. The back of the hair is quite short with longer side bangs. The cut is a stunning black blue shade. It is a gorgeous hair idea and is perfect for those who like to stand out from the crowd.
16. Box Braids with an Undercut
Show off your cool side with an undercut like this one. The hair is styled into long box braids and there is a large shaved section on one side of the head. On the shaved section, two light lines have been created. This is a very easy and unique design that will suit everyone.
17. Cute Pink Haircut with an Undercut
Our next hairstyle will make you look pretty and trendy in pink! For this look, the hair is longer on the top and it is colored in a pastel pink shade, while the rest of the hair is shaved. Hair like this will be perfect for the spring and summer. This pink shade will look amazing on anyone but for a bolder hairstyle, you could try a more vivid pink color.
18. Undercut with Geometric Pattern
Geometric patterns are used to create trendy tattoos and stylish clothing. So, why not try adding them to your hair?! This hairstyle features a shaved undercut with a super cool geometric pattern. As you can see, it creates a trendsetting hairstyle. You can try this pattern or create a different one to make the hair unique to you.
19. Short Bob + Small Undercut
Next, we have a beautiful hairstyle with a subtler undercut. The hair is cut into a chin length bob and the shaved section of hair is small and not super short. With hair like this, you still get to try the trendy style but the shaved look won't be too much of a dramatic change. It is a chic look and it will suit everyone.
20. Trendsetting Undercut Design
The next hairstyle we have to show you features a trendsetting undercut. This undercut has a shaved pattern that looks like half of a flower. It is such a stylish and unique design. We think this undercut would look amazing with some added color to make it stand out but we love it as it is too. Recreate the short bob look or try a similar pattern with shorter hair.
21. Vibrant Purple Hair Idea
Last on our list of hair ideas is this bright purple look. The hair is very short around the sides and it is long at the back and on the top. This haircut is a stunning purple shade too. The color and cut is so trendy and it will make you stand out from the crowd in style. You can recreate this look or try any purple shade, a darker purple would look amazing too.
We hope you have found inspiration for your next hairstyle from these stylish undercut designs!