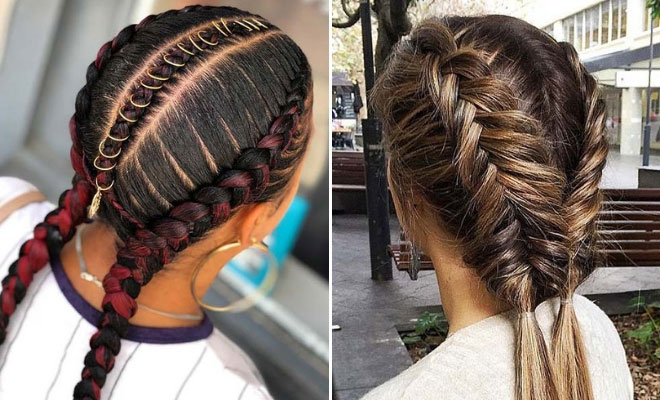 Instagram
Beauty
23 Two Braids Hairstyles Perfect for Hot Summer Days
By
|
11. Two Cornrows with Stylish Braided Pattern
Looking for hairstyle that is unique, trendy and bold? Then this is for you. Here we have 2 long side braids with small patterned braids in-between. The pattern used is so intricate and beautiful. You can recreate this style or you can use your own braided design. A hairstyle like this would look awesome with accessories too.
12. Cute Fishtail Braids
Our next idea features more fishtail braids. We love these braids because they are so versatile and can be styled in many ways. This look features two high fishtail braids that have been pulled loose. By pulling your braids a little, it creates a textured look and makes them appear bigger. You can view tutorials online to see how to create similar fishtail braids.
13. Double Braids with Stylish Small Braids
You can jazz up your double braid hairstyle by adding smaller braids. Here we have two sleek, long braids that have been styled with one small braid, there is probably one on each side. It is a simple but super stylish look. We think a hairstyle like this would look amazing with some accessories like beads or hair cuffs.
14. Corset Braids
Next, we have a cool and stylish idea and it is called a corset braid. It involves braids, one on each side of the head, with hair in-between the 2 creating a corset look. There are a few ways that you can create these braids. You can use ribbons, bobby pins or hair like featured to create the ties. There are tutorials online to help you try the hairstyle yourself.
15. Two Boxer Braids
Braids are a great choice for the summer and for vacations. The hairstyles look great and will also keep you cool in the hot weather as the hair will be neatly tied up. Here is a gorgeous braid idea, these are beautiful feed in braids also known as boxer braids. It is a simple and super stylish look that will be perfect for the beach. We love this hairstyle!
16. Purple Fishtail Braids
Earlier we featured pastel braids. If you loved that hairstyle then you may like this one too. This hair idea has a similar look with the loose fishtail braids but these are shorter and the hair color is purple. It just shows how versatile braids like these can be. A hairstyle like this unique and make you stand out from the crowd.
17. Pretty Braided Style
Our next idea features more double braids with a pattern in-between. Here we have two long braids that have smaller accessorized braids in the middle. It is such a trendy idea. You can recreate this look or you can try your own pattern. We think this idea is awesome because when you add a braided pattern, it makes the hairstyle unique to you.
18. Two Pull-Through Braids
Need a new way to style your braids? Then you need to check this hairstyle out. The hair features two pull-through braids – a pretty and creative idea to get your hair off your face in summer weather. Tutorial for this style is down below. These braids are not as hard as they look, we promise.
19. Two Big Braids with Hair Cuffs
Next, we have another accessorized look. The hair has been braided into 2 cornrows with two small braids on each side. These small braids have been accessorized with gold hair cuffs. It is such a stylish idea and you can recreate with gold or silver cuffs. You can also try to recreate the look with just one side braid.
20. Loose Double Braids
A lot of these hair ideas have featured tight braids but this next one has beautiful loose braids. Here we have two French braids that have been pulled loose and near the ends of the hair, the braids meet. It is a glam set of braids that would look amazing with accessories. You could jazz up these braids with pearls or flowers for a wedding.
21. Trendy Cornrows
Need a trendy new look? Then this hairstyle is for you. Here we have two long cornrow braids. As you can see, it is a simple style but it really makes an impact. It is an edgy and cool look that will suit everyone. Recreate these braids or you can try shorter ones too. We think these braids would look awesome in a different color too, maybe red.
22. Two Dutch Braids with Curly Ends
Our next idea features big, double Dutch braids. These start as the classic Dutch braids but half of the hair is left curly and loose. It is a unique and creative idea that is perfect for someone who wants to try something new.
23. Bold Red Braids
The last hairstyle we have to show you features bold red braids. It is a simple two braid style but the red color really makes a statement. This is trendy look that is perfect for anyone who wants hair that stands out. You can try this red shade or a different funky color of your choice.
We hope you have been inspired by our two braid hairstyles!