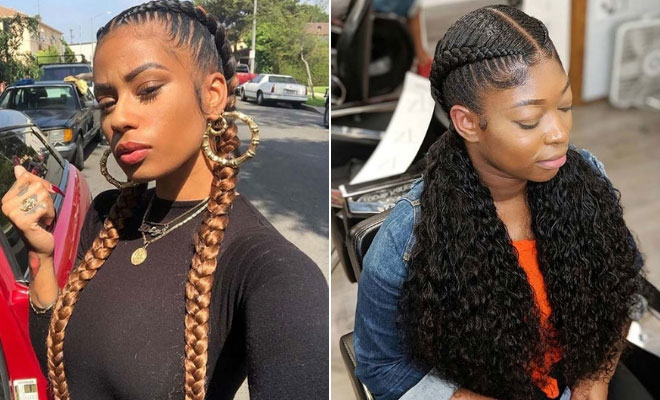 Instagram
Beauty
23 Stylish Ways to Wear 2 Feed in Braids
By
|
Feed in braids are one of the most popular protective styles. This is for many reasons and some of which are that they have a more natural appearance and have a cornrow look. Not only that, but these braids can be styled in so many different ways. So, to give you some hair inspiration, we have found 23 gorgeous ways to wear 2 feed in braids. These styles feature two long braids with added funky patterns and colors. There are also some simple and stylish versions. You will love these styles by the end if you didn't already. There is a hairstyle to suit all tastes and you can even try them all! Read on and take a look!
1. 2 Feed In Braids with Side Braids
First up we have two chunky feed in braids with smaller side braids. The smaller side braids are such a trendy and edgy pattern to add to the otherwise simple style. It is such a stylish look and best of all, this braided hairstyle will look amazing on everyone. You can try a similar hairdo to this or you could use smaller braids and maybe add one more. That would look awesome too.
2. 2 Feed In Braids with a Criss Cross Pattern
Another pattern that looks stylish with this type of braid is the criss cross. Don't just take our word for it, check out the style below. As you can see, the hair is styled into two long and sleek feed in braids with a criss cross pattern on either side. It is such a gorgeous pattern. You can find tutorials for criss cross braids online that can show you how to create the look.
3. Ombre Feed In Braids
We love this next hairstyle. Here we have two long and simple feed in braids. These braids start black and then change into a light brown tone which creates a trendy ombre look. The color change looks so beautiful with this type of braid and the ombre makes the hairstyle unique. You can recreate this version or you can choose any color for the ombre from more natural shades to vivid colors like blue.
4. Two Braids with Loose Curls
The next hairstyle is so beautiful! This look features sleek feed in braids that change to loose and curly hair about midway. The curls look so pretty with the braids and with a hairstyle like this, you get the best of both worlds. You can wear braids and loose hair too. This is a stunning hairstyle and you can view a short video which shows you how this look was created on the Instagram page below the image.
5. Simple and Stylish 2 Feed In Braids
If you need hair that is easy to wear and is stylish too, then this idea is for you. Here we have two simple and trendy braids. Most of the hair on the head is smooth except for the front sections which are braided. We also love the parting that has been created too. Hair like this will suit everyone and it is versatile so the style can be dressed up or down to suit any occasion.
6. Stunning Butterfly Braids
Looking for a hairstyle to wear at a special occasion? If so, this idea is perfect! For this look, the hair has been styled into stunning butterfly braids. So, the hair has two feed in braids at the front and they cross over at the back of the head. The loose sections of the braids are worn to the side as one braided ponytail. This hairstyle has been accessorized with gold cuffs. It is a gorgeous hairstyle and it will wow at parties or other events where you want to impress.
7. Chunky Feed In Braids
Next, we have a simple and stylish hair idea to show you. This time the hair is styled into two chunky braids with one side braid. So, it is like a subtler version of the side braid style that we shown you earlier. Hair like this ticks all the boxes – it looks gorgeous, is easy to wear and it will suit everyone. There is also some added color at the ends which really jazzes up the hair.
8. Multi Braid Hairstyle
The next hairstyle features another multi braid look. For this, the hair is styled into two beautiful braids with a smaller braid on the side. It is a pretty and trendy idea. This style looks effortlessly gorgeous. If you wanted a bolder version, you could add some ombre color. You could even add more side braids too.
9. Statement Making Ghana Braids
This hairstyle is another one of our favorites! Here we have chunky feed in braids where the hair is loose and curly midway. These Ghana braids are also accessorized with gold cuffs and cords too. It is a statement making hairstyle and the placement of the braids is amazing. Hair like this perfect for the ladies who like to be bold!
10. Stylish Braided Pattern
You can be as subtle or as bold as you like with your braided patterns. If you like to go all out with your hair, then this idea is perfect for you! This look features two long feed in braids with a trendy symmetrical pattern on the head. The braids are also accessorized with gold cuffs. It is a beautiful and unique hair idea that will make you stand out from the crowd in style.