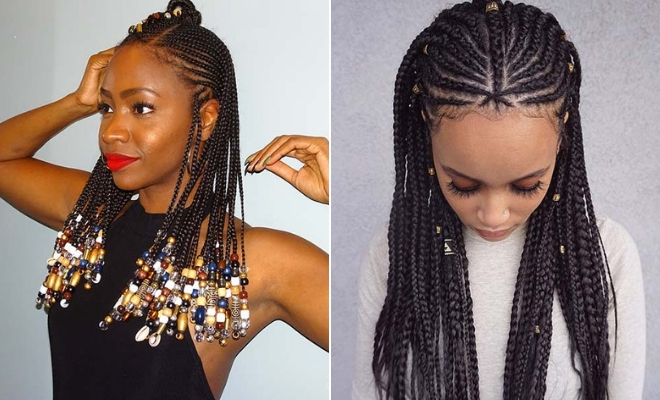 Instagram
Beauty
63 Badass Tribal Braids Hairstyles to Try
By
|
21. Fiery Tribal Braid Hairstyle
Our next idea features fiery tribal braids. The braids have a warm copper tone weaved into them. There are also beautiful accessories. A hair color like this is perfect for the fall. You can recreate with or without the accessories. The color is stunning and will suit every skin tone.
22. Braided Bun with Chunky Loose Braids
Love braided buns? Then this hairstyle is for you. Here we have a high braided bun with two chunky loose braids at the sides. This is a stunning hairstyle that will let out your inner goddess. Tribal braids like this will look amazing for any occasion, from a night out to a formal event.
23. Patterned Braids with Beads and Gold Accessory
The next tribal braided hairstyle we have to show you are these braids with beads. The braids have a creative and trendy pattern with a stunning gold accessory. Each braid also has pretty beads. You can recreate this look with any beads.
24. Tribal + Box Braids
Next, we have a stylish braided look to show you. Here we have long tribal braids with a beautiful pattern. We love these braids because they are so easy to wear and will suit everyone. Recreate these braids or you can try a similar pattern with shorter braids too. A bob would look cute.
25. Sky High Ponytail
Want a trendy and statement making hairstyle? If so, this could be perfect for you! This look features tribal braids that are styled into a sky high ponytail. There is also a loose braid left on one side and the hair is accessorized with beads and cuffs. It is an awesome hairstyle that will make you stand out from the crowd in style.
26. Long Tribal Braids with Beads
If you love to accessorize, then consider a hairstyle like this one. The hair is styled into long tribal braids with a trendy pattern. These braids are also accessorized with large statement beads. We love this look because the beads are so unique and beautiful. You can recreate a similar hairstyle or try your own bead design to show off your individual style.
27. Bold Blue Braids
Make a statement with hair like this! Here we have stunning tribal braids and the braids are different blue shades. The combination of light and dark blue is just gorgeous. The braids are styled into a high bun too. We love this hair idea because of the color, blue will look amazing on anyone. Recreate the bold blue bun or try loose long braids. Either way, it will look gorgeous.
28. Half Up, Half Down Ponytail
Another cool hairstyle that you can try is a half ponytail. Here is a trendy example. The tribal feed-in braids are long and half of the braids are left loose and half are put up into a ponytail. This is a cute and easy to wear style. For this look, the hair has accessories but you can recreate with or without beads and cuffs.
29. Long Blonde Braids
Thinking about trying a new hair color? Then check out these braids. These braids a sleek and long with a beautiful pattern on the head. The braids are also a mix of colors including blonde and a warm darker shade. We love these multi tone braids and colors like these will be perfect for the summer. Recreate these braids or you can try a different multi tone look in any color from natural colors, to vivid and vibrant shades.
30. Glam Tribal Braids
Glam up your look with our next hair idea! Here we have beautiful tribal braids with a cute bun and loose curly hair. This is one of our favorite hair ideas because it includes some of the most stylish looks all in one hairstyle. Something like this would be perfect for a special occasion or for the events where you want to impress.
Here's a YouTube tutorial for the look: