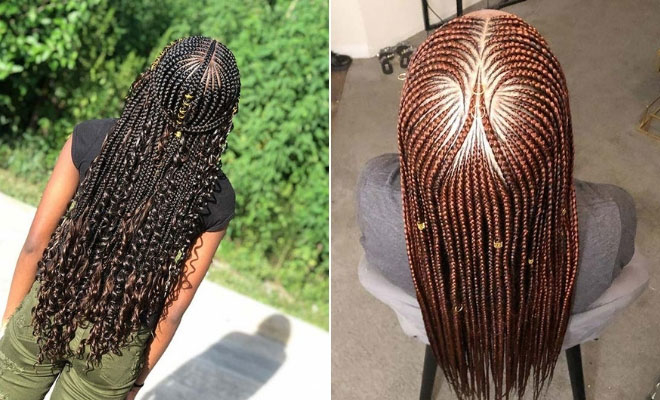 Instagram
Beauty
25 Cool Ways to Wear 2 Layer Braids This Season
By
|
Searching for a new black braided hairstyle? If so, we are here to help. Today, we are bringing you 25 cool ways to wear 2 layer braids. Two layer braids are gorgeous and you can create so many different stylish hairdos. So, take a look and find your new protective hairstyle. We have something for everyone from braids with bright colors, to accessorized styles, as well as some trendy braided patterns. Make sure to check these out and find braids that will transform your look! We think they all look amazing and you won't be able to decide which one to try first.
1. Beautiful 2 Layer Braids
First up we have these beautiful two layer braids. Most of the braids are chunky and some braids are very thin which creates a stylish pattern. The length of the braids are gorgeous and they really glam up the hairstyle. Overall, this is a simple and stunning style that can be worn by anyone for any occasion.
2. Trendy Zig Zag Hairstyle
If you want to try a trendy new hairstyle, then this could be perfect for you. Here we have very long two layer braids and the hairstyle is finished off with a zig zag parting. As you can see, the hairstyle is simple but that zig zag parting really jazzes it up. It is such a cool and edgy look. You can recreate this or you can try shorter braids. A zig zag bob would be cute.
3. Feed in Two Layer Braids
Give your hair a glam makeover with braids like these! This look features long braids that are a warm and light brown shade. What we really love is the actual style. Having half of the braids swept up like this is just a pretty and stylish way to wear your hair. A hairstyle like this is versatile and it can be worn anywhere from work to a night out. Recreate this hairstyle in any color if the brown tone is not for you.
4. Chunky 2 Layer Braids
Next, we have an easy to wear style. Here we have long and chunky braids with a simple braided pattern. This hair just looks effortlessly stunning. Try the longer braids for a more glam look or you can try the same braids in a shorter length for a trendy style. We think these braids would look amazing in another color too. Maybe a red or burgundy. So, you could try different colors too.
5. 2 Layer Braids with a Gorgeous Pattern
Love to wear trendy braided patterns? If so, this is for you. This hairstyle features middle part feed in braids with a gorgeous pattern. As you can see, the braids look amazing and they really make a statement. Hair like this is perfect for those who want to be bolder with their braids.
6. Long and Stylish Braids
The next hair idea features another long braided look. This time, the braids are super long with a stylish braided pattern. It is a trendy style that will really update your look. You can keep the hair simple like this or add some accessories. Some gold hair accessories would look stunning with braids like these.
7. Dark Blue Braids
This next hairstyle is another one that is simple and easy to wear. The 2 layer braids are long with a subtle braided pattern. This is a glam and elegant style that will suit everyone. If you prefer bolder styles, then you can add some lighter color or accessories. Ombre color would look gorgeous!
8. Bold and Long 2 Layer Braids
We love this next hair idea! Here we have long two layer braids. These braids have a parting that goes around the head instead of straight down as you would usually see. The braids also start black, then blend to red and then finally to white. The color combo is amazing and the whole style makes such a statement. This hairstyle is great for the ladies who want to give their hair a bold makeover.
9. Chic Braids with Accessories
Next, we have long, sleek and chic braids. These braids are quite thin with a center parting. It is such a glam and pretty look that will suit everyone. If that wasn't enough, the braids are also accessorized with wooden hair beads. We love the wooden hair accessories because they look so stylish and natural. This is a beautiful hairstyle and you can recreate this or try the braids with different accessories.
10. Multi Tone Layer Braids
This next hairstyle is another one of our favorites! Here we have 2 layer braids that are multi tone. So, one layer is a warm brown shade while the top layer of braids start black and then change to blonde. The color change is stunning and it really shows off the layered look. This hairstyle would be perfect for the summer. Try a similar style or you can choose two different colors. Maybe go for more vivid and vibrant colors.