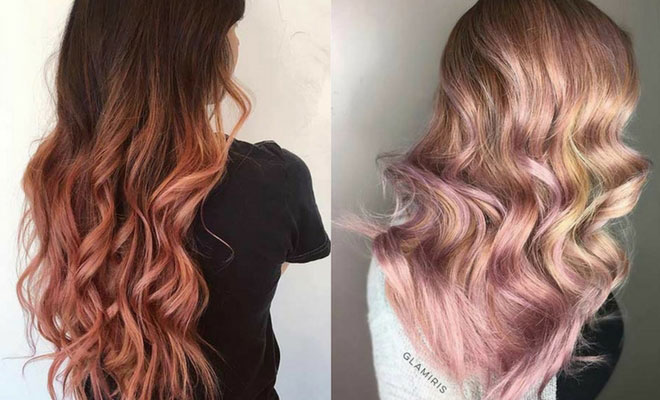 Instagram
Beauty
43 Trendy Rose Gold Hair Color Ideas
By
|
11. Bob Style
Short hair also rocks this rose gold beauty on a brand new level. If we were to describe this look in one word, it would be FIERCE! It'll fade wonderfully to a dusky-pink shade, and the darker roots will just add to the intensity over time. The edgy cut just adds to the appeal, of course, a 'Lob' (long bob) with length at the front and kept shorter at the back. Flicking the hair over to one side like you can see helps to make it more 'asymmetrical', a very modern and edgy look.
12. Subtle Rose Gold Hair
If you want to achieve these beautiful rose old hair looks yourself at home, there are a lot of things you'll need to bear in mind. That's why we would always suggest going to a hairdressing salon to achieve it. The pre-treatments will include bleaching and lightening, and this will have a detrimental effect on your hair – drying it out and causing it to become brittle and broken. Conditioner will be your best friend with a look as bold and bright as this, and a spray-on / leave-in conditioner can work wonders. May we suggest one containing an ingredient called Argan oil? We've had great results with it!
13. Rose Gold Hair Painting
One thing you should definitely bear in mind when trying to achieve these rose gold hair ideas is that the colors you buy on the high street are usually just temporary colors. They are designed to wash-out over time. A look as bright and beautiful as this one will need regular maintenance. You will need to take into consideration the amount of time you'll need to spend revitalising your 'do. You may even want to consider throwing some of your color into the shampoo and conditioner you're using. This trick works in much the same way as using a color-build up product such as pink shampoo or conditioner, or any other color.
14. Dusty Rose Gold Balayage
A great way to rock these rose gold hair color ideas is with a look like this one. The natural blondes and deeper browns have been cleverly hand-painted alongside sparkling rose gold sections, bringing together a subtle look that has a bunch of different shades thrown in. Beautifully bold, but it still looks natural enough to wear on a daily basis. It's like ombre but with an oomph, and what's not to love about that?
15. Touch of Rose Gold
When it comes to taking care of your rose gold hair color ideas, you will need to take a good look at the ingredients within the products you're using. For example, if you see 'sulfates' in your shampoo, avoid using it and instead look for something that says, "sulfate-free". It won't take long for this shade to fade, especially if you're a regular hair-washer, but sulfates in your shampoo and conditioner will cause your color to fade much quicker. Over time it'll cost you a fortune in touch-ups and salon trips.
16. Dark Rose Gold Ombre
If you've had a blonde balayage at the bottom of your dark hair, why not liven things up for a while? If you're bored of the blonde, and you've had enough of caramel balayage looks, adding a pop of color might just be the trick to bring a brand new spin on things. Simply add a toned down red mixed with the pink to the blonde at the ends of your natural balayage look, and you'll have something that definitely rocks! Everyone will be asking where you got it.
17. Another Gorgeous Balayage Work
Once you've gone to the salon and you're happy with your rose hold hair color, it's time to go shopping for some brand new hair products. You'll need to use a shampoo and conditioner that is specific to coloured hair if you want it to last for a while. It's always a great idea to buy one specific to your hair colour. This is actually getting easier with pastel shades. There are plenty of toners and shampoo / conditioner products that help to 'build up' the product over time, giving you an added boost when you need it.
18. Textured Lob + Rose Gold Balayage
Before you opt for a great color change, such as looking towards these rose gold hair color ideas, make sure you have hair that is in good condition. If your hairdresser suggests a good cut or trim beforehand, listen to them. Having those dead ends may add a few inches to your locks, but it'll also suck the good stuff out of your hair. The good quality hair won't get as many nutrients because the bad quality hair is sucking them all out. What's the point in that? It's a much better idea just to cut those dead ends off first. It'll also help your hair to grow longer in the long-run too!
19. Beautiful Highlights
One thing that's shown to be very good at revitalising colored and heavily treated hair is a protein mask. There are plenty on the market these days, and when you consider that hair is made up of proteins, it just makes sense to throw some nourishment into the mix. When your hair feels scratchy and like straw after a bleach or color session, the protein in the mask can help to make it feel softer. It'll also help to boost hydration levels, something necessary for colored hair.
20. Peekaboo Rose Gold Highlights
When you consider that many of the peach and pink dyes you can get these days are either temporary or semi-permanent, a peekaboo look like this is much more easily achieved. You can put this in your hair on a Friday night, have a great time at whatever occasion you wanted the hair for, and then wash it out thoroughly on Saturday and then Sunday, for it to be faded enough to head back to work on Monday. These temporary and semi-permanent colors are a great way for you to experiment with looks you wouldn't normally be brave enough to try. You can also incorporate your new tones and shades in with your existing natural color, making these rose gold hair color ideas easy to wear on a daily basis.