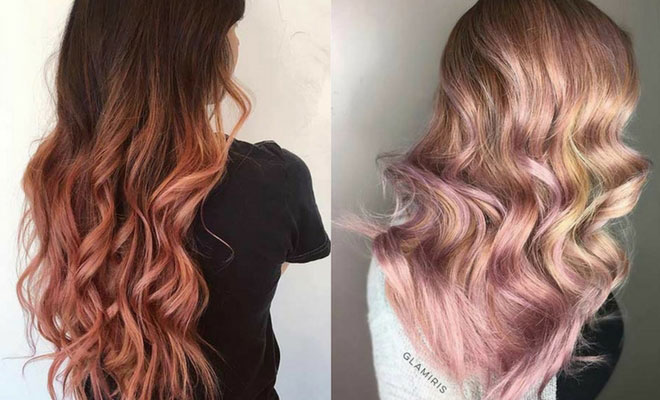 Instagram
Beauty
43 Trendy Rose Gold Hair Color Ideas
By
|
Sienna Miller recently rocked the rose gold hair trend, and because it's been seen in Hollywood, we all want a piece of the action. Lauren Conrad opted for a rose gold dip dye, Ellie Goulding went a more pastel / pinky shade of rose gold hair, and even Katy Perry has had a go at it.
It's time for you to take the leap. If you're looking for a little more rose gold hair inspiration, you might want to take a peek at some of these …
1. Rose Gold Balayage
The rose gold balayage look is one of the easiest. You get to rock the newest on-trend shade without committing to the colour all over your locks. The spiral waves help to show off all the shades in your new 'do, and it's a super easy look for when you don't want to mess around too much with heavy-duty, high maintenance roots. When you head to your hairstylist, make sure you ask for a 'brunette to rose gold balayage'. Give it a couple of hours with a talented stylist and you could have a beautiful new look like this one.
2. Rose Gold Highlights
When you don't want a balayage, why not opt for rose gold highlights? Highlights work more at the top than at the bottom like you'll see with a balayage style, but they are more recognisable when you're growing them out. Roots with highlights are harder to maintain than with the darker, more natural balayage dip-dye. The latter is also easier to achieve with a more natural, hand-painted finish.
3. Rose Gold Highlights on Lighter Hair
If you're looking for an all-over rose gold look you should be aware that this colour won't last as long as some of the other shades you may have worn. This rose gold lob is a prime example – it'll fade a lot quicker. It's a pastel shade which means it automatically fades much quicker. You'll probably be looking at re-doing your shade every 5 to 7 washes. This will all depend on how well your hair takes to the new shade.
4. Rose Gold Lob
Before you go ahead and put your rose gold hair color ideas into practice, do your research. If you do, you'll learn that you should be applying deep conditioning treatments to your hair for at least three or four weeks before the appointment is booked. That bleaching and lightening won't be good for your hair. By making sure it's in good condition to start with, the negative effects will be minimal. The healthier your hair is when you start, the healthier it'll look when it's finished. Everyone knows that bad-condition colored hair just looks awful. Do your prep work, ladies!
5. Curly Style
Just because you have crazy curly hair doesn't mean you can't play around with color too. In fact, there's nothing we love more than this curly style of rose gold, one that some people might find too unmanageable. Luckily we've got some tricks up our sleeve… Coconut oil is great for everything these days. If you apply a deep-conditioning coconut oil hair mask to your hair BEFORE you decide to have lightening treatments, you'll find your hair will be much more manageable afterwards. Coconut oil is now a beauty staple as far as we are concerned.
6. Rose Gold Ombre on Dark Hair
Dark hair looks amazing with a contrasting pastel shade, and this rose gold ombre on dark hair is literally #hairgoals! The good news about this is that you will only be lightening the ends of your hair. The even better news about this is that it doesn't matter when your roots grow out. In fact, in many cases, the roots just add to the appeal. Have a look at the celebrities these days – they've all got dark / alternate / contrasting colored roots these days. It's the 'in' thing!
7. Light Rose Gold Hair
Just because Emma Roberts has a bright shade of rose gold hair doesn't mean that you need to. Sometimes you may need to play around with new shades and tones, especially if you have a particular dark or light complexion. You should be working with your hair colourist to find a shade that matches your skin tone, not one that means you need to slap on a few extra layers of makeup just to make it work. This is quite a light color of hair to pick, and with a light complexion you may find that you look a little washed out. If this is the case for you, warmer tones and slightly deeper shades might work better.
8. Fall Rose Gold
This look is perfect for Fall – subtle, discreet, beautiful, and combining all our favourite colors of the season – russet browns and reds with caramel blondes. This might just be the ultimate September / October shade… If you want to recreate this look, ask your hairstylist for a subtle balayage rose gold blend at the bottom, leaving the roots natural and dark. When your natural roots come through, they won't be so obvious (especially if you have darker hair anyway), and it's a style that will last. You can get away with leaving it an extra couple of weeks between salon appointments.
9. Dusty Rose Gold
Rose gold hair is beautiful, so it's no wonder that every celebrity is jumping on the bandwagon. Incorporating mixes of red, blonde and pink together has never been so much fun. Although you should probably be wary of the ginger-factor when it fades. Peachy-pink shades will look more orange as they lighten and fade, although there are things you can do to stop the fade from happening so quickly. Starting with a good colour, and a good colourist, is always a good idea. You can top the colours up yourself at home, but getting that initial perfect first look is often the hardest part.
10. Blonde & Rose Gold
Blonde and rose gold hair is the perfect combination as far as we are concerned, and blonde hair is actually the perfect base for any pastel pop. This peachy-pinky one is an absolute winner, natural enough to fit in, but beautiful and bold enough to stand-out, all at the same time. Fading out this rose gold look is easier when you go for a more pastel-pink than red/orange tone. We would also suggest using a silver shampoo as you're trying to fade it out too – it makes the 'pastel-ness' last a little bit longer.
11. Bob Style
Short hair also rocks this rose gold beauty on a brand new level. If we were to describe this look in one word, it would be FIERCE! It'll fade wonderfully to a dusky-pink shade, and the darker roots will just add to the intensity over time. The edgy cut just adds to the appeal, of course, a 'Lob' (long bob) with length at the front and kept shorter at the back. Flicking the hair over to one side like you can see helps to make it more 'asymmetrical', a very modern and edgy look.
12. Subtle Rose Gold Hair
If you want to achieve these beautiful rose old hair looks yourself at home, there are a lot of things you'll need to bear in mind. That's why we would always suggest going to a hairdressing salon to achieve it. The pre-treatments will include bleaching and lightening, and this will have a detrimental effect on your hair – drying it out and causing it to become brittle and broken. Conditioner will be your best friend with a look as bold and bright as this, and a spray-on / leave-in conditioner can work wonders. May we suggest one containing an ingredient called Argan oil? We've had great results with it!
13. Rose Gold Hair Painting
One thing you should definitely bear in mind when trying to achieve these rose gold hair ideas is that the colors you buy on the high street are usually just temporary colors. They are designed to wash-out over time. A look as bright and beautiful as this one will need regular maintenance. You will need to take into consideration the amount of time you'll need to spend revitalising your 'do. You may even want to consider throwing some of your color into the shampoo and conditioner you're using. This trick works in much the same way as using a color-build up product such as pink shampoo or conditioner, or any other color.
14. Dusty Rose Gold Balayage
A great way to rock these rose gold hair color ideas is with a look like this one. The natural blondes and deeper browns have been cleverly hand-painted alongside sparkling rose gold sections, bringing together a subtle look that has a bunch of different shades thrown in. Beautifully bold, but it still looks natural enough to wear on a daily basis. It's like ombre but with an oomph, and what's not to love about that?
15. Touch of Rose Gold
When it comes to taking care of your rose gold hair color ideas, you will need to take a good look at the ingredients within the products you're using. For example, if you see 'sulfates' in your shampoo, avoid using it and instead look for something that says, "sulfate-free". It won't take long for this shade to fade, especially if you're a regular hair-washer, but sulfates in your shampoo and conditioner will cause your color to fade much quicker. Over time it'll cost you a fortune in touch-ups and salon trips.
16. Dark Rose Gold Ombre
If you've had a blonde balayage at the bottom of your dark hair, why not liven things up for a while? If you're bored of the blonde, and you've had enough of caramel balayage looks, adding a pop of color might just be the trick to bring a brand new spin on things. Simply add a toned down red mixed with the pink to the blonde at the ends of your natural balayage look, and you'll have something that definitely rocks! Everyone will be asking where you got it.
17. Another Gorgeous Balayage Work
Once you've gone to the salon and you're happy with your rose hold hair color, it's time to go shopping for some brand new hair products. You'll need to use a shampoo and conditioner that is specific to coloured hair if you want it to last for a while. It's always a great idea to buy one specific to your hair colour. This is actually getting easier with pastel shades. There are plenty of toners and shampoo / conditioner products that help to 'build up' the product over time, giving you an added boost when you need it.
18. Textured Lob + Rose Gold Balayage
Before you opt for a great color change, such as looking towards these rose gold hair color ideas, make sure you have hair that is in good condition. If your hairdresser suggests a good cut or trim beforehand, listen to them. Having those dead ends may add a few inches to your locks, but it'll also suck the good stuff out of your hair. The good quality hair won't get as many nutrients because the bad quality hair is sucking them all out. What's the point in that? It's a much better idea just to cut those dead ends off first. It'll also help your hair to grow longer in the long-run too!
19. Beautiful Highlights
One thing that's shown to be very good at revitalising colored and heavily treated hair is a protein mask. There are plenty on the market these days, and when you consider that hair is made up of proteins, it just makes sense to throw some nourishment into the mix. When your hair feels scratchy and like straw after a bleach or color session, the protein in the mask can help to make it feel softer. It'll also help to boost hydration levels, something necessary for colored hair.
20. Peekaboo Rose Gold Highlights
When you consider that many of the peach and pink dyes you can get these days are either temporary or semi-permanent, a peekaboo look like this is much more easily achieved. You can put this in your hair on a Friday night, have a great time at whatever occasion you wanted the hair for, and then wash it out thoroughly on Saturday and then Sunday, for it to be faded enough to head back to work on Monday. These temporary and semi-permanent colors are a great way for you to experiment with looks you wouldn't normally be brave enough to try. You can also incorporate your new tones and shades in with your existing natural color, making these rose gold hair color ideas easy to wear on a daily basis.
21. Rose Gold Hair with Ribbons of Baby Pink
This baby pink / rose gold look is like adding highlights, but instead of subtle blondes or light-bouncing brunettes, a touch of color really brings the look to life. You'd certainly look at this look twice in the street if it were to pass you by. Having vertical stripes like this can also hep to give the illusion of longer hair when you've gone for the chop. You can also add some textured layers at the end to add a 3D feel. That's what highlights are meant to do after all.
22. Short Bob Style
We love bobs, and we love braids. We also love rose gold hair colors, so when you think about it, this look is simply perfect. Going for the chop is a really brave move, too brave for some women, although there are a lot of benefits to having your hair cut super short. It gives you a chance to 'start again' – chopping the dead ends and split-ends, allowing the healthy hair at the top to soak up all the nutrients and hydration it needs.
23. Rose Gold Metallic Lowlights
This is such a beautiful look, and one you can easily achieve at home with the use of hair chalks. These are exactly as the name suggests … chalk that you rub onto your hair to give it a patch of color. If you want a rose gold tint for just one night only, hair chalks are the perfect way to do it. You simply wash them out when you're done with them. No one would ever know the riotous weekend you had!
24. Beautiful Rose Gold Hair with Loose Waves
Glam up your look with a hairstyle like this one! The hair featured here starts off in a light brown shade and then it gradually blends into a stunning rose gold color. We love this rose gold shade because it is so light and stylish. The waves finish of the look beautifully and this color combo will suit any hairstyle.
25. Pastel and Rose Gold Hair
The next rose gold idea we have to show you has a pastel pink tone. For this look, the hair is dark at the root and then changes into a gorgeous rose gold color. The hair was colored with sparkling rosé & starfish coral. It is a vibrant and beautiful look that is perfect for the ladies that want to stand out from the crowd.
26. Light Rose Gold Hair Idea
You don't have to choose bold rose gold colors, you can choose a light one like this. This short hairstyle features a soft and subtle rose gold shade. A color like this is perfect for the women who want to try rose gold but don't want hair that is too pink. You can recreate the trendy cut and color or you can use a similar color on any hairstyle.
27. Rose Gold and Purple Hair
One of the great things about rose gold is that it will compliment almost any other color. That means that you can choose rose gold highlights, ombre or balayage and have confidence that it will look fabulous with the color you already have or want. Here is a beautiful example. This is a cute bob that starts in a light purple shade and then it blends to rose gold towards the tips. The color combo is stunning and it will give you a statement making hairstyle.
28. Dark Hair with Rose Gold Highlights
Speaking of rose gold highlights, our next idea shows a gorgeous example of a highlighted hairstyle. Here we have a blunt cut bob with dark roots. The look is finished off with light blonde and rose gold highlights. As you can see, it is a trendy style and the rose gold gives the hair a lift. Recreate the funky bob or try any other highlighted style.
29. Trendy Rose Gold Braids
Our next idea is perfect for the trendsetting ladies! Here we have a two braid hairstyle where all the hair is colored in a pastel rose gold color. Hair like this is bold and statement making. Try a pastel shade like this or you can go lighter or darker. Either way, this is a cool style that will look amazing in the summer.
30. Subtle Rose Gold Hair
Next, we have a subtle rose gold color. Now, the whole hairstyle is bold because the color is bright but the actual shade of rose gold is light and toned down. It just gives the hair a more blonde look with a hint of rose. This is a stunning shade of rose gold that will suit everyone. Try full head color like this or try highlights or balayage.
31. Light Pink to Rose Gold Hair
Look pretty in pink with this next hairstyle. Here we have another bob but this one starts off in light pastel pink and then blends to rose gold. The color change is so subtle but it really does make a statement. Recreate this hairstyle for a beautiful pink look or you can choose darker shades.
32. Glam Rose Gold Hair Color
If you are looking for a glamorous hairstyle then this is for you. The hair is dark at the root and then it changes to a warm rose gold shade. We love this rose gold color because it is so stylish and it almost has a glow. Hair like this would be great for the ladies that want a complete hair transformation.
33. Pretty Pink and Rose Gold Hair
The next hairstyle we have to show you looks magical! This is another style where the hair starts dark and then changes into a rose gold color. The rose gold used here is shining, shimmering and beautiful. It would be perfect for the ladies who love the unicorn hair trend. This color will suit everyone.
34. Pastel Rose Gold Bob
Next, we have another pastel hairstyle. The hair is a light pink shade with added rose gold. It is a gorgeous color idea that will brighten up your look for the spring and summer. The color combination is beautiful and it will suit any hair length. You can recreate this look or you can add more rose gold to tone down the pink.
35. Trendy Rose Gold Short Hair
Our next hairstyle is trendy and bold. For this look, the hair is cut into a short style. It is shaved around the sides and it is longer on the top. The hair around the sides is a rose gold shade and the hair on top is a beautiful pink color. Try the color and cut if you want to be daring.
36. Subtle Rose Gold with Dark Hair
Earlier in the post we featured a bright hairstyle with a subtle rose gold color. This idea is a little similar. The hair starts off in a very dark color and then the hair changes into a light rose gold shade. Even though the rose gold is subtler, it still does make a statement because of the contrast. Try a hairstyle like this for an ombre look or you can choose a lighter root color.
37. Elegant Rose Gold Idea
Rose gold can be such an elegant color. This hairstyle is a beautiful example. The hair is a dark tone and then it blends into a pink rose gold shade. It looks amazing with the updo and hair like this looks straight out of a fairy tale. The style and color will be a gorgeous choice for a special occasion.
38. Rose Gold Curls
The next hairstyle has a gorgeous pink look. All of the hair is colored in light pink with hints of rose gold. We love this color because it is a darker tone than some of the others we have featured. It is a stunning hair color and it will suit any hairstyle. Try curls like featured for an elegant and trendy look.
39. Straight Rose Gold Hair Idea
Looking for a hairstyle that will wow? Then this is for you. This hair idea features a stunning cut, style and color. The hair is long and has a color blend of pink and rose gold. This is a pretty style that will give everyone hair envy and it will make you stand out from the crowd. To create a bolder style, you can add more rose gold.
40. Bright and Light Rose Gold
If your hair is feeling dull and lifeless, give it a lift with a rose gold color like this one. The hair is colored in a bright rose gold shade. It is such a gorgeous color and it looks like it could almost glow. We love this color and it will look amazing on anyone. You can recreate the whole style or try the color on a different cut.
41. Rose Gold and Pink Bob
Thinking about having a new cut and color? Then consider a hairstyle like this one. The hair is cut into a bob and it is colored in a rose gold shade with a hint of pink. It is a trendy and beautiful hairstyle that will look fabulous during the spring and summer. If the cut is too bold, you can have a similar shade put on longer hair too.
42. Grey to Pastel Rose Gold Ombre
The next hairstyle we have to show you is one of our favorites! For this look, the hair is a stunning grey color at the root and then midway, the hair changes into a light rose gold shade. The color combination of grey and rose gold is so chic and unique! A style like this is for the ladies that want a complete hair makeover.
43. Pink Hair with Rose Gold Highlights
Next, we have a beautiful pink and rose gold hairstyle. The hair is a light pink shade at the root and then it blends into a stunning rose gold color. We love the color combination, it looks so stylish and bold. Color like this works best on long hair so you can really show off the color change.
And we think all of these rose gold hair color ideas are stunning! Which one would you call your favorite? Which one has you rushing to the salon? How many of them did you fall in love with? (Because for us, it was basically all of them, one after the other.) We can't wait to see what you come up with a result of this wonderful hair inspiration!