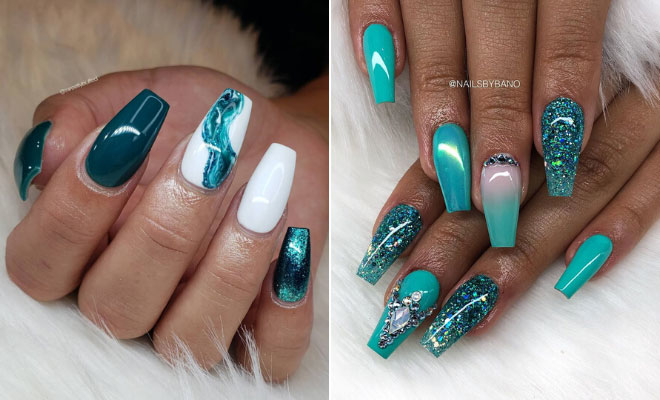 Instagram
Beauty
21 Teal Nail Designs We Can't Wait to Try
By
|
Looking for a new nail color to try? Well what about teal?! Teal is a stunning color and it can be both light and dark depending on which shade you choose. Not only that, but the stylish color suits so many other nail designs such as marble, glitter and more. If all that wasn't enough, teal looks amazing in every season. To show you the gorgeous nail art that can be created with teal, we have found 21 of the most stunning teal nails on Instagram. We have short nails, long nails, subtle designs and statement makers too. There is something for everyone, and we are sure you will want to try teal after this if you haven't worn it before.
1. Teal Nails with Rhinestones
The first nail idea that we have to show you is so pretty and glitzy. So for this, each nail is painted in a beautiful teal color and two nails on each hand are adorned with rhinestones. A design like this will suit all nail lengths and shapes. Rhinestones can be bought online and stuck on with nail glue so the look is quite easy to recreate at home.
2. Wild Snake Print Nails
Take a walk on the wild side with this next design! For this look we have long coffin nails and they are a mix of colors and designs. Some nails are dark teal, some are black and most of the nails feature a stylish teal snakeskin pattern. The snakeskin looks so trendy and the color palette is stunning. You can hand-paint the snake pattern or you can buy nail stickers online. The colors will vary but you will get a similar look.
3. Ocean Inspired Nail Art
The next mani is inspired by the ocean. Each nail is nude with teal blue ombre color. All of the nails are also adorned with small gold shells, starfish and more. This is a fun and summery design. It is perfect for vacations, days at the beach or for the days when you wish you were by the sea.
4. Glitzy Pink and Teal Nails
Make a statement with this next nail idea. Here we have long stiletto nails. The nails are a mix of teal and light pink. Dark green has also been added to the design in the form of rhinestones. It has everything – bold colors, glitz, glamour and it is also trendy. If you want your nails to stand out from the crowd in style, then this is the way to do it.
5. Bold and Sparkly Mani
Next, we have a cute, pretty and glam design to show you. For this look, the nails are shorter and most of them have a different design. Some nails are teal, one nail is pink and the last nail is sparkly with teal, purple and red sequins. It is a beautiful and trendy mani that is easy to wear. The thumb nail is sparkly but you can use any of the colors on the thumb.
6. Teal Coffin Nails
If you love glitter nails, then take a look at this design. This mani features long coffin nails. Two of the visible nails are a bright shade and there are two glitter nails that are teal and blue. It is a glam, stylish and statement making idea. You can paint the thumb in any color and this design will suit all nail lengths and shapes too.
7. Gold and Teal Nail Design
This next nail design is gorgeous and it is one of our favorites. Here we have short nails and most of them have a different design. Some nails are plain teal, two are teal with white and gold marble while the last nail is covered in gold glitter. We love this because the gold, white and marble is a glam color combo and the marble looks stunning. You can find tutorials for marble art online.
8. Leopard Print and Teal Nails
Leopard print has become one of the most popular nail designs and here is how to wear it beautifully. Most of the nails are teal and there are two accent nails. One is nude with a black tip and the other features black and glitter leopard print. It is a fun and trendy look. Recreate this or have two leopard nails with the teal. You can hand-paint leopard print and there are easy to follow tutorials online.
9. Blue and Teal Stiletto Nails
Next, we have another rhinestone design to show you. This time we have long stiletto nails and the nails are two different shades of teal. If all that wasn't enough, two nails are also adorned with sparkly rhinestones. It is a stunning nail idea and it is perfect for a special occasion or party. Recreate these or you can try just one shade of teal.
10. Trendy Marble Nail Art
Love the marble nail art? If so, check out this idea. Here we have another marble mani. This time two nails are glossy teal, one is metallic teal and two nails are white. One white nail also has a teal marble design. The colors and techniques are so trendy and this mani is perfect for the summer.