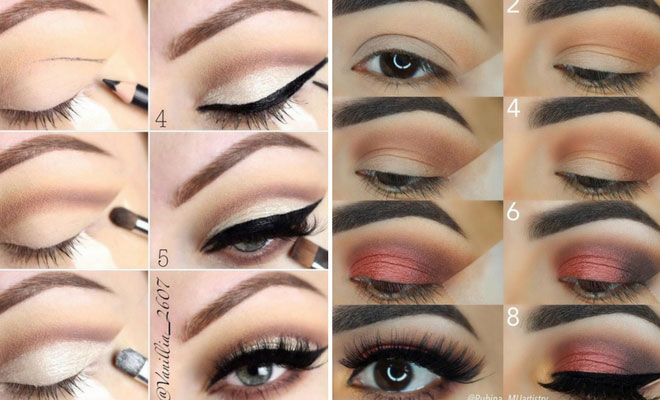 Instagram
Beauty
21 Easy Step by Step Makeup Tutorials from Instagram
By
|
11. Cut Crease Tutorial
Another look, another cut crease – it's one of those looks you'll end up learning eventually, just because you get so frustrated that everyone else is doing it and you're not. That's what prompted us to find Youtube and Instagram tutorials for pretty and bold looks like this anyway. What event has brought you here?
12. Bronzed Eyes
Need a good look for a summery, evening event? These bronzed eyes are an absolute winner, another of the easy step by step makeup tutorials from Instagram. Start with that nude / peachy-shade base and primer, as we suggested before. Then build things up, taking it easy. Add a more pink-tinged shade to the outer corner and crease, filling in the center with that beautiful bronze shade, taking it into the inner corner. Add your liner and lashes – the two most important L's – and you're good to go.
13. Teal Smokey Eye
What about when you're not in the mood for something subtle? How about those times when you need dramatic eyes to go with that stunning dress. You know – when you want to make a real entrance. These teal smokey eyes are a great twist on the classic smokey eye. It also shows you how you could play around with a number of the shades in your palette to create different looks, all using the same (or similar) techniques.
14. Brown and Gold Eyes
Brown and bronze eyes look great on green, blue and brown eyes, which makes them a great go-to look for when you something easy and quick. Add your primer and nude base, and then build up beautiful tones of brown and bronze. Keep the darker shades to the outer corner, a lighter shade on the inner corner. Finally, add a bright, glittery finish in the middle for a beautiful and dramatic, yet simple look.
15. Brown and Green Smokey Eye
If you have blue eyes, cooler and more neutral tones tend to work well, but that doesn't mean you can't incorporate them into a stunning and dramatic style. Easy step by step makeup tutorials from Instagram like this one show that a quick addition of dramatic lashes can make the world of difference to how your makeup turns out. This beautiful green shade could also be used in much lighter summery looks also, minus lashes, and without the smokey build up.
16. Makeup Tutorial for Hooded Eyes
Hooded eyes are often pain-in-the-butt eyes, but there are a plethora of tricks that you can use to make your life much easier. A primer, for example, should never be forgotten, and you should try to work on that crease build-up when your eyes are open, rather than shut. If your eyes are shut, you may not follow the natural crease-line, and this can ruin the entire effect completely.
17. Purple Smokey Eye for Blue Eyes
Blue eyes look great with a deep and rich smokey purple look, and purple has been known for years to be one of the most luxurious colors. Once upon a time, it was so difficult to get the color purple (because it uses a lot of different, expensive pigments) that only the rich people could afford to wear it in their clothes. If that wasn't the perfect excuse to rock a killer makeup look like this, we don't know what is.
18. Golden Eyes
Gold is a great color to wear at any time of year. During the summer, the color adds a wonderful glow to your face, and in the fall, you match the beautiful brown, gold and bronze shades that associates itself with the season. Use a lighter and peachier / coral shade for the warmer months, and add more of a darker, brown tinge when the weather turns colder.
19. Party Look
Do you need a quick go-to party look that will easily take you from daytime chic to nighttime party gal? This shimmering and sparkly look is definitely one to bear in mind, especially when you consider that it's the simple addition of some silver sparkle that brings this look to life. Just do your regular smokey eye, and add some extra light to it. Great idea, right?
20. Gold & Burgundy Look
When you're working with shimmery and glittery eyeshadows, make sure you do your eye look. The reason for this is that it definitely will go everywhere, because it always does, and if you've already done your foundation, etc. you'll have to ruin it to wipe the glitter away. By doing your eyes first, and the rest of your face last, you can wipe it away and then put your concealer, color corrector, foundation, etc. on over the top. Smart, right?
21. Everyday Look
Nudes and browns make for the perfect every day look, and it only takes a few moments to achieve with the right tools. A big and fluffy blending brush will make that brown-smudge-ness a breeze, and you just need a decent and well-packed brush to pop the shimmer and glitter in the center of your lid over the top. Add a quick spritz of setting spray over the top, and your look will stay damn fabulous of the entire event.
And there you have them – easy step by step make up tutorials from Instagram that you can easily copy with a few moments to spare. We're urging you to think outside the box – play around with those shades that you never touch, and learn how to use them with other shades and blending techniques to create unique and individual makeup looks that everyone will want to copy. Don't forget to show us what you come up with!