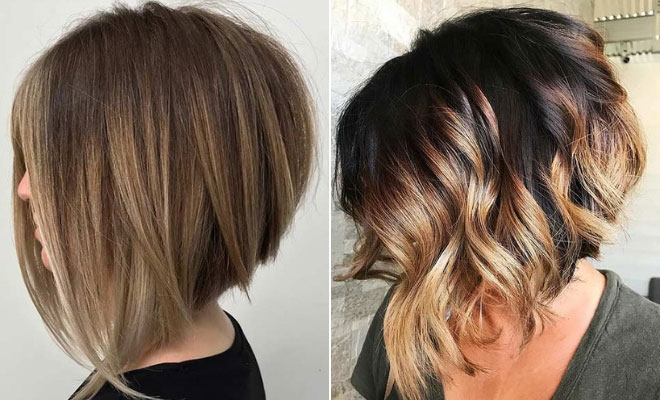 Instagram
Beauty
43 Stacked Bob Haircuts That Will Never Go Out of Style
By
|
31. Dark Brown Stacked Bob Haircut
The next hair idea is another chic one. For this look, the hair is a gorgeous dark shade with a classic and stylish stacked cut. This hairstyle is so easy to wear and it will glam up your everyday outfits too. It is another one with Victoria Beckham vibes and it will suit women of all ages.
32. Burgundy Stacked Bob
This next hairstyle is another one of our favorites! The hair is cut into a stacked bob. At the front, the hair is a long bob length and the hair gradually gets shorter. The hair is also a gorgeous and rich burgundy shade. We love this color, it is stunning. Fiery reds colors like this are a great way to spice up your fall and winter look.
33. Honey Blonde Hair
If you love blonde hair, then this is perfect for you. Here we have an elegant stacked cut with waves. The hair is also multi blonde with warm and cool shades. That darker and richer honey blonde looks so pretty. This is another hairstyle that is summery and easy to wear. Recreate this or try the blonde look with a sleek stacked cut.
34. Bold Red Highlights
Looking for a bolder hairstyle? Then this could be perfect for you. This style features a sharp stacked cut. The angle of the cut is quite statement making because the hair at front is quite a bit longer than the section at the back. If all that wasn't enough, the hair is also dark with bright red highlights on the top layers. This bold red hairstyle looks amazing and it will transform your hair.
35. Long Stacked Bob Haircut
Maybe all the shorter cuts aren't your thing and you want to try a bob without the hair being too short? If that's the case, then you can try something like this. Here we have a stacked cut with a long bob hair length. Instead of the cut being around chin length, it is a little longer. With this you get the best of both worlds – you can keep some length but have a bob cut too.
36. Red and Purple Bob Idea
Next, we have a red and purple hair idea. For this look, the lower layers of hair are purple and the hair on the top is a red shade. We love this color combo because is so trendy and bold. You can recreate this or you can try different shades of purple and red. More bright and vivid tones will look amazing!
37. Short Stacked Bob in Blonde
The next hair idea features a trendy color and cut. This haircut features blonde hair on the top layers and black hair underneath. The black and blonde color combo looks amazing, especially with the stacked cut. This hair idea is very stylish, easy to wear and it will suit everyone.
38. Asymmetric Stacked Bob
Another stylish hair idea is an asymmetric cut. This involves one side of the hair being a little longer than the other. As you can see on this hairstyle, one side is above the chin and one side is below. There is also that stacked cut at the back. This is a modern and trendy version of the stacked cut and it is perfect if you want to try something different.
39. Cute Black and Pink Cut
If you love the bold color ideas, then you need to see this. Here we have a black bob with a stacked cut. The ends of the hair also dyed dark pink. It is such a pretty and statement making color combo. Recreate this or you can try any vibrant color instead of pink. Blue or red would look amazing.
40. Fiery Bob
Next, we have another fiery bob to show you. This one has a more toned down color but it still has that spicy hue. The cut and color are super stylish and easy to wear. A rich red color like this will look great during all seasons but especially the fall and winter. If you want a bolder color, then try adding a more vivid and bright copper tone.
41. Bright Blonde Hairstyle
Thinking of going blonde? If so, you need to see this hairstyle. Here we have a classic and short stacked bob. The hair is also a gorgeous bright blonde shade. We love this light blonde because it really lifts the hair and makes the haircut stand out. This style is perfect for the summer. Try something similar or use any blonde shade, they will all look fabulous with this cut.
42. Layered Cut with Purple Ombre
If you want to try a new color without being over the top, then this the way to do it. This hair idea features a stacked bob that is a dark color. Then about midway, the hair changes to a subtle and dark purple shade. It is a beautiful way to wear a bolder color and it is quite subtle too. Something like this great if you are trying a daring color for the first time.
43. Dark Blue and Purple Hair
Love bold colors? If so, take a look at this. This stacked bob has an amazing color combo of purple and blue. These darker tones look stunning and the blue and purple combo really makes a statement. You can recreate this or you can try lighter versions of the colors. Pastel versions would look gorgeous!
We hope you have been inspired by these hairstyles and will now try a trendy stacked bob!