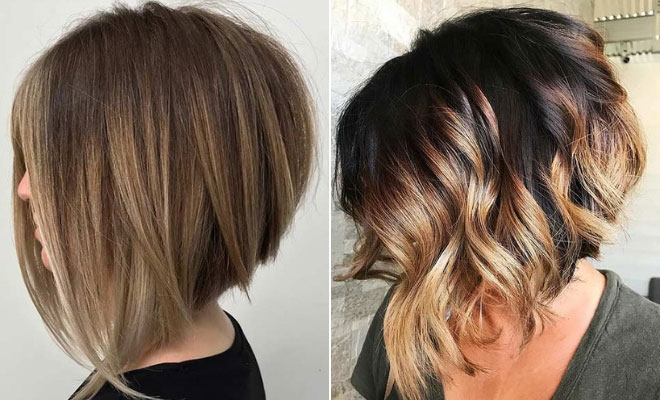 Instagram
Beauty
43 Stacked Bob Haircuts That Will Never Go Out of Style
By
|
11. Simple and Stylish Stacked Bob Haircut
If all the bold hairstyles are not for you then consider something simple and stylish like this. Here we have a chic stacked bob where the hair is chin length at the front and shorter at the back. This is a classy and timeless hair idea that will suit everyone. Recreate this or try the cut in any color of your choice.
12. Mermaid Hair
Our next idea is a must-have for the ladies that like to stand out from the crowd. This style features a bright blonde stacked bob with vibrant colors added to the hair. We can see beautiful blue and purple shades. The colors give the hair a mermaid look which is perfect for anyone who loves that magical hair trend.
13. Stacked A-Line Bob
Next, we have another simple and trendy hairstyle. For this one, the hair is sleek and the bob is medium length with a subtle stacked cut at the back. It is a chic and stylish look that will suit everyone. A bob like this is a great way to change your hair ready for the spring and summer seasons. You can recreate it in any color.
14. Icy Blonde and Pink Bob
Earlier in the post we featured a pink and blonde hairstyle. If you liked that idea, then you need to see this next look. The hair has a beautiful stacked cut with bright blonde on the top layer and pink on the layers underneath. It is a bolder and more statement making way off adding color to your hair. Try the pink look or choose a vibrant color of your choice.
15. Stacked Inverted Bob
You don't have to go all out to transform your hair. Just a stylish cut and color is all you need to give your hair a makeover. Here is a beautiful example. The hair is cut in a chic stacked bob and is dyed in warm hair color. It is a gorgeous hairstyle and it will suit anyone. This is a great hair idea for the ladies who just want a change from their usual style.
16. Short Stacked Bob with Bangs
Love the asymmetrical bobs? Then this is for you. Here we have a trendy short and stacked bob. One side of the hair is longer so the cut is asymmetrical, and the longer hair creates side swept bangs too. It is an edgy hairstyle and the color is cool too. This is an easy to wear hairstyle and it can be recreated in any color.
17. Voluminous Stacked Bob Hairstyle
Next, we have another glam hair idea. This bob is sleek and chic with a warm blonde shade running through the hair. Hair like this will suit anyone and it is a stylish way to wear the stacked bob look. We think this hairstyle would be perfect for the spring and summer as the blonde gives the hair a lift.
18. Black and Red Bob
Another cool color you can add to your hair is red. Here is a trendy example. This beautiful bob features black hair with added red highlights. As you can see, the red really jazzes up the hair. You can recreate this whole look or you can use red highlights on a shorter stacked bob too.
19. Short Blonde Cut + Long Side Bangs
Our next hairstyle is a chic blonde bob. The top layers of hair are beautiful blonde and the layers underneath are dark brown. This is another easy to wear bob idea that will look stylish for any occasion. You can recreate this bob or try a warmer blonde shade, that would look gorgeous too.
20. Super Short Stacked Bob
Love the bold hairstyles? Then you need to check out this next idea! Here we have a vibrant green bob. This is a bright and statement making hairstyle that will make you stand out from the crowd! Try this awesome green look or you can try a similar green shade as highlights or underlights if you don't want to go all out.