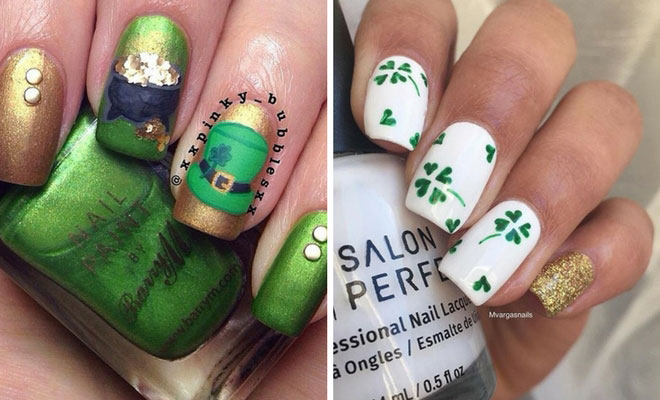 Instagram
Beauty
19 Glam St. Patrick's Day Nail Designs from Instagram
By
|
10. Green Glitter Nails + Clover Accent Nail
If you want to take supplements to help your cause in recreating these St Patrick's Day nail designs, you're in for a spot of good news. There are so many to choose from. One of the best ingredients you'll find, and one that is often found in many base and nutrition coats, is gingko biloba. It sounds like a made-up things, but it's not. It's help to strengthen weak nails, protect them from the elements, and nourish / hydrate them back to good health again. There you go – easy herbal tip you can do at home.
11. Nail Design for Long Nails
Not only was green NOT the first colour to be associated with St. Patrick's Day, green was actually considered to be an UNLUCKY colour. We bet you'll have nothing but luck if you rock these fabulous Paddy's Day nails though. Fancy taking on that bet?
12. Simple & Cute
Do you want to know another St. Patrick's Day fun fact? We know you do. Every year, in the city of Chicago, a green dye is poured into the River Kelly, and for around five hours, all the water turns completely green. We don't need that much green in our life to celebrate the big day, of course, and these St Patrick's Day nail designs are about enough for us!
13. Green & Gold
Believe it or not, the first Paddy's Day parade didn't actually take place in Ireland like you might have thought. It was the American's that really brought the tradition to life. During the 1760's, New York decided to hold a parade and the rest, as they say, is history.
14. Dark Green Design
Every year on Paddy's Day, the very Irish drink, Guiness, is drunk by the bucket load. On the 17th March, 11 million pints are predicted to be consumed, going by previous yearly trends. Just for some sort of comparison, the regular daily total for Guinness consumption is 5.5 million pints. The figure doubles on Paddy's Day! We probably won't be drinking any Guinness, we'll be honest about it, but we are going to celebrate in style. It's like to be with talons as fabulous as these Paddy's design.
15. Fun & Bright Design
In order to get a manicure that looks as good as these glam St. Patrick's Day nail designs from Instagram, you're going to need to do things the right way. You should start with a clean, residue-free nail, and that means getting rid of everything – old polish, oil, cream, everything. Wash your hands. Use a base coat that is designed for your nails. Then use thin shades of your base colour, rather than thicker ones. Let to dry entirely between coats, and make sure you cover the entire thing with a strong base coat, and preferably one that is designed to be used with your base shade and main polish colour too. It might sound like a lot of work, but you will thank us for it at the end. We promise.
16. Simple Design for Short Nails
Just because you have short nails doesn't mean you need to miss out on all the fun. This simple design for short nails is perfect, and is definitely one of our highlights from the St Patrick's Day nail designs. Make one green, one gold, one white, and into the final one, incorporate some sort of Paddy's Day themed design – shamrocks, rainbows, leprechauns, that kind of thing.
17. Fun & Festive Nails
When working with green nail polish, it's not unusual for the paint to leave behind a yellow-like stain when you take it off. Although this is a pain in the butt, there are things you can do to counteract it, although you'll want to know about them before you get your mani done. The trick is to soak small pieces of cotton wool in nail varnish remover, and then place on your nails, allowing to sit for a minimum of two minutes. When you go to wipe it off, it'll not only come off easier, but you'll be less likely to be left with that staining. Not only that, using lemon juice, or fresh lemon, can also help to counteract the yellow shade.
18. Green Ombre Nails
Ombre nails are super awesome nails, and they create one hell of a stunning backdrop for these St Patrick's Day nail designs. In order to recreate this look, you'll need to grab yourself one of those makeup sponges, but not the beauty blender style, the triangular ones. On it, paint a dark green, then a light green, then a white shade, all in stripes. When you press the sponge onto your nails and remove again, you'll be left with something that looks a little bit like this. In other words, damn fabulous.
19. Green, Gold & White
For when you really don't want to get fiddly, remember there are always nail wraps you can buy. They're great for when you don't have the time or the patience to handprint little designs such as shamrocks, hearts, etc. The same applies for the stripes detail nails too. All you need to do is take a little look around online and you'll see that there are hundreds of ideas you can choose from. Which one are you going to choose though, that's the important question!
And there you have them – 19 glam St Patrick's Day nail designs that we think you should totally rock for the big day this year. They're green, filled with good luck and loads of love, and totally suit the occasion.
Have loads of fun this year, have a pint of Guinness for us, and remember to show off your fabulous green Paddy's Day themed nails on Instagram. We'd love to see what you wonderful lot manage to come up with!