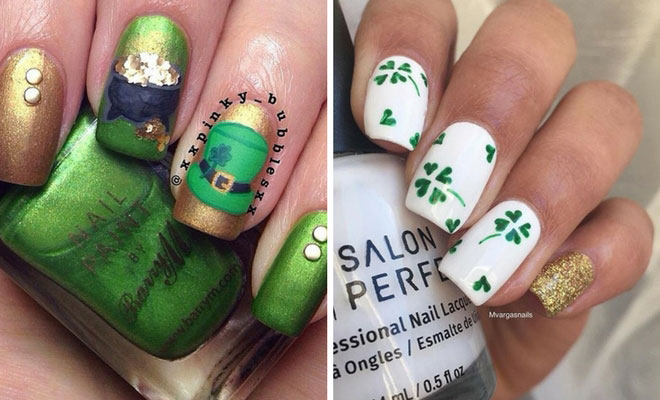 19 Glam St. Patrick's Day Nail Designs from Instagram
Can you believe it's almost time to start looking for St Patrick's Day nail designs already? We're sure we've only just celebrated the New Year, and then Valentine's Day … how is it already March? We can't cope with how fast this year is going by.
Going back to the topic in hand, if you're having a hard time finding the coolest nail ideas to rock for this St. Patrick's Day, you're going to want to see these. There's something for everyone, which means there's bound to be one that YOU love!
1. Pot of Gold
St. Patrick's Day falls on the 17th March, in case you weren't already aware, and it was once a celebration that started in Ireland but has become so popular, it has fast taken over the entire world. It's a time of the year designed for all green things, so there's likely to be a lot of green nail designs coming up … just warning you.
2. Clover Accent Nail
The clover, or shamrock, is a common symbol associated with St. Patrick's Day, although most people do not know why. That's fine, we're about to educate you, because we're nice like that …
In the times of the old Celts, they actually called the shamrock "seamroy", and it as actually a symbol of spring – rebirth. As the 17th century came about, it started to become more of an Irish thing altogether than a "rebirth" thing, and when the English came around and started trying to take over everything, the Irish used the leafy plant as a symbol of unity. Cool story, right?
3. Easy Green & Gold Design
Going back to the whole shamrock idea, and it was actually used by St. Patrick to educate people, another reason why it has become closely associated with the big day. The three leaves on the plant were said to represent the Father, Son, and Holy Spirit, otherwise known as the Holy Trinity. Alternatively, add another leaf on and make it a four-leaf clover, and you'll be bringing yourself a bunch of good luck. Just another excuse to rock these fab nails, to be honest.
4. Cute Leprechaun Design
A big event like St. Patrick's Day just gives you the perfect opportunity to let your personality shine through, if only for one day. Even your boss can't complain about your brightly coloured nails if it's just for one day … Right?
5. Green Glitter Nails
Here's a totally un-related fun St. Patrick's Day fact for you – on March 17th, Irish men and women all over the world (but especially in Ireland) get together to eat a traditional meal. You'll never guess what that traditional mean is … Cabbage and corned beef. Totally not glam at all, right? That's not to say you won't need nails that scream glam, and that's why these St Patrick's Day nail designs are a winning combo.
6. Gold, Rainbow & Clover
Did you know that the colour green wasn't always the one closely associated with St. Patrick's Day? If you're looking for glam St Patrick's Day nail designs, how about going blue? It's reported to be the original colour linked to the day. Or, just do what this nail designer did, and throw all the colours into the mix for good measure. A rainbow is linked to leprechauns, and those are linked to St. Patrick's Day too!
7. Classy Clover Nails with a Pop of Gold
When it comes to doing your mani / pedi, you might want to do when you're fresh out the shower, but that's not always the best time. Your nails will be both softer and weaker once they have been saturated with the hot water and steam, and that means you'll be more likely to cause them damage. Give it a couple of hours and let them rest and come back down to room temperature first.
8. Stripes, Glitter & Clovers
We're going to tell you something incredibly shocking right now. St. Patrick himself wasn't actually from Ireland. We're sorry to break your hearts, ladies, but the big man himself was actually from Wales. Close … Console yourself with these beautiful St Patrick's Day nail designs. Go on, we'll let you.
9. Cool Nail Idea
Are you "wrapping" the tips of your nails? What we mean by this is applying a layer of base coat, main nail shade, and then top coat, right at the edge of your nails. This is often the part that gets bashed about a lot, yet it's the place you always forget to protect. At the end of your mani, wipe the excess top coat off the brush and just lightly glide along the very edge of your nail. This gives them an added layer of protection, and ensures that your colour lasts the distance.