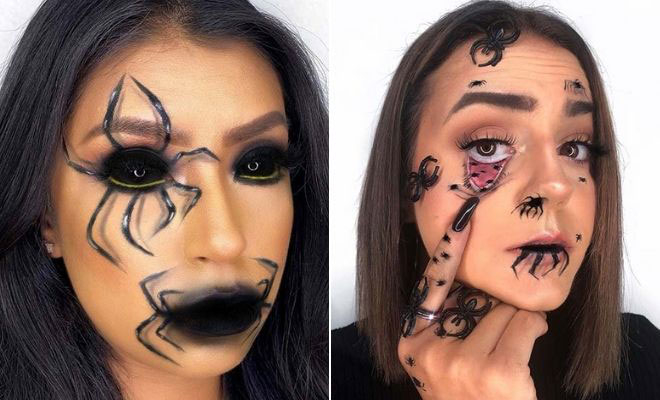 Instagram
Beauty
25 Creepy Spider Makeup Ideas for Halloween
By
|
A fear of spiders is one of the most common fears. Even if you are not terrified of spiders, not many people like them. With that said, spider makeup is perfect for Halloween. You can give everyone a little fright by wearing makeup inspired by the creepy crawlies. To give you some ideas, we have found 25 spider makeup designs. There are scary looks, illusion makeup ideas and more. Take a look and see which scary spider you want to be.
1. Scary Spider Mouth Illusion
First up, we have this scary mouth illusion. So, the makeup artist has kept her makeup quite simple but the mouth looks as though there is a spider sitting in it. This is such a horrifying thought and the legs even look they are poking out. This will give anyone who is scared of spiders a fright.
Products used: NYX Hella Fine Eyeliner, Love Contours All palette, Jumbo Eye Pencil in Milk and Black Bean, Brow Pencil in Taupe & Cool Neutrals palette, Lumene Finland CC Cream in Medium, Kat Von D Lock It powder and Smash Box Cosmetics Studio Skin Concealer in Fair.
2. Spider Eye Makeup for Halloween
Instead of the mouth, you could create a spider illusion around the eye and here is a cool way to do it. As you can see, she has a dark brown and black blend on her eye and she has painted spider legs around it. When the eye is closed, it will create the illusion there is a spider but no eye. It is a cool idea and there are spider leg tutorials online.
Products used: Morphe 9A Always Golden palette, Clinique Pretty Easy liquid eyeliner, Stila Glitter and Glow liquid eyeshadow in Kitten Karma, BG lashes in South Beach, PÜR Cosmetics Afterglow highlighter and NYX Lip Lingerie in Bedtime Flirt.
3. Black and Purple Makeup with White Contacts
If you want to go all out and give people a fright, then you could try something like this. The makeup artist has contoured certain areas with purple makeup and she has also created three spider illusions. One on her eye, one on her mouth and the other on her body. This is such a scary idea especially with the white contacts. She looks like a ghost covered in spiders!
Products used: Jeffree Star Jawbreaker Palette, Magic Star Concealer C5, Velour Liquid Lipstick in Weirdo & Druglord, Benefit Brwvo! Conditioning Primer, Foolproof Brow Powder, Maybelline Superstay Foundation 210 and Tatti Lashes TL10.
4. Spider Queen Costume Idea
Look like a Queen this Halloween with makeup like this. For this look, the artist has used dark eye makeup with red lip color. She has also created the illusion that the spider on her face has bitten her. We love the white contact lens, that makes it look realistic. The look is complete with a crown and spider web to show she is a spider Queen.
Products used: The ordinary serum foundation, NYX Highlight and Contour Palette & Fire Palette, Sugar Pill Love+ & Tako, Suva Beauty Hydra Liner in Grease & Space Panda, Makeup Geek Cosmetics Bedrock Shadow, ABH Norvina Noir Shadow, Ben Nye Scab Blood, Urban Decay 24/7 Glide On Liner in Zero, Lilly Lashes Mykonos, ABH Medium Brown Dip Brow, Mac Nighmoth Liner and Buxom Cosmetics Stay The Night Babe Gloss.
5. Beautiful Makeup with Spiders
Next, we have a makeup idea that makes you look pretty but also scary. As you can see, the artist has created beautiful eye and lip makeup that you would usually wear but she has added a spooktacular twist. She has painted spiders on her body, face and she has used two of the illusions. This is an awesome idea and it gives you the best of both worlds.
Products used: Tatti Lashes TL Mitchell 2 Lashes, Inspire Cosmetics Midnight Pressed Glitter, Sample Beauty Spectrum Palette, Maybelline Gel Liner, Too Faces Better Than Sex Mascara and Snazaroo Black, White & Red Paint.
6. Sparkly Spider Web Makeup
If all the scary illusions are not your thing but you still want to look spooky for Halloween, then this is perfect. This artist has created beautiful sparkly eye makeup with a cute web design around the eyes. The look is complete with black lip color and sparkly decorative spiders. This is a fun and glitzy makeup idea and it will be great for parties.
7. Horrifying Spider Illusions
This next idea is one of our favorites because it is so horrifying and clever! The makeup artist has created spider illusions on her eye and mouth. It looks like spiders have completely taken over. The black contacts look amazing because one eye looks like a spider while the other one looks super creepy. It is quite a simple look but very effective. We love this.
Products used: Anastasia Beverly Hills Luminous Foundation in 365C, Milani Cosmetics Conceal +Perfect in 145, ABH Norvina 2 Palette, Maybelline Blackest Black Studio Gel Eyeliner, NYX Jumbo White Pencil and Look-Chic Lashes in Glam.
8. Glam Eye Makeup with Tiny Spiders
Instead of one large spider like in some other makeup looks, you could use a tiny spider design. Here is a cool idea. So for this look, the artist has created glam eyes with a white web design. She has also painted tiny spiders all around her eye. This is a unique, glitzy and fun makeup idea. You could even paint one large spider somewhere else to make it look like the scary mommy spider. Either way, your makeup will look spooky and unique.
Products used: P Louise Makeup Academy Base in 2, LA Girl Cosmetics Instinct & Untamed Palette and Suva Beauty Liners in Space Panda & Grease.
9. Black and Neon Orange Makeup
The next makeup idea uses more cool illusions. One eye has a black and neon orange web design while the other eye has the spider leg illusion. The artist has also painted a spider on her mouth which looks super creepy. This is a stylish and scary makeup look and we love the neon orange and black color combo. You can also view a video tutorial on the makeup artist's Instagram page and the link is here.
Products used: P Louise Makeup Academy Base Rumour 2, Morphe X James Charles Palette, Helene Cosmetics Pigment no.5, ColorPop Cosmetics Pencil Liner in Untz, Lilly Lashes Mykonos, BH Cosmetics Color Highlight Palette, NYX Liquid Black Liner, Dose Of Colors Foundation Light Medium 120 and ColorPop Ultra Blotted Lips Scenic Route.
10. Gorgeous Makeup with Spiders for Halloween
If you want to look stylish, pretty and spooky this Halloween, then this makeup idea is for you. Here we have gorgeous eye and lip makeup complete with spider illusions on the eye and mouth. This makeup gives you the best of both worlds because you can look beautiful but also enjoy Halloween.
Products usedL BPerfect Cosmetics X Jah Makeup Clientele Palette.