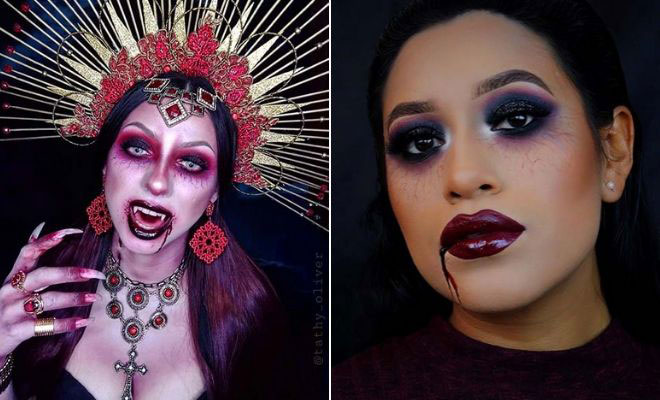 23 Vampire Makeup Ideas for Halloween 2020
A vampire is a classic Halloween costume. This is no surprise as there is a version of a vampire for everyone. You have the classic Dracula, sexy vampires, brooding ones and the modern day vampires that can even go out in the sun. So, if you have not decided what costume to wear this Halloween, then why not be a vampire?! To give you some inspiration, we have 23 spooktacular vampire makeup ideas and there is really something for everyone. Take a look and see what bloodsucking supernatural creature you want to be!
1. Classic Vampire Eye Makeup
First up we have this classic vampire makeup. So, she has dark eyes and dark lips with a little added blood. This is a fun and spooky look that is perfect for Halloween. Wear the makeup with a cape like featured or you can tone it down a little. We love this look and it is great for any Halloween event.
Products used: Burgundy Palette, Hot Chilli Pepper Lip Liner, Intense Color Line in 50 & %6 and Color Crush Lipsticks in Huggable & Wine O'Clock by MISSLYN Cosmetics.
2. Sexy Vampire Makeup
Next, we have an easy but super glam makeup look. The makeup itself is classic with the dark eyeshadow and blood red lips. It is the blood and hair that really vamp up the look. As you can see, she is wearing a sexy black corset and she has blood dripping from her mouth, eyes and neck. You can recreate this makeup with products you already have in your makeup bag.
3. Scary Vampire Makeup for Halloween
If you want more spooky vampire makeup that is a bit glam too, then this is for you. She is wearing bold and dramatic eye makeup complete with contacts and she has a bloody mouth. It is such an awesome makeup idea for Halloween and the contacts will give everyone a fright. This is easy to create and it is great for parties.
4. Victorian Vampire Makeup
We love this next idea because it is spooky, Gothic and it is perfect for Halloween. As you can see, she has a dramatic and rich eyeshadow blend with long lashes and dark lips. The look is complete with Victorian style hair and outfit. This is perfect for those who like the more classic and old fashioned vampires.
5. Mystical Makeup with a Moon
This next makeup idea is mystical and magical. So, for this look, she has a bold eyeliner flick and lashes complete with contact lenses. The makeup artist has also painted a moon on her head and lines on her face. We love this because it gives the vampire a more otherworldly and spooky look. You can recreate something similar or use the moon design with other vampire makeup.
Products used: Plouise Makeup Academy Eyeshadow Base (0.5), ABH Norvina Palette, Lime Crime Venus 2 Palette, NYX Epic Ink Liner in Black and & Jumbo Eyeliner Pencil in White, Milk Makeup Kush Fiber Brow Gel, Hell Bites Beauty Lashes in Vampira, ABH Matte Lipstick Dusty Mauve and Fangs are from Spirit Halloween.
6. Dramatic Vampire Makeup and Costume Idea
If you like to go all out at Halloween, then this is for you! Everything about this amazing, from the bold vampire makeup to the regal accessories. This is for the vampire Queens! If you are attending a Halloween party this year, then this could be perfect because you will be the best dressed. You can recreate a similar look based off the photo and you can buy accessories like these online. This is spooktacular!
7. Pretty Makeup Idea
Next, we have a prettier and more toned idea. For this, she has simple eye makeup with a little red around the eyes to create the supernatural vampire look. This makeup is complete with small rhinestones and blood stained lips. This is a more low-key and easy to wear look. Something like this would be great for any last minute parties.
8. Grayscale Vampire Makeup
The classic colors used for vampire makeup and outfits are usually red and black. But if you are looking for something a little different, then this makeup idea is for you. As you can see, this costume has a grayscale theme. The eye makeup is dark green with red lips while her face and neck are grayscale. We love this because it's a scary and unique look that will stand out from the crowd.
9. Scary Vampire Makeup with Blood and Red Eyes
This next makeup is scary, Gothic and it is classic Vampire too! Her eyes have the red and black color combo complete with red contact lenses. She also has blood red lips with blood drips and blood on her neck. We really love the black section on her head which creates the Widow's Peak that Dracula is known for. This is an awesome makeup look and the earrings look amazing as well.
10. Gothic Vampire Makeup Idea
We have another makeup look with a Gothic vibe and it is another one of our favorites. So, for this, she has bold and dramatic black and red yes with very dark lips. The look is complete with a black outfit. This makeup will be amazing for when you want that dark and supernatural look. We think it has the potential to be very scary too. Add more blood drips and contacts and this makeup will look even more spooky!
11. Glam Vampire Costume and Makeup
This next makeup idea is spooky, scary and it is glam! We love this idea because the makeup artist has created this supernatural vampire look but she still looks pretty so it is the perfect balance, especially if going out for Halloween. The veins under the eyes look super cool and are inspired by the more modern vampires and the jewelry and fangs look amazing.
Products used: Morphe White Concealer, Anastasia Beverly Hilks Eye Primer, Brow Pomade, Liquid Liner, Darkside Gel Liner, Loose Highlight in shade Snowfake & Norvina Pro Pigment Palette Volume 4, Haus Laboratories Liquid Liner in Punk, Hell Bites Lashes in Raven, Alcone Company 3rd Degree Silicone, Spirit Halloween Finger Jewelry and Amazong Fangs.
12. Edgy Vampire Makeup with Veins
If you like the vein makeup idea, then you need to see this vampire look too. This one has a modern, edgy and trendy vibe. So, she has a stylish platinum haircut with statement making eye makeup, veins and fangs. It is such a cool idea and this vampire costume looks like something you would see on a vampire TV show.
Products used: BPerfect Cosmetics x Stacey Marie Carnival Pro Palette, Loreal Infaillible, LA Girl High Definition Concealer, RCMA Makeup No Color Powder, ColorPop Cosmetics Brow Color in Bragin' Brunette, NYX Contour Palette, H&M Lustre Gloss and ColorPop Ultra Matte Lip in Splash Zone.
13. Glam Vampire Makeup
Next, we have spooky but glam makeup look. Her eyes have a sweep of gold glitter on the eyelid complete with black eyeliner and super big eyelashes. There are also small bloody veins added under the eyes and some big ones on the neck. She also has very dark lips and fangs. This is another makeup idea that creates a balance between spooky and glam.
14. Easy Vampire Makeup
The next makeup idea uses that classic red and black combo. For this look, the eyes have a red and black eyeshadow blend. She also has red contacts and dark red lips. The look is complete with two bloody bite marks on the neck. This is a spooky and stylish makeup idea and this is another one that is perfect for parties. Complete the look with an all black outfit and you're ready to go!
15. Vampy and Gothic Makeup
We love this next idea because it is vampy, Gothic and glam. For this, the makeup artist has created a stunning eyeshadow blend including glitter and dark purple shades. The look is complete with veins on her skin and blood red lips. This makeup is great for Halloween parties and it will look amazing with sharp fangs!
Products used: Wet N Wild Beauty Fantasy Makers Paint Palette Neutrals & Brights, Shade Shifting Blush Zombie Blush & Vampy and Liquid Catsuit Matte Lipstick in Hex-Cellent.
16. Bite Me
Looking for makeup that is a little more unique? If so, this could be perfect for you. This time we have someone maybe newly bitten. As you can see, she has two bite wounds complete with the words "Bite Me". This is a fun and more light take on the spooky and scary vamps. You can even wear fangs to complete the look.
Products used: Lime Crime venus Palette, Stila Stay All Day Liquid Liner, Juvia's Place Zulu Palette, MAC Lip Liner, Benefit They're Real Mascara, Lime Crime Unicorn Lipstick in Varsity, Snazaroo White, Black, Red Brown & Burgundy Paint, Dark Blood Gell and Beauty Bay 42 Brights Palette in Drama Queen & Stormy Night.
17. Unique Vampire Makeup Idea
Next, we have another unique vampire look. This one is based on the character Carmilla from Castlevania. She has long white hair with fangs. It is a simple but very cool idea. You can use this makeup to recreate the character or be inspired by it to create your own icy looking vampire.
18. Mavis Makeup
If you love the makeup ideas based on vampire characters, then you will love this. Here we have makeup inspired by Mavis from the Hotel Transylvania movies. This is a more fun and cute version of a vampire and this is great if you want a more family friendly costume. With a wig and similar outfit, you can easily recreate this look because the makeup is quite simple.
19. Scary Halloween Makeup with Red Eyes
The next idea is perfect if you want to give people a fright! This is a very scary vampire look and features red eyes, black eye makeup, dark red lips and a little blood too. Even though it is scary, the makeup is quite simple to recreate. You may already have most of the products needed. Order your fangs, blood and red eye contacts and you will have a terrifying but easy look.
20. Spooky Red and White Vampire Makeup
This next makeup look is otherworldly and it really captures the supernatural element of vampires. For this look, her face and hair are white. The only colorful parts are the eyes and lips which are red. The red and white combo is so striking and it creates such a spooky look. This is perfect for those who want more unusual vampire makeup.
21. Glitzy Rhinestone Idea
Look like a vampire Queen with this makeup idea. As you can see, she has glitzy, glam and Gothic makeup. The eyes are pretty and dark while the lips are dark red. This makeup is complete with black rhinestones. We love the rhinestones because they look regal and stunning. Recreate this or try similar makeup without the rhinestones. Either way, you will look like an amazing vampire.
22. Easy to Wear Makeup
Like the easy to create and wear Halloween makeup ideas? If so, this is for you. This time we have pale makeup complete with red lips, dark eyes and subtle veins. Makeup like this simple and you can recreate it with products you already have. This will be great for any last minute parties or Halloween events.
23. Gothic and Glam
The last vampire makeup idea is Gothic and glam. She has dark hair, dark eye makeup and dark lips. While her skin and outfit are very light. We love the minimal colors used because it captures that deathly vampire look. This is such a cool vampire idea and it will look amazing with contact lenses and fangs.
We hope you have found a spooky vampire makeup look to try!