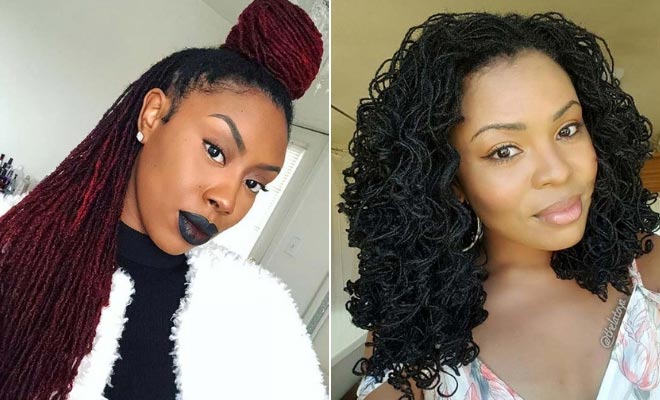 Instagram
Beauty
23 Trendy Ways to Wear Sisterlocks in 2019
By
|
11. Long Sisterlocks
Next, we have another chic and easy to wear hairstyle. Here we have long sisterlocks. The locs have a side part and look effortlessly stylish. With sisterlocks like these, you can wear them loose like this, put into a bun, ponytail or even a half-up style.
12. Vibrant Orange Sisterlocks
Want a hairstyle that is bolder and more statement making? Then this is for you. These sisterlocks are bright orange! This is such a fun, vibrant and trendy idea. Hair like this is for the ladies who want to stand out from the crowd and be noticed! You can try this orange look or choose another funky color like blue or pink, maybe choose your favorite color.
13. Trendy Half-Up Buns
Our next pick is for the trendsetters! Here we have another half-up bun look but instead of one bun there are three. As you can see, these buns create a super cute and stylish look. You could even try just two buns to achieve a similar hairstyle. We love this idea, it is so creative and unique.
14. Braided Sisterlocks
Earlier in the post we featured a halo braid. If you loved that then you will like this next style too. Here we have another way to wear a beautiful halo braid. This one features stylish colors and has loose sisterlocks at the front. It is perfect for the ladies who want to look chic but have a trendy edge too.
15. High Accessorized Ponytail
Next, we have another accessorized look to show you! Instead of a bun here we have an accessorized ponytail. The sisterlocks have been put up into a high ponytail with a vibrant, patterned scarf. You can recreate this look or have a classic ponytail with any scarf of your choice.
16. Simple and Stylish Side Sisterlocks
If all the vibrant colors and accessories are not your thing then you can go for a hairstyle that is simple and stylish like this one. The mid length sisterlocks have been styled on the side. It is just a beautiful and timeless hairstyle that will look stunning on everyone.
17. Sisterlock Bob
Our next idea is a gorgeous short bob. This bob is so cute and stylish. Hair like this can be worn for any occasion and it can be dressed up or down. A bob like this is trendy and will look amazing for the summer. You could even choose to have your sisterlocks in a bold color.
18. Long, Burgundy Sisterlocks
Next, we have another half-up bun. This is one is a little different to the ones we have featured because this style uses long locs. You can see how glam and beautiful the long sisterlocks look. The bun looks amazing too. This is one of our favorites, it will suit everyone!
19. Ombre Sisterlocks
One of the hottest trends for hair is ombre. Here is a gorgeous example of how to wear ombre with sisterlocks. The hair starts off dark and then changes to a red shade. This is such a cool and stylish hair idea. Recreate this look or try a different ombre color. Blue would look amazing.
20. Trendy Short Hair Idea
Want a stylish short hair idea? Then this is for you. These sisterlocks are quite short, the end length sits around the ears and it is parted on the side. This is a trendy short look that will suit everyone. To jazz up the style, you could add a funky color or keep it simple. Whatever suits you best.
21. Statement Making High Bun
If you are looking for an elegant hairstyle that makes a statement then you need to check out our next pick. These sisterlocks have been styled high on the head to create double bun updo. This is an amazing hairstyle that will wow at any event.
22. Chic, Long Sisterlocks
Next, we have a chic look to show you. Here we have long sisterlocks that are beautiful and simple. These locs have been worn on one side. By wearing your hair on the side like this, you get an elegant and pretty look. It is an easy to wear hairstyle that will look gorgeous on anyone.
23. Stylish Low Updo
The last sisterlocks idea we would like to share is an updo. Here we have an amazing example of a trendy and bold updo. The sisterlocks look they have been wrapped and styled together into a low bun. This is the perfect hair idea for the ladies that want to look elegant but express their own unique style too.
We hope you have found some inspiration for your next hairstyle!