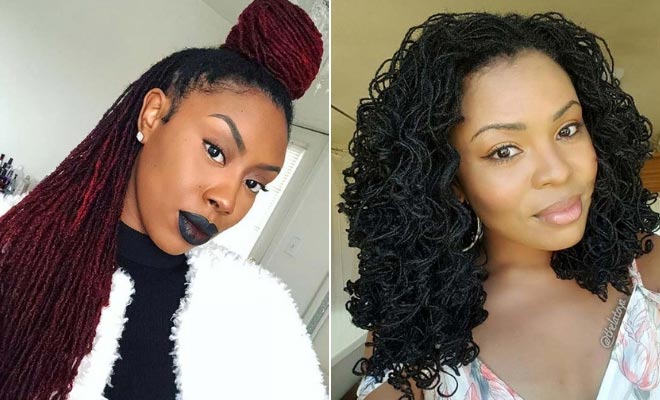 Instagram
Beauty
23 Trendy Ways to Wear Sisterlocks in 2019
By
|
Been thinking about trying sisterlocks or maybe you are looking for a new way to style the ones you already have? If so, you are in the right place. We have found 23 trendy ways to wear sisterlocks. You will find buns, curly hairstyles, accessorized looks and more. There are also some amazing color ideas too. We have a hair idea for everyone, so take a look!
1. Sisterlocks into a Bun
We are going to begin with this beautiful bun. It is a very high bun and it has been accessorized with a stylish scarf. By using a scarf you jazz up the bun and make your hairstyle unique. You can use any scarf you like with any pattern and in any color. We love this look it can be dressed up or down to suit any occasion.
2. Curly Sisterlocks
Next, we have the perfect style for the glamorous ladies! Here we have gorgeous curled sisterlocks. The hair has been parted on the side and has been styled beautifully. This is a hairstyle that will look chic for any occasion from work to a special event. With hair like this, you can look elegant and stylish all day every day.
3. Short Sisterlocks
Want an easy to wear sisterlock style? Then this is perfect! This idea features a cute short ponytail. It is a great hairstyle for the days when you want to look casual but stylish too. You can put your locs into a ponytail when you just want to change your hair easily with no fuss.
4. Chic Halo Braid Sisterlocks
If you need a hairstyle for a special occasion or you are having a day where you want to wow everyone with amazing hair, then this is for you. Here we have a stunning sisterlock halo braid. The braid is quite thick and the hair is a beautiful red shade. Everything about this style is gorgeous! You can recreate the style featured or try a halo braid in any color of your choice. A smaller braid would look nice too.
5. Side Part Sisterlocks
Our next idea is stylish, elegant and easy to wear. This hairstyle features mid length sisterlocks that have been styled with a side part. Just by wearing your hair on one side, you can transform your locs and give them a glam look. A hairstyle like this looks effortlessly beautiful.
6. Half-Up, Half-Down Hairstyle
Another cool style you can try is half-up, half-down. It is is a simple and beautiful look and these locs even feature a stylish accessory. You can wear a hairstyle like this anywhere and wear with short or long locs. Try the accessory or leave it out. Either way, your hair will look lovely!
7. Bold Blue Sisterlocks
Looking for a bolder hairstyle? Then check out these sisterlocks! Here we have beautiful brown locs with added vibrant blue. As you can see, the blue creates a stylish and unique look. You can recreate the blue look or try another cool color. Red, pink or purple would look amazing.
8. Curly, Medium Length Sisterlocks
Next, we have another curly hairstyle. For this look the curls are smaller and tighter. As you can see, the curls look stunning! Hair like this will suit everyone and will look gorgeous for any occasion. Try the hairstyle featured or try shorter locs.
9. Trendy Sisterlocks Updo
Our next hair idea features a beautiful updo! The sisterlocks have been styled into updo that is high on the head. It is such a trendy and elegant look. You could wear a style like this to formal events, parties, nights out, work and more. It is a versatile and chic hairdo that will look stunning on everyone.
10. Blonde Sisterlocks
If you love the half-up styles, you need to check out this next hair idea. Here we have a blonde sisterlock bob that has been styled into a half-up bun. The hair has a beautiful high bun and the rest of the hair is left loose. You can recreate this bob or try longer sisterlocks. Also, opt for any color you like.