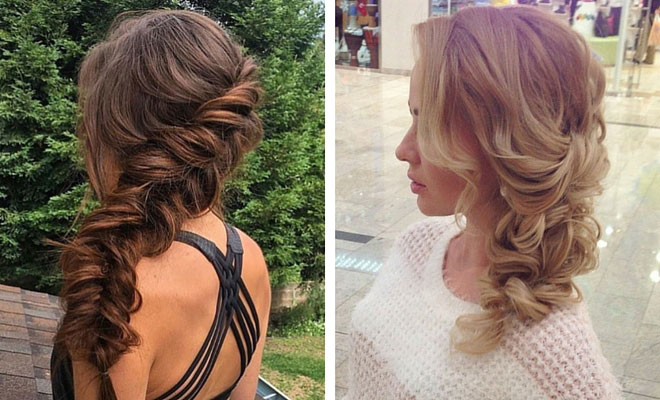 Instagram
Beauty
21 Pretty Side-Swept Hairstyles for Prom
By
|
11. Messy Fishtail Braid into a Side Ponytail
This gorgeous long and flowing messy style will get heads turning.
We know that fishtail braids can take a long time to braid. When you have long hair, it's quite time consuming and when you're getting ready for prom, time is precious. With this in mind, why not have this messy fishtail braid, which flows into a ponytail. The fishtail stops just below your ear and then you can have a long wavy ponytail. To create the fishtail braid will take no more than 5 minutes, tie it with a band to secure it in place then wrap your hair around the band to conceal it. Ensure you have the height on top of your head. Do not grip your hair tight or else you will lose the lift.
12. Messy, Curly Hair with Flowers
This boho vibe is contagious!
Watch out guys, this hairstyle looks amazing. Are you a secret boho fan? Do you love the beach hair look? This is very feminine and ultra girly. It's messy, it has curls and you can team it with a cute flower band to add your style.
13. Chunky Fishtail Braid
Having thick hair will be to your advantage when you opt for a fishtail braid.
This chunky braid looks spectacular and you could blend another fishtail coming from the top of your head with that extra twist.
14. Big, Twisted Hair to the Side
Twisted hair is so easy to do.
This big-twisted hair is side-swept and looks as good as a braid. To be honest, many girls want a simple yet effective hairstyle for prom as many tend to do their own hair. If you can save time on your hair, you have more time to apply your makeup! Everyone can twist their hair, but not everyone can braid. This gorgeous style can compete with all the braids out there so bring it on and get twisting.
15. Messy, Pull-Through Braid
A messy pull-through braid has its own style.
It's looks so detailed and intricate but it's as simple as a ponytail! Tie your hair in a side-sweep ponytail; add a hairband a few inches down. Then make a hole in the 2-inch section and reach through the gap, pulling through your hair from underneath. Continue to do the same process until you get to the end. Try it today and see for yourself.
16. Simple Side Ponytail
Are you not feeling the braids?
Maybe you want your dress to be the focal point for the evening. If so, this simple and extraordinary hairstyle will suit your needs. Keep the bounce in your hair and tie into a ponytail. Wrap around a few strands and you're done! How quick and easy was that? Now you can think making your entrance!
17. Messy Dutch Braid into a Tight Fishtail Braid
A messy Dutch braid, which falls into a fishtail – simple yet jaw-dropping.
Fishtail and Dutch braids look chic especially if they are mixed together. This is great as it's messy so don't worry about a few strands falling down. The fishtail is kept quite tight so no need to tug at the edges, which will save you time. Once you have finished your fishtail, leave it as is. Add a flower or a leaf hairpiece to complement the two braids.
18. Big & Voluminous  Side-Swept Hair
It's your prom so why not go big?
Big hair stands out and makes you instantly feel like a princess. Having voluminous hair looks fabulous and releases your inner diva! This girly side-swept hair will look incredible with any style of dress.
19. Braided Headband
Who needs hair accessories?
When you are rocking a braided hairstyle that sweeps across your head, it looks like a hairband so no need to add anything. You hair speaks for itself. This will be loved by many people.
20. Cute Braided Hairstyle
French braids and a fishtail braid look so cute.
Start by braiding your hair to the side. Once you have finished with the smaller braids, then you can start on your lovely long fishtail braid. The small braids will merge into your long fishtail which looks heavenly. Make sure you have a few loose stands hanging down which will frame your face and look super girly. Don't forget to curl the front strands to finish the look.
21. Big Dutch Braid into a Fishtail Braid
Take a look of this unbelievable mix of braids.
A big Dutch braid seamlessly falls into a side-swept fishtail braid. You may have to ask a friend to help you with the back braiding, as you won't be able to see what's going on. Again, this style can be created in a neat or messy way. This will depend on the vibe you are going for. If you have a simple and chic dress, you might want to go messy with your hair. The photo is a neat look with a few strands shaping the face. If you're new to either the fishtail or a Dutch braid, or even both, you might want to practice this hairstyle as it can be quite fiddly. Practice makes perfect and it will definitely worth it.