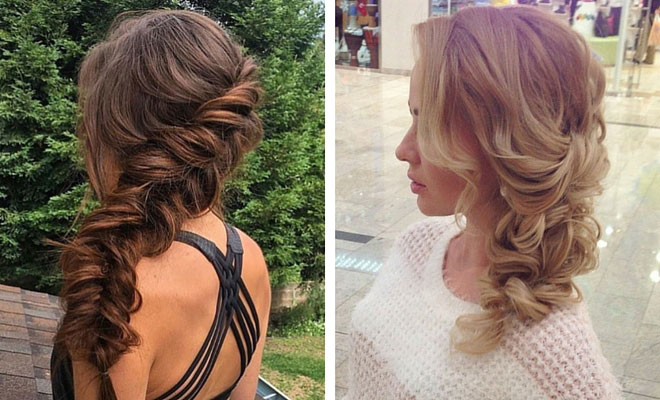 Instagram
Beauty
21 Pretty Side-Swept Hairstyles for Prom
By
|
When preparing for your prom, there is nothing more important to think about. It's the most significant evening of your life, apart from graduating of course! Looking good and feeling amazing are your priorities. Once you have chosen your dress, you can think about your makeup and hairstyles. If you're adamant on having your hair tied back, we have come up with 21 pretty side swept hairstyles that look amazing.
Side swept hairstyles have been seen on many celebrities that walk the red carpet at movie and music events. They are trending everywhere. Many people tend to opt for this style as they are flattering and can suit any occasion. Don't go for the boring traditional ballerina bun that many girls do for proms. You want to set the trend and have that "wow" factor. Whether you like the messy look, sleek, chic, elegant or braided hair, take a look at our 21 pretty side-swept hairstyles for prom. Have fun!
1. Braided Hair to the Side
Having your hair to the side is one thing, but teaming it up with a braid is absolutely stunning.
This will look amazing on longer hair. Prom is the perfect time to show off your braiding skills. Take the braid from the side of the top of the head and merge it with another braid. You can have so much fun mixing different types of braids.
2. Curly Hair into a Loose Braid
We love curls.
They create a romantic vibe and this is perfect for prom. Curl your hair and loosely braid it. It will look incredibly elegant and feminine.
3. Big Fishtail Braid
This braid is one of our favourite.
The fishtail braid is truly unique. This style works better with longer hair, so the longer your hair, the better. When you are braiding, ensure you side-sweep it to your best side and continue. You can make it either neat or messy, depending on your style. If you are keen to make it messy, you can still process to make it quite tight as you go down the braid but after you have added your band at the end, you can then start to tug the edges of the braid, all the way to the bottom.
4. Messy Braid into a Side Ponytail
Messy braids look so good.
If you haven't mastered the fishtail or prefer the standard braid, which we think looks incredible, then go for a messy braid side ponytail. You can add as many braids as you wish but remember to side-sweep.
5. Vintage Curls
Vintage on prom night.
The elegance of seeing vintage curls is amazing. This is a striking and classic style. It makes your hair look healthy and bouncy. You can use bobby pins to grip any loose hair as you side sweep.
6. French Braid to Fishtail Braid
Here is one hairstyle that will make you stand out from the crowd.
If you've conquered the French and fishtail braid, why not mix the two together and show your friends how fabulous this can look. This is classy and chic, which will complement your outfit.
7. Side-Swept Curls + Hairpiece
This side-sweep curls works so well with medium to long hair.
Adding a hairpiece to your gorgeous curls will accentuate your hairstyle. If you have dark or light hair, pearls or white beads look magnificent.
8. Inverted Fishtail Braid
This has the "wow" factor!
Of course you want to receive complements all night about your stylish hairstyle and if you choose to have this inverted fishtail braid, the complements will be non-stop.
9. Romantic Half Up, Half Down Style
This hairstyle is screaming love and romance.
Do you love curls and braids and you're feeling undecided about having your hair up or down? This is the perfect solution for you. This half up, half down hairstyle, looks exquisite and with the added thin hairband, it looks fabulous.
10. Side-Swept Dutch Braid
Go Dutch.
This is one braid that really does stand out, especially when it's side-swept and comes across your headline and all the way down. If you have long hair, maybe try this and see what you think.