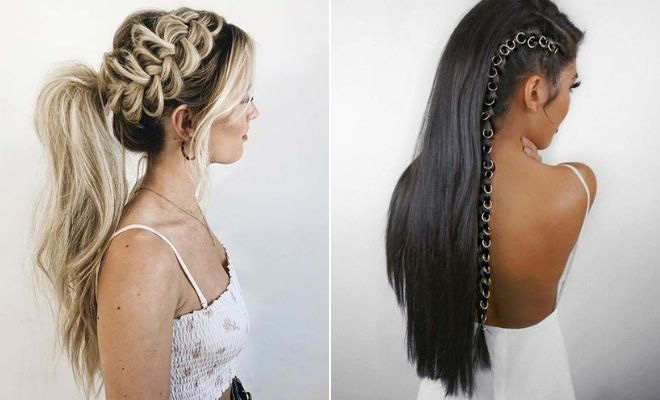 23 Cute Side Braid Hairstyles We Love
If you have been a bit bored with your hair recently and can't get to the salon for a cut or color, then this is just what you need. We have found 23 of the best side braid hairstyles to show you. Braids are such an easy way to jazz up your hair and side braids can be used on loose hair, ponytails, glam updos and more. Not only that, but there is a side braid to suit every occasion. So, take a look and see what hairstyles you can create. You can even practice and wear them all because you won't be able to choose a favorite!
1. Simple Dutch Side Braids
The first hairstyle features two simple side braids. This is a classic hairstyle, it is easy to wear and it suits everyone. It is a great style for the summer and it is practical for keeping your hair out of the way for times when you want to workout and more. You can find tutorials for a similar look online and it can be recreated on both long and shorter hair.
2. Elegant Braided Updo
Side braids can be both casual and they can be glammed up for a special occasion. Here is how you can wear a side braid in a more elegant way. The hair has been braided into a loose fishtail braid that goes along the side of the head like a headband. There are loose curls at the front and the rest of the hair is in a low updo. This is a stunning updo and it is perfect for weddings and the prom.
3. Cute Side Braid for Short Hair
Next, we have a cute side braid and this is one of our favorite looks. This hairstyle features a textured bob and the hair has been braided down one side. The braid has also been accessorized with some ribbon and beads. We love this because the ribbon and accessories make the braid look stylish and unique. You can recreate this look with any similar hair accessories in any color.
4. Side Braid with a Ponytail
A side braid is a great way to jazz up a ponytail. Here we have a simple ponytail with a stylish and loose braid on the side. It is such a pretty look and you can use any braid type for this style from fishtail to three strand. This is another beautiful hair idea for the summer. It also has a beachy vibe.
5. Bold Light Pink Side Braids
The next hair idea features a gorgeous style and hair color. This look features wavy hair with two side braids that meet in the center. The two braids create a cute half up, half down style. If that wasn't cute enough, the hair is also a pastel pink shade. We love this hair idea and the color is great to try if you want a bolder look.
6. Long Side Braid with Hair Rings
This next hairstyle is another one of our favorites! The hair is very long and sleek with a side part. On one side the hair is left loose and the other features a braid. The braid has also been accessorized with hair rings. Hair rings are a great way to give your hair a trendy and edgy look. You can buy these online and you can use them with any braided style.
7. Small Side Braid with Waves
If you are looking for a hairstyle for a more special occasion, then you should check this out. Here we have long waves with a small side braid. The style is finished off with a sparkly accessory. You can recreate this or you can try the braid with sleek hair or tighter curls. Hair like this is great for bridesmaids and the prom.
8. Ponytail with a Sleek Side Braid
Like the braids with ponytails? If so, check this out. This hairstyle features a long ponytail with a side braid that is tied into the ponytail. It is a simple idea and it looks so stylish. Hair like this is versatile and can be dressed up or down to suit any occasion. From the gym to a night out, this hair will have you covered.
9. Pretty Braids with Curls
Not all braids have to be big and bold. You can have smaller and subtler side braids like these. For this look, the hair is curly with two thin braids that meet in the middle. It is a cute and pretty look that will suit everyone. A hairstyle like this is great for the summer, festivals and more special events. You could even add some accessories like flowers.
10. Big Accessorized Side Braid for Long Hair
Next, we have another accessorized look to show you. The hair is styled into a large side braid. This is a textured fishtail braid which has a summery and beachy vibe. The style is finished off with lots of cute clips. We love the clips because the different designs look unique. You can recreate this look or try a smaller and sleeker braid. Hair clips like these can be bought online.