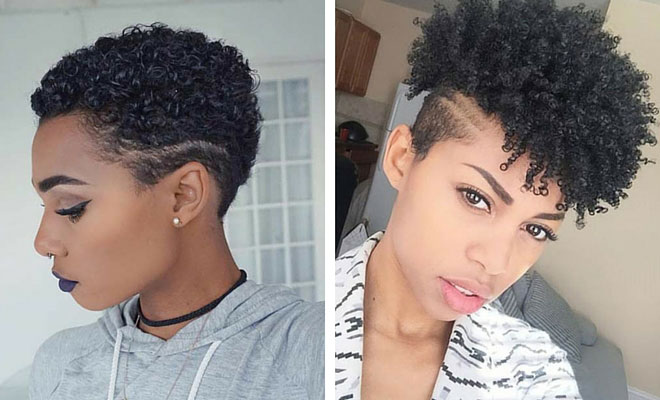 Instagram
Beauty
51 Best Short Natural Hairstyles for Black Women
By
|
41. Shaved Hairstyle with Tight Curls
Want to look glam but have a bit of an edge too? Then try a hairstyle like this one. The hair is again shaved around the sides but the hair on top has chic, tight curls. There is a stylish pattern too. A hairstyle like this looks effortlessly cool and it will give you a trendy look no matter the occasion.
42. Warm Blonde Highlights
Earlier we featured a blonde hair idea. If you liked that one you may like this one too. For this look, the hair is not all blonde. Instead there are just little highlights throughout. This is a great way to add blonde to the hair if you don't want to change all your hair. It is a way to try the color without being too bold. This is a warm shade but you can recreate the look with a cool blonde too.
43. Glam Short Hairstyle
Glam up your look with hair like this! This hairstyle is short with elegant waves. We love this hair idea as it has a beautiful vintage look to it. Hair like this is very on trend too! Lots of women even the A-list ones are trying out cute short cuts like this one.
44. Shaved Hair with Vibrant Blue Color
Next, we have another blue hair idea. This one features long hair on the top and it is shave around the sides. The top of the hair has an ombre look as it starts black and then changes to blue. It has been finished off with a gorgeous shaved heart. This is an amazing style and it would be a trendy look for any woman.
45. Chic Curls
Our next idea is chic and super stylish. The hair is short around the sides and features curls with volume on the top. A hairstyle like this will make you feel fierce and confident every day! It is an easy to wear hairstyle that will keep you looking gorgeous for any occasion. These curls are achieved by using home made deep conditioner and argan oil, there are no defining products.
46. Stylish Red Hairstyle
Earlier we featured a stunning red hairstyle. If you love the red hair ideas, then you need to check this out. For this look the hair is very short with cute red curls. The red curls just jazz up the hairstyle and make it unique and stylish. You can recreate this red look or try a similar style in a different color too. Watch here how she achieved these super define coils.
47. Shaved Sides with Long Curls on Top
Next, we have another shaved look. The hair has been shaved around the sides and has longer curly hair on the top. We love this idea because the longer hair has been styled to one side. This just creates a trendy hairstyle that is different from the rest. Curls like these can be achieved using curl rods.
48. Trendy Patterned Short Hairstyle
The hairstyles that you can create with shaved patterns are endless. By adding shaved patterns, you make your hair unique and stylish. Here is another great example of short hair with a pattern. It has long curls on top with the pattern around the sides. This is trendy and easy to wear pattern that will suit everyone.
49. Long at the Top, Short at Sides
Looking for a short style that looks very natural and stylish? Then this is for you. This hair idea is not as short as some of the others we have featured. It is like a pixie cut with volume on the top. We love this hair idea it is so chic! Try and recreate this look or try a vibrant color. Red hair in this style would look fabulous!
50. Vibrant Orange Curls
Bored of your hair and want to jazz it up with color? Then check out this next idea. Here we have a short and curly style where the hair is vibrant orange. This is a fun and stylish idea that will brighten up your look. It is a cool color that is perfect for anyone who wants to stand out in style.
51. Bold Pink Hair
Another bold color idea that you can try is pink! Don't just take our word for how amazing it looks, check out this next style. The hair starts off black and then it gradually turns pink. We love this hair idea it is trendy and statement making. Try a pink shade like this or try a lighter or darker tone.
What do you think? Would you be brave to go for the chop this summer? Have any of these short natural hairstyles for black women taken your fancy? Let us know which ones are your favorite – we'd love to see what colorful and crazy creations you come up with!