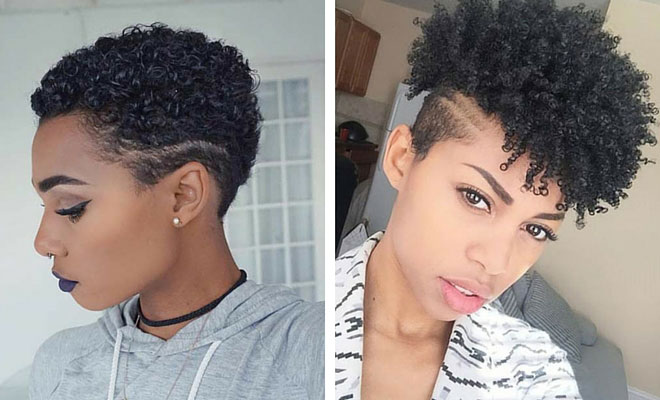 Instagram
Beauty
51 Best Short Natural Hairstyles for Black Women
By
|
31. Two-Tone Natural Hair
If you want well-defined curls on your short natural hairstyles for black women, learn to shampoo your hair in the shower. Do you know why…? When you're in the shower, your hair falls downwards because of gravity. When you wash your hair over the tub or at the salon, you're not always in that position. The water runs down the length of the hair, helping to condition every strand, and because you're not flicking it back up and down all over the place, frizziness will be kept to a minimum.
32. Simple and Stylish Shaved Style
If you are looking for a short hairstyle that is stylish and easy to wear, then this could be it. This is a simple shaved cut with a cool pattern on the side. It is looks effortlessly trendy and it will look amazing on anyone. You can recreate a similar look or change the pattern. If the pattern is not your thing then you can leave it out too.
33. Blonde Curly Hairstyle
Next, we have a stunning curly hairstyle to show you. This hair idea features a short cut around the sides with longer hair on the top of the head. The hair on top is super curly too. This hairstyle would be great as it is but the style game has been stepped up by choosing a blonde color. Blonde looks gorgeous with this haircut and it will instantly make you stylish. You can choose any blonde shade warm or cold.
34. Bold Blue and Purple Hair
Looking for a bold and statement making hair idea? Then check this out! This short cut is a vibrant blue shade. The blue looks amazing and bright colors like this will lift the hair and show the world your unique and fun sense of style. Go for a blue shade like this or be daring and go for a lighter or darker tone. You would think this look was created at the hair salon, but actually Kendra created it at home and shared the process on her YouTube channel. You can watch the tutorial here.
35. Short Cut + Trendsetting Twists
Its not just curls that look great with short hair but other styles too. This hairstyle features shaved hair around the sides with longer hair on top. The longer has been styled into two strand twists resulting in a trendsetting look. This is the perfect style for the ladies who like to look edgy and be noticed.
36. Short Natural Frohawk
Make your short style unique to you by adding in accessories. Here is a stylish way to do it. This short cut has been styled with beautiful purple hair cuffs. The cuffs really jazz up the hair and make the hairstyle stand out from the rest. You can use any color accessories so have fun and experiment with different looks. See the full tutorial on Queen Teshna's YouTube channel.
37. Curls with a Trendy Shaved Pattern
Our next idea is another shaved look. This hair has been shaved around the sides and has curly hair on the top. The thing we really love about this hair is the trendy pattern that has been shaved in around the sides. It is an awesome pattern and will give any short hair a stylish makeover.
38. Tapered Cut
The next hair idea is one of our favorites. For this look, the hair is naturally short and curly. It just a stunning and easy to wear hairstyle that will make you look stylish everyday. Hair like this will suit everyone. If you prefer bolder hair but like the tapered cut, then add a different color. Red would look great!
39. Super Stylish Short Hair Idea
Love the shaved looks? Then this is for you! The hair has been cut very short and is shaved around the sides. This hairstyle has been finished off with a trendy pattern that meets at the back of the head. You can try this look or even try the same pattern with longer hair on the top.
40. Short Natural Red Hair
Next, we have a statement making short hairstyle. The hair is shaved around the sides with little curls on the top. What makes this hairstyle stand out from the rest is the beautiful red color and stylish star pattern. It is such a creative and bold look. Hair like this is perfect for the women who like to show off their unique style.