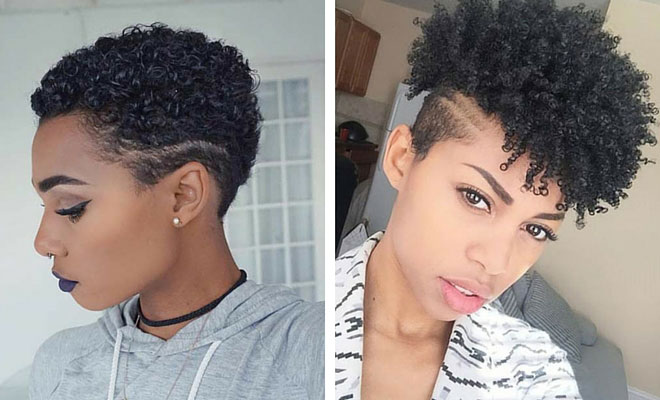 Instagram
Beauty
51 Best Short Natural Hairstyles for Black Women
By
|
21. Short Cut with Shaved Sides
This one combines a couple of styles in one, although the length has been kept relatively long with just the subtlest amount of shaving on the sides. If you don't want fully shaved sides, that doesn't mean you can't shave at all. Only the smallest sections have been sheared on this look, but it still looks great and modern nevertheless.
22. Natural Hair Mohawk with Caramel Highlights
Here we give you proof that caramel highlights are the perfect accompaniment for these short natural hairstyles for black women. We're in love with this look and we can't rave about it enough. The sides are short, leaving all the length on top, and with those curls and chocolate / caramel highlights running through, the style looks good enough to eat!
23. Gorgeous TWA Cut
We're back to the teeny-weeny afro again, this time incorporated into a gradual cut across the sides and back, giving it a neat and tidy look that Halle Berry has been known to rock from time to time. Let's face it, if it's good enough for one of the most famous and beautiful black actresses of all time, it's good enough for us. Plus it looks super cool so, of course, we love it.
24. Golden Blonde Curls + Side Shave Design
Another bold and bright look, this time the short on top and shaved sides have been mixed with a wonderful blonde tone, just perfect for those summer nights you hope to have lots of fun on! Why not look at intricate shaving designs? These are simply lines cut into the short hair but the way they have been cut just adds a little something new to the look. If it's not something you've thought about before, perhaps now is the time to start?
25. Colorful, Short Afro
For those days when you can't decide which color you want, throw them all in! This look would be perfect for the end of summer, towards the fall months, when all the leaves on the trees are turning this exact russet shade. Individually curled spirals are blended so that you can't see where one shade begins and the others end, and if it's bright you want, this is perfect!
26. Beautiful Natural Hair with Shaved Sides
You can care for your own natural hair a lot better than you can with synthetic hair, and you often need various chemicals to process and install them, and then to wash them with afterwards. By going back to short natural hairstyles for black women just like this one, you're eliminating the chemical presence, taking care of your hair and your head!
27. Perfect Cut for Summer!
After three or so days of wearing the same style, you may find that the look starts to look a little frizzy and you might think it's time to wash it again. Rather than running straight for the shower, try a different approach instead. Add some of your favorite hair oils to your hair after that three or four day point, when your hair starts to look a little less-than-perfect and you think about giving it a rinse. The oils (or wax if you prefer) can help bring the look back to life and give you another couple of days before you need to worry about styling or washing it again.
28. TWA with Shaved Sides
When going back to basics and opting for these short natural hairstyles for black women, make sure you have a chat with a good stylist. You're going to want a cut that will accentuate your looks, not overcome it. Your face shape, skin tone and state / style of your natural hair will all need to be taken into account before you can decide on a definitive new look.
29. Short Natural Cut with a Side Part
When you have short hair, you might think that you don't have many options but that's not the case. Even when you have relatively short locks, you can still plait and braid if you wanted to, they'll just be much shorter … Obviously. Partings, and other hair features, can still be used in these short natural hairstyles for black women. If you want an easy way to push those natural curls back out your face, don't be afraid to throw some teeny-tiny corn-rows into the mix, or add a parting to help style.
30. Perfect Short Haircut
When adding products to your hair, or oils to moisturize, make sure you're splitting the hair into sections before you do to ensure that everything is evenly coated. It's easy to flick some oil around your roots, but unless you're doing the job all over, your hair won't be any better off for it – you'll just have patches of un-cared-for hair!