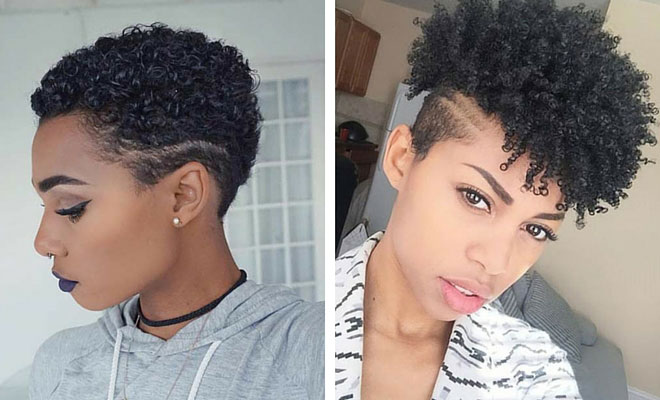 Instagram
Beauty
51 Best Short Natural Hairstyles for Black Women
By
|
11. Finger Coil Out Fauxhawk
There are plenty of benefits to NOT having hair extensions for a while. Firstly, think of all the time you will have freed up by NOT needing to go to the hairdressers. How long does it take for you to have your entire head done? Think of all the other things you could be doing. Short natural hairstyles for black women like these are perfect because it frees up those hours for you – you could spend them studying, working, spending time with your kids, and more. Why wouldn't you go short every once in a while?
12. Fade Haircut
You don't just free up valuable time when you opt for natural hair – it'll save you a small fortune in all those appointments, hair extensions, and treatments necessary to keep them looking great. You could spend more money on your closet! Or makeup. Or vacations… The possibilities are endless. Now you've seen how many ways there are to wear these adorable short styles, aren't you a little tempted yourself?
13. Short, Gray Curls
Gray has been a massive color over the last few seasons, and everyone has been rocking it. From light silvers to gun-metal grays, there is a shade for everyone and one we're loving right now is this one – short, gray curls on the top. It's a look that is cool and modern, but still cute with those spiral curls. If you're going for the chop and you've never played around with color before, it might be time to try.
14. Short, Copper Hairstyle
Red and orange like a sunset, we might just call this one sunset hair! It's beautiful, that's for sure, and if you were looking for cool short natural hairstyles for black women, this is one that should go right to the top of the list. These fiery shades are bold and brave – are you up for the challenge?
15. Cute & Easy Style
If you're going super, super short, just let your hair do it's own damn thing. Why wouldn't you? With hair like this style, all you need to do when you wake up in the morning is add some wax (if at all) and on your way you go. It's simple, easy and to the point – no muss, no fuss and definitely no hassle.
16. Caramel Curls
A massive number of high profile celeb lovelies have opted for short natural hairstyles for black women such as these to give their scalp a well deserved rest. Heaving around those heavy lengths can give you a headache, especially if the tension isn't right, and with repeated use, could even lead to damage and hair loss. Follow in the footsteps of Jada Pinkett Smith and go for something short, sharp and super! We love this look. What about you?
17. Beautiful Tapered Haircut
Solange Knowles, Queen Bee's sister, is another hot celeb who has been seen wearing both long weaves and short, natural styles, and after shaving her head in 2009, decided to grow things out naturally. It's a brave choice for some but we kinda love it. If you've had long hair for too long and fancy a change, perhaps this is the look you should go for.
18. Pop of Blonde
For those days when you're not brave to go totally blonde, go a little bit blonde. We love this pop of blonde look – perfect for summer we say! Blonde might not be for everyone so don't be afraid to play around with different shades. We've seen copper, caramel and even bright blonde pops of color in this list, along with some other bright and wonderful shades too, but if you have something in mind, don't be afraid to mention it to your stylist. you might just come up with this season's hottest new trend.
19. Short Haircut for Bold Women
A simple shaved line in your design can make the world of difference, as you can see from this short haircut for bold women. It's a simple addition, just a little extra touch, but one that certainly transforms your look. The addition of this one simple shaved 'pattern' or design in the look has changed it from being pretty generic to something funky and edgy.
20. Big Chop Haircut
Raven Symone is another celeb favorite who underwent the short hair treatment, although she didn't go quite as short as this number one all over style. A brave and bold look for sure, it's one that literally resets a world of damage to your hair. you're giving your scalp a chance to breathe, and the hair to grow naturally and gradually again. That's one way to deal with a dry and frizzy hair problem!