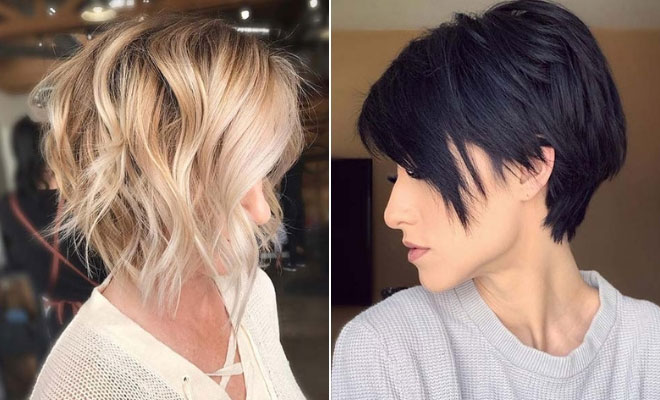 Instagram
Beauty
23 Short Layered Hair Ideas for Women
By
|
Coco Chanel once said that "a woman who cuts her hair is about to change her life". If you are ready for a change and want a new hairstyle, then this is the place to be! We have been looking through some stunning short layered hair styles and have found 23 of the best to share with you. There is a short hairstyle for everyone and all of these cuts have layers too. Layers don't just look good, but they also give the illusion of volume and they can also give shorter hair different shapes. So, what are you waiting for?! Take a look to find your new gorgeous hairstyle!
1. Layered Pixie Cut
The first hairstyle we have to show you is a trendy pixie cut. For this style, the hair is shorter around the back and sides and longer on the top which creates a stylish layered look. The pixie also has short bangs at the front and the hair is a little textured which gives the hairstyle an edgy vibe. It is a gorgeous short cut and it will look amazing on anyone.
2. Beachy Blonde Hairstyle
Next, we have an idea that is perfect for those who love beachy hair. The hair is cut to a length that sits just below the chin and the hair features beautiful blonde highlights in different shades. This style is finished off with textured waves. It is a gorgeous short cut and it will make you look sun-kissed and summery.
3. Simple and Stylish Layered Hair
Maybe you haven't had short hair before or maybe you are looking for a simple short style? If any of these sound like you, then this hairstyle could be perfect. Here we have a beautiful bob with subtle layers. A hairstyle like this will give you a trendy shorter cut but it isn't too much of dramatic change. It is a chic and easy to wear hairstyle that will suit every face shape.
4. Short Haircut with an Undercut
Undercuts have become a very popular short hairstyle for women and here is a trendy example. For this look, the hair is shaved around the back and sides with longer hair on the top. The longer hair is layered too. Hair like this will be simple to style and maintain, so it is great for the busy ladies who want to look effortlessly stylish for any occasion.
5. Fiery Short Hair
Our next hair idea will spice up your look. Here we have a short stacked haircut with bright red highlights. We love the fiery colors and cut because together they create one gorgeous hairstyle. Hair like this will look amazing all year round but especially in the fall because these warm shades are perfect for that time of year. You can recreate this hairstyle or try similar highlights on a different short cut.
6. Vibrant Blue Layers
Be bold and daring and try a layered hairstyle like this! This style is short with lots of layers and it is colored in different grey and blue shades from light tones to dark ones. The vibrant blues look amazing and a style like this will definitely make you stand out from the crowd. Try the blue look or you can try a similar layered cut with a different bright and vivid color.
7. Trendy Layered Hairstyle
This next hairstyle is one of our favorites! Here we have a short, chin length haircut with layers and side bangs. The hair is also colored in gorgeous silvery shade too. We love the color and the cut. The cut is so chic and it will suit everyone while the color gives the hair a trendy and modern edge. Hair like this is great for the ladies who want a bold but easy to wear style. Recreate this or you can of course try the cut in a different color too.
8. Textured Hair Idea
Next, we have another trendy layered hairstyle. The short hair is beautifully highlighted and it is styled with textured waves. This is a more relaxed hairstyle and it is versatile too. Depending on what mood you are in, you can look beachy and sun-kissed or like a stylish rock chick.
9. Chic Feathered Bob Cut
If all the very short hairstyles are not for you, then you can try a gorgeous bob like this one. The hair length on this will just hit the shoulders and the hair is beautifully layered. It is just a chic, classic and easy to wear hairstyle. The added blonde color has jazzed up the simple cut but you can recreate it any color. Try the blonde for a light and bright hairstyle, perfect for the hot, summer days.
10. Short Layered Hair with Bangs
Our next hair idea is just beautiful. The hair has a stacked cut at the back and side swept bangs at the front. It is a gorgeous cut painted in black color which really makes the hair stand out. It just gives the hair a touch of glamour and the whole look is very chic. Recreate this hairstyle or you can try the cut in a different color.