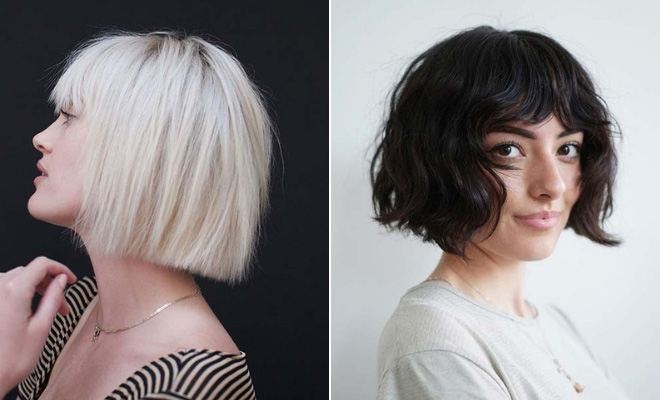 Instagram
Beauty
23 Best Short Bob Haircut Ideas to Copy in 2020
By
|
11. Sun-Kissed Bob
Give your hair a sun-kissed look all year round with hair like this! Here we have a short bob with blonde highlights and textured waves. As you can see, blonde highlights really give the hair a summery beach vibe. Hair like this is perfect for the summer season because it is easy to manage and cute. It is also great for the fall and winter because it will brighten up your look.
12. Chic Short Bob Haircut with Bangs
If you want a statement making cut, then this is for you! For this style, the hair is cut to a length that is just above the chin and it has straight across bangs too. The hair is very blunt and sharp which creates a modern and trendy style. Recreate this or you could try the cut in a funky color. Silver would look amazing.
13. Voluminous Short Bob
Next, we have another glamorous hair idea. The hair is cut to just under the chin, it is styled to the side and there are trendy warm highlights too. This style is also finished off with textured curls. It is a stunning haircut and it is perfect for those who have been feeling that their hair is a little drab as it will give your hair a lift and new life.
14. Cute Bob Hairstyle with a Bun
Many ladies can be put off trying short hair because of styling. The common thoughts are how will I style my hair? Can I wear updos? Well, this next idea shows a super cute updo that you could try! The hair is cut into a bob and half is styled up into a bun. As you can see, this is a pretty and easy to wear hairstyle. You can recreate this or opt for a shorter bob.
15. Trendy and Sleek Bob
The next hair idea features another trendy cut and color. Here we have a chin length bob with a sharp cut. The hair is styled sleek and straight and it is a light and bright color too. This is an edgy and stylish hair idea that will suit everyone. A cut and color like this will let out your inner rock chic. Recreate this or you can try the bob in a different color.
16. Pretty Short Bob with a Braid
Next, we have another bob with a pretty style. The hair is longer at the front and shorter at the back which gives it a stacked cut and the hair has a cute braid also. This is a beautiful hair idea and it shows another style option for short hair. The stacked cut is stylish and will look gorgeous curly or straight.
17. Elegant Short Bob Haircut
This next hairstyle is so elegant and pretty. The hair is short and is dark with lighter highlights. It also has a side part and has textured curls. This is a very classy and chic hairstyle and it will make you look glam for any occasion. A bob like this will look amazing in any hair color.
18. Modern and Stylish Blonde Bob
If your hair is looking tired and you have had the same cut for a long time and you want a change, then this hair idea could be perfect for you. The hair has a blunt bob cut with stylish platinum blonde highlights. We love this idea because the cut will give your hair new life and the color will brighten the hair up. This is a modern style that will take your hair from drab to fab.
19. Rainbow Hair Idea
Stand out from the crowd with hair like this! Here we have a simple bob cut that has been colored with many different bright colors from purple to orange. This look is perfect for the ladies who like bold and statement making hairstyles. You can recreate this or try using more vivid shades. Either way, your hair will look amazing!
20. Short Bob with Waves
Next, we have another bob with a stacked cut. This time, the hair is cut to just below the chin at the front and it is shorter at the back. The hair is finished off with a side part and waves. We love the waves with the short cut because it looks cute and summery. Recreate the blonde look or try the cut and style with any other hair color.
21. Beautiful Blonde Bob with Side Bangs
The next hair idea is stylish and easy to wear. This hairstyle features a blonde chin length bob. The hair is also styled with textured waves. A short bob like this is so easy to maintain and style. Recreate the bright and blonde look or try the simple bob in a different color. You can also try the cut with straight hair for a trendy and edgy look.
22. Classy Bob with Bangs
Want a classy and chic hairstyle? If so, this could be perfect for you. Here we have a classic bob cut with cute bangs. This is one of our favorite hairstyles because the bob is simple, stylish and will suit everyone. The bangs just give the hair a soft and pretty look. A bob like this is timeless and it will keep you looking glam for any occasion.
23. Highlighted Short Bob Haircut
The last short bob that we have to show is bright and highlighted. For this look, the hair starts dark with added caramel blonde highlights. Warmer blonde shades like this one are perfect for the ladies with darker hair. This is a beautiful hairstyle and it can be recreated or you could take the length of the hair even shorter.
We hope you have found a beautiful short bob haircut to try!