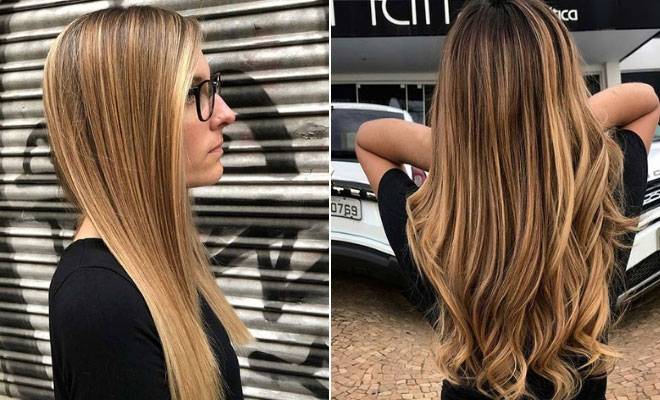 23 Best Caramel Highlights Ideas for 2019
There are so many different blonde shades to try and one of the must-haves is caramel blonde. Caramel is a warm blonde shade that can be used to create soft and subtle hairstyles or bold and statement making looks. Not only that, but caramel compliments all hair colors and it is also loved by celebrities. Caramel highlights are a beautiful way to wear this lovely shade as they will suit everyone and if you change your mind, the color will easily grow out unlike all over hair color. To show you how gorgeous caramel highlights can be, we have found 23 of the best looks. We have highlighted bobs, curly styles and more. So, take a look, you will love them all and won't be able to decide which one you want to try!
1. Chic Caramel Highlights
We would like to begin by showing you this chic hairstyle. The hair is a gorgeous brown shade with added caramel blonde highlights. As you can see, the blonde brightens up the hair and compliments her root color beautifully. Wear your highlighted hair straight like this for an easy to wear style that will make you look glam for any occasion.
2. Golden Caramel Blonde
Next, we have a stunning golden caramel hairstyle. For this look the hair is a mixture of shades and these include cool and bright blondes to the warmer caramel tone. It is a gorgeous hair idea and it will suit everyone. Blonde hair like this will be perfect for the summer.
3. Caramel Ombre Hair
The next hairstyle is super stylish. Here we have long curly hair with dark root color. About half way down the hair, a beautiful warm caramel blonde has been added. The blonde looks gorgeous and as a lot of blonde has been used, it does have an ombre look too. Recreate this or you can try adding less blonde for a subtler look. You can also have the blonde from root to tip, but you'll have to visit your hairdresser more often.
4. Beach Waves and Caramel Highlights
Get your hair summer ready with a beautiful style like this one. The hair is darker at the root and there are caramel highlights added further down the hair. This look has been finished off with stylish beach waves. It is a relaxed hairstyle and with blonde like this your hair will look warm and sun-kissed. It is perfect for those who want a beachy bohemian look.
5. Sleek and Stylish Hair Idea
We love this next hairstyle! Here we have long and sleek hair with dark caramel blonde highlights. The highlights look gorgeous and the long hair really makes a statement. This look is giving us Beyonce vibes so it is perfect for the ladies who want fierce and stylish hair that makes them feel like a style queen!
6. Multi Tone Blonde
Our next hair idea is another multi tone blonde look. The hair features lots of highlights in caramel and lighter blonde shades. This color combination is beautiful and as different shades have been used, it gives the hair a more natural look. Highlights like these will give life back to dull and tired hair.
7. Dark Hair and Caramel Highlights
Next, we have a subtler blonde hairstyle to show you. For this look the hair is brown at the root with added dark caramel blonde highlights. As the blonde shade used is darker, it does blend more with the root color which creates a subtler and more toned down look. This is perfect for anyone who wants to give their hair a lift and try blonde without being too bold.
8. Caramel Highlights for Curly Hair
The next hair idea we have to show you is one of our favorites! Here we have long and beautiful curls with caramel highlights. The curls are stunning but they stand out even more because of the highlights. It is such a glam look and hair like this will wow everyone. Highlights like these can be created on curly hair in any length.
9. Glam Caramel Highlights
Does your hair need a makeover? Maybe you want to glam up your look a little? If any of these sound like you, then this hair idea could be perfect. The hair is dark at the root with gorgeous blonde highlights and the hair is subtly waved too. We love the waves and the blonde as they have an Old Hollywood glamour vibe. You can recreate this look or try the blonde and waves with any root color.
10. Bold Caramel Hair
If you prefer bold and richer colors, then you should check out this next look. Here we have long wavy hair that is warm brown shade and caramel highlights have also been added. The brown root color is so beautiful and it compliments the caramel blonde perfectly. These two shades create a more vivid and bright hairstyle so it does make more of a statement than some of the subtler blondes.