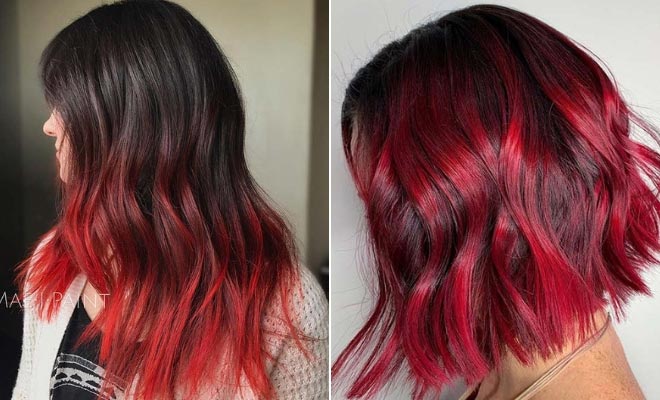 Instagram
Beauty
23 Red and Black Hair Color Ideas for Bold Women
By
|
11. Black and Dark Red Hair
Jazz up your black hair with dark red like this. There are multiple red tones that together create an unique hair color. We love this hair idea because it is stylish and stunning. Red like this will suit everyone and it can be used on all hair lengths.
12. Bright Red Hair Idea
Looking for a hair idea that will make you stand out from the crowd in style? Then this is for you. Here we have a super bright bob. The hair is mostly red but there are black roots peeking through. The subtler black roots give the hair a stylish look. This vibrant red is stunning and will demand attention. It would be perfect for anyone who wants a major hair makeover.
13. Black Hair with Red Tips
Next, we have another ombre look. This is different to the others because it starts lower on the hair. The hair is mostly black then the hair gradually blends to a dark red and then finally a vibrant red shade. This is a beautiful and trendy ombre hairstyle and will suit both long and short hair.
14. Elegant Black and Red Hair
If you are looking for hair inspiration then you need to check out this hairstyle. Not only does it have a stunning red and black color combo, but the actual styling and accessory is amazing too. This hairstyle would look gorgeous for a special occasion. It is an example of how bold colors can look pretty and elegant while being super stylish too!
15. Scarlet Red Hair Color
Brighten up your look with hair like this. This hair is a stunning scarlet shade with dark root color. It is a very glam hair idea and will look amazing on any hair length and with any style. We love this beautiful color, it reminds us of Ariel from Disney movie The Little Mermaid. It would be perfect for someone who wants a trendy and magical hairstyle.
16. Half Red Half Black Hair
Are you fed up with your hair and want to transform it with a unique style? If so, this is for you. Here we have hair that is half red and half black. It is such a creative and bold hairstyle and would be great for the daring ladies who want to try something new. Half and half color will look amazing on all hair lengths.
17. Spicy Red Hair
Spice up your hair with red like this! The hair is black at the root and then the hair changes into a stunning red shade. We love the color used on the hair, it is gorgeous! A darker red like this would be a great choice for anyone who wants to try red, but not the very bright and vibrant shades. A color like this would look amazing with ombre too.
18. Subtle Red and Black Hair
Thinking about changing your hair color but don't want a dramatic makeover? Then check out this look. The hair is a black bob with subtle red running through the hair. As you can see, it only gives the hair a red hint and it looks very stylish. If you have natural black hair then color like this is easy to wear and easy to maintain.
19. Long Red Hair with Dark Roots
Our next hair idea is a beautiful and rich red color. Again, the hair starts off black and ends in a stunning dark red tone. This is a beautiful color that would look amazing for the fall and winter. It will brighten up your look during the colder seasons!
20. Light Red and Black Long Bob
If all the dark red shades are not for you, then you can choose a brighter color like this one. Here we have a beautiful asymmetric hairstyle with a coppery red shade. It is quite light and adds a warm spiciness to the hair. A color like this will look amazing on all hair lengths and styles.
21. Unique Black and Red Hair
Want a unique style that is different to all the rest? Then this is for you. This hair has a very artistic and creative look. Instead of the classic black roots and red color, this one has what looks like horizontal stripes. This is an amazing coloring technique and it is perfect for the trendsetters!
22. Black and Red Short Hairstyle
Make a statement with short hair like this! The hair is super short around the edges and is red and long on the top. We love this look because the red really stands out. You can recreate a bold red style like this or choose a darker red. The wine red shades would look amazing, too.
23. Dark Red to Bright Red Ombre
The last idea on our best picks list is this gorgeous hairstyle that has been described as "Sangria Wine". It has dark roots then blends to dark red and finally to a light and bright red. This is a stunning and stylish look. A blend like this is best suited to long hair to make the most of the color change.
We hope you have been inspired and found a red and black hair combo to try!