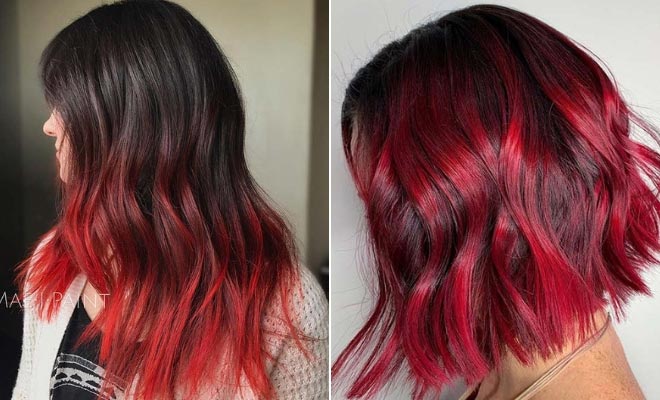 Instagram
Beauty
23 Red and Black Hair Color Ideas for Bold Women
By
|
Bored with your hair and want to try something new? Then you need to check out our top 23 red and black hair ideas. Black and red is a trendy color combo that will suit everyone. There are so many different ways to wear these two colors – from black and bright red to dark red shades. We love red and black and know that by the end of this post, you will too. What are you waiting for?! Take a look, you will soon be going to see your hairdresser.
1. Short Red and Black Hair
First up, we have this gorgeous red and black bob. The hair is black at the root with red added gradually throughout the hair. It is a trendy hairstyle that is perfect for the ladies who would like a dramatic hair transformation. You can recreate this look or try a more vibrant shade of red.
2. Red and Black Pixie Cut
Next, we have a short hairstyle to show you. For this look the hair is black on the bottom layers and red on the top layer. The color combination used here is stylish and statement making. A short cut like this will look amazing on anyone. You can try this bold red or try a darker red. Either way, it will be a trendsetting style!
3. Red Hair with Black Underneath
Looking to glam up your look? Then this is the hair idea for you! This hairstyle features long hair in a beautiful, bold red shade. As the hair comes to an end, you can see the stylish black color underneath. This is a cool hair idea that looks red but when it is put into an updo, you will see the black color too. Wear in gorgeous waves like this to make the black highlights pop.
4. Black and Red Ombre Hair
Ombre is a hair trend that will always be stylish. Here is how to rock red and black ombre. The hair is black at the root and then the red shade starts shortly after. This is a gorgeous hair idea that will make a statement. Recreate a similar look to this or use a darker or brighter red. You can also start the color further down the hair too.
5. Warm Red and Black Hair
Brighten up your look with hair like this! The hair featured is again black at the root and then gradually blends to a bright red and then to a coppery, warm red. We love this hair idea because it has more than one shade and the blend is beautiful. Hair like this is perfect for the trendsetters!
6. Red to Black Ombre Hair
Our next hairstyle is sleek, straight and super stylish. Here we have a red and black asymmetrical lob. When hair is asymmetrical it is longer on one side and shorter on the other. This is a trendy haircut that is loved by celebs like Rihanna and it will look amazing on you too. Pair a lob with red and black and you have one stunning hairstyle.
7. Red Highlights
If you would like a subtler red look, then this hairstyle could be for you. This hairstyle features long black hair with dark red tones. Even though the shade is dark, there is a brightness to it as it has a pastel look. This is a gorgeous hair idea and you can recreate with any red shade.
8. Soft Red and Black Bob
Next, we have another stylish bob. This one is black at the root and then blends to a soft red and then finally to a light shade. We love these colors and it beautifully shows that you can blend more than two colors together. Recreate this bob or try a similar red blend on longer hair too.
9. Bold Red and Black Hair
Our next idea is this intense red style. This one has black roots with red gradually added in the hair until it creates an ombre look. We love this red color as it is vibrant and stylish. Colors like this can be used on hair like featured or you can add them to shorter hair too.
10. Black and Red Short Cut
Thinking about having shorter hair? Then this hairstyle is for you. Here we have a trendy short cut where the hair is black at the back and red at the front. It is like ombre for super short hair. A hairstyle like this is a must-have for the ladies who want a bold new hairdo.