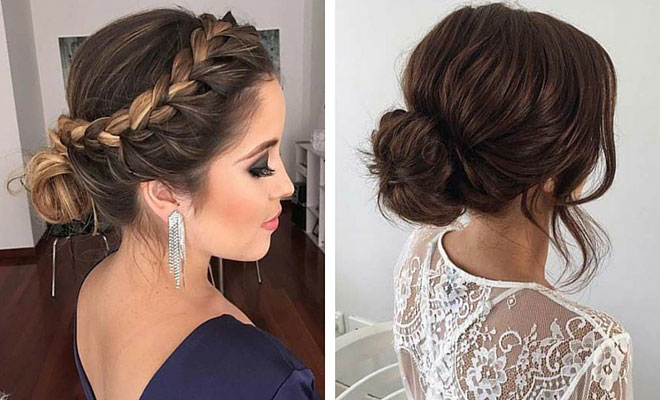 31 Most Beautiful Updos for Prom
The prom is a very important date in your calendar during High School.  That's why it's crucial you find the right hairstyle that suits you.  Make your hair look elegant and stylish by having an updo.  If you search for prom hairstyles online, there are thousands, so we have come up with the 31 of the best updos for your prom.  Having your hair up, will show off your gorgeous dress as well as making you feel confident.
Everyone knows that prom time is party time so you need to make sure your hair looks fabulous.  Look at our glamorous hairdos and see which one stands out for you.  If you're having a professional hairdresser do your hair, they will be so grateful you have already chosen your style so get looking!  If you're doing your own hair on the night, some of our suggestions may need a little practice, remember practice makes perfect!
1. Elegant Low Bun Updo
If you want an elegant and sophisticated style, go with this low-rise bun.
This will work with any hair type and show off your amazing dress.  Try not to grip your hair too tight whilst tying it back.  It's simple to do and looks impressive.
2. Messy Updo for Long Hair
Messy updos are all the rage now, the messier the better.
If you have longer hair, try this messy updo for a messy but controlled style.  The best thing about this style is that if any hair drops out during the night, it will add to the look!
3. Cute Updo with a Side Braid
Go for the cute look with this gorgeous side braid.
The harder decision to make with this hair style is what side do you braid.  Choose your best side and have the other side messy, hanging down.  It will look fabulous in photos; just remember to turn to your braid side and strike a pose!
4. Curly Elegant Updo
Curls look amazing for any event especially your prom!
If you're used to having straight hair, go for curls.  You will definitely feel the difference and therefore, will feel special.  This curly style will bring attention and complements throughout the evening so work it girl.
5. Milkmaid Braid Updo
If you want a pretty and girly style, go for the milkmaid braid updo.
If you have a fringe, this style will help show it off and bring attention to your eyes.  It's so easy to achieve.  Braid your hair, scoop them up and pin.
6. Classy & Elegant Look
We have a few elegant styles listed on here and this is one of them.
Chic and stylish is all you need and with this hair updo, you'll have that!  Twists and braids are vital to achieving this look.  Go with the flow and make a few twists here and there.  Remember, there is no particular design to follow, make yours unique.
7. Messy Bun with a Braid
We all love messy hair right now.
With this hair updo, you have the girly braid mixed with a messy bun updo. You can wear this style casually or dressed up so it'a perfect for a prom!
8. Side-Swept Bun
Having a side bun looks graceful.
It's the perfect hairstyle to make you feel regal and special. With a side-sweep bun with braids, you're onto a winner!  It will look great with any style of dress you have chosen.
9. Messy, Braided Updo with Flowers
We love this boho style.  It adds a Summer vibe to your hair.
Incorporating flowers in your hair shows off your playful and hippy side.  It suits both light and darker hair, so don't think you have to have blonde hair to do this.  You can always change the colours of the flowers to suit you.  Pastel colours seem to be always trending, whatever colour hair you have.  Add a few colourful girly flowers to your messy braided updo, which will show off your character and your fashionista side.
10. Side Braid into Bun
This is a slightly neater side braid, not as messy as the others are.
It's all down to what you prefer for your prom night, some people like messy hairdos and some prefer a neater, sleek style.  This is the best of both worlds, with the bun being messy and the braid being tight and controlled.  This is a side braid mixed with a bun and from the front, it shows off the braid hairband.  It looks amazing.
11. Romantic Updo
They say love makes the world go round, so go for a romantic updo.
Prom night is all about looking good, love and having great hair.  This style is guaranteed to show off your beautiful hair so go for it.  Why not, it's prom night!
12. High Bun + Crown Braid
If you can't decide between a bun and a braid, go for both with this gorgeous high-rise bun with a crown braid.
If you'll be worried about your hairstyle falling out, this will feel secure throughout the entire evening so you don't have to worry about what your hair will look like.  If you want an even more secured feeling, when wrapping your braid around your bun, wrap it tighter so you know it's not going anywhere.  Remember, hairspray is your best friend especially with hairstyles like this!
13. Upside Down Braid Bun
If you want a detailed and intricate hairstyle, then this one is for you.
This upside down braid bun will be the talk of the prom!  It looks stunning.  Not many people know how to do this so if you're doing your own hair on the night, get practicing.  Maybe you could ask your friend to help, it's not easy doing this on your own.
14. Twisted Updo
Twist and shout all night long with this twisted updo.
Are you feeling the twists?  We are!  This stylish twisted updo screams prom!  Don't worry too much about having a neat twist, it looks great when hairs are hanging underneath.
15. Cute Curly Updo
This curly updo is feminine and girly.  It's so simple and cute.
All you have to do is curl your hair, (if you don't already have naturally curly hair) gather a few strands, start to twist and pin away.  Remember, doesn't matter if it's messy.  This is not supposed to be a neat style.
16. Boho Braided Updo
Are you feeling the boho vibe?
This braided boho updo is uber popular and we can see why.  It is beautiful, dainty and detailed.  It looks like an intricate hairstyle to achieve but it's simple when you know how to braid.  Don't worry about the small hairs, let them dangle.
17. Fishtail Braid Updo
Fishtail braids have become more popular over the past few years due to its striking affect.
Many people are still unaware of what a fishtail braid is.  If you want to know why it's popular, then just look at this photo.  This explains all the hype over fishtails.  People are bored with the standard braid, so they opt for this.  Personally, we think a fishtail braid looks amazing.  It has a unique style, a style of its own.
18. Elegant Style
Prom night for many girls means elegance and with this style, you will be the elegant girl.
This style is very lady-like and neat.  This smooth tied back bun looks refined and polished.  All of your hair needs to gather to the central bun behind and the hair needs to be hair sprayed to ensure that no hairs will drop.  This is a style that needs to be neat and not at all messy.  Apply hair serum before you start to style.  This will make your hair smooth, glossy and easier to style.
19. Glamorous Curly Updo
Curls?  Check.  Style?  Check.  Chic ?  Check.  This is all you need to look magnificent with this glamorous curly updo.
This hairstyle is glossy, romantic, feminine and classy.  Make sure you curl the ends of your hair so you have this finish.  Top is off with shine hairspray so it's glossy and sleek.
20. Cool Braided Updo
This hairstyle has style and chic written all over it.
Look beautiful with this cool braided updo. The girl in the photo has blonde hair but it can look as equally amazing with darker hair.  Have a few bangs framing your face with the rest tied back.  It has a very striking style so no need to go big with your jewellery, let you hair do all the talking.
21. Fishtail Crown Braid
Get ready to dazzle your friends with this gorgeous fishtail crown braid.
I know you want to be Prom Queen so why not wear your crown already with this fishtail braid crown hairstyle.  This is super cute and stunning.
22. Voluminous Braid Updo
The trick to this voluminous braid updo is of course volume.
Before you even start on the braid, you need to add the volume to your crown.  Teasing your hair will help but dry shampoo is becoming more popular in providing the volume, so why not use this on this style.  As you spray, lift your hair, this will create the volume you need as well as making your hair smell divine!  Then the hairspray comes into play.  Once you are happy with your style, spray away.
23. Messy French Braided Updo
Don't forget the standard French braid.
Whilst everyone around you may be having fishtails, go back to basics with this gorgeous messy French braid.  Everyone will be green with envy, especially the ones with a fishtail!  Retro style baby!
24. Teased Crown + Curly Low Bun
The best tip for this hairstyle is teasing.
Teasing or backcombing your crown will instantly bring volume to your hair.  Curls and a teased crown are the flawless combination.  With this style, you will feel like a Princess so get pumping up your volume to create this wonderful look.
25. Side-Swept Bun with a Braid
Add that instant fabulous factor by having a side-sweep bun with a braid.
This hairdo gives the illusion that more time and effort has gone into your hair but it's hasn't and it's simple to do.  The gorgeous braid spills into the side-sweep bun to create intricate design.  This is best on longer hair so it forms a much larger and heavier bun.  It can be created on shorter hair, but bear in mind that you won't have such a full bun.
26. Romantic Twisted Updo
This is a striking, but soft and dainty style.  It looks hard to achieve but believe us, it's not.
This romantic twisted updo, is so easy.  You start by twisting the front of your hair but ensure you don't flatten it, you need the high-lift.  Pin this and start twisting the middle sections and the longer sections last.  The trick is not to spend time pinning back every strand of hair.  Leave the little hairs hanging; it will help create the look so don't worry if it starts to fall, it all ties in with the romantic side.
27. Curly Hair + Teased Crown = Elegant Updo
Do you have a dilemma of choosing between curls and or a teased crown?  It would be so hard to choose out of the two but you don't have to – have both!
Tease your crown to create the bouncing volume and curl just below half-way down your hair.  Then gather your curls and pin.  The finished style will have the elegance and style fit for a Princess. I hope the hairspray is at the ready!
28. Messy Crown Braid Updo
Crowns are supposed to be worn girl, so wear your on prom night.
Have a messy crown braid and people will know you you're a trendsetter.  If you have highlights that have grown out or dip dyed hair, having this style will create an edgy and raw style like the photo.  It's great to have this much contrast so show it off.
29. Cute Milkmaid Braid Updo
If you can't seem to get to grips with a crown braid, this is an easier version and will give off the same vibe, so don't be disheartened. You can still have your perfect cute braids in the style of milkmaid braids!
It will take you far less time than a crown braid which means more time on your dress and makeup!  This updo will suit any hair type and hair colour.  Make sure you keep a few hair strands at the front to frame your face.
30. Simple Messy Updo
Go for this messy, effortless, "I just can style my hair anyhow and look fabulous" look!
You will be trending and will look incredible.  If you have a detailed dress, no need to create such a big hairstyle.  This will show off your girly and elegant side but messy at the same time.  We love it.
31. Simple, Classy & Elegant
Try this simple bun with a few loose strands.  Sometimes, less is better.
Going for the simplicity hairstyle will show others how stylish and classy you are.  To start off, tie your hair back loosely so you gather volume.  Pin your hair into a bun.  To add the romantic theme, curl your front loose stands.  These will make your hairstyle softer and classy.