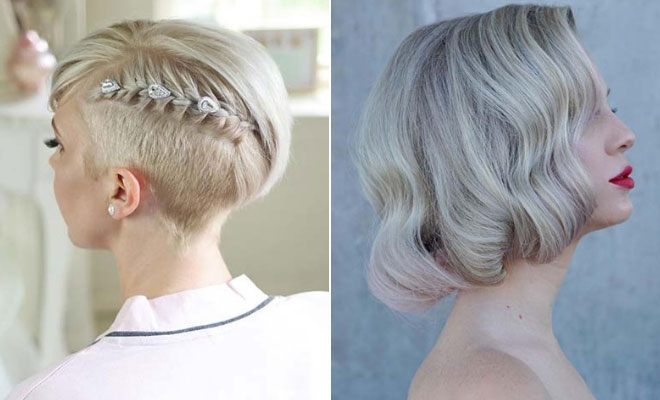 Instagram
Beauty
25 Trendy Prom Hairstyles for Short Hair
By
|
11. Stunning Hairstyle with a Sparkling Accessory
Next, we have a stunning prom updo for short hair to show you. For this look the hair has been curled and clipped up into a low and elegant style. The hairstyle also features a sparkly floral accessory. It is a chic and beautiful hair idea that is perfect for a special occasion. You can buy hair accessories similar to this online. The style would still look amazing without the flowers or similar hair accessory.
12. Short Hairstyle with a Unique Braid
Love braided styles? If so, you need to see this next idea. Here we have a short bob with a unique side braid. This braid uses more strands which creates an intricate pattern. The rest of the hair is sleek and swept back. A hairstyle like this is perfect for those who want to look pretty with a bit of an edge too. You can view tutorials online for 4 and 5 strand braids, so check those out and see if you can recreate a similar look.
13. Short Curly Hairstyle
The next hair idea that we have to show you is perfect for those with curly hair. For this style, one side of the hair is short and the other side is long. The longer side is styled with gorgeous curls. This is such a cute and stylish hairdo and it is a great way to wear curls. Keep it simple like this or you can accessorize.
14. Half Updo Style for Short Hair
Next, we have another cute and simple hairstyle. This time the hair is cut into a long bob and it is styled to look messy and voluminous. Half updos are so glamorous and they are perfect for a party or special occasions like the prom. You can create half updos on long bob styles like this or they can be created on even shorter bob haircuts. Either way, you will look so chic and stunning with this hairdo.
15. Cute Half Up, Half Down Style
This next hair idea is cute, pretty and quite simple. The hair is styled into a half up bun. As you can see, the style looks effortlessly beautiful. Hair like this is so easy to wear and it will suit everyone. You can recreate this or you can jazz it up with more hair clips, flowers or other accessories.
16. Braided Half Updo
If you want to make a statement with your hair, then this idea is perfect for you! This style features a cute bob where half of the hair is braided into two chunky Dutch braids. As you can see, even though your hair is on the shorter style, you can style achieve cute prom hairstyles. This is an elegant style and it will make you stand out from the crowd. You can add hair accessory to the braids – tiny rhinestones would be a great choice.
17. Curly Mohawk
Let out your inner rock chick at the prom with a hairstyle like this one. Here we have a short cut that has been styled into a curly mohawk. As you can see, the mohawk looks so edgy, statement making and beautiful. Hair like this is perfect for those who want to try a more unique hairstyle. There are tutorials for mohawk styles like this online.
18. Short and Shaved Style with a Cute Accessory
Do you have a short and shaved hairstyle? If so, this idea could be perfect for you. This style features hair that is shaved around the back and sides and it is longer on the top. The longer section has been accessorized with a cute and sparkly clip. It is an easy to wear style and the accessory glams up the short cut for the special occasion.
19. Pretty and Curly Short Hair
This next hair idea is one of our favorites. The hair is cut into a bob length and it is styled into cute and pretty waves. It is a simple style but it looks so beautiful. Wear wavy hair like this with a gorgeous dress, accessories and makeup and you will have one stunning prom look. You can keep it simple or you could add some hair accessories such as the trendy clips featured on a bob earlier in the post.
20. Side Braid with Hair Rings
Next, we have another braid style. This time we have a short bob with a side braid. The side braid has also been accessorized with trendy hair rings. We love the hair rings because they give the hair a more unique and stylish look. You can buy hair rings online and different colors and designs are available, so you can show off your individual sense of style.
21. Glam and Elegant Short Hairstyle
Looking for a glam and elegant hairstyle? If you are, then you need to check this out. Here we have hair that is shorter around the sides and longer on top. The hair is beautifully styled and it has a Marylin Monroe vibe. This is another easy to wear hairstyle that just looks effortlessly stunning.
22. Edgy Short Hair Idea
If all of the cute hairstyles with flowers, gems and curls are not your thing, then this hair idea could be perfect for you. This hairdo features a short cut that has been styled into an edgy mohawk. It is so fierce and beautiful. This is perfect for those who want to dress up for the occasion but who want to keep their unique and individual sense of style.
23. Bob Haircut with Side Twists
The next hairstyle is elegant and beautiful. For this look, we have a short and curly bob with cute side twists. It is a gorgeous hairstyle and it would be great for a special event like the prom. You can recreate a similar look on shorter hair too, and you can add hair accessories.
24. Messy Low Bun Updo
If you have a long bob haircut, you're gonna love our next hairstyle! Her hair is styled into a low, messy bun with with a few pieces left out in the front. The look is simple and easy to create. Opt for an updo if you have a high collar or bateau neckline dress.
25. Messy Half Updo
Our next look is super easy to create, yet so eye-catching! This messy half updo is perfect for girls with long and short bob haircuts.
We hope you have found the perfect prom hairstyle for your short hair!