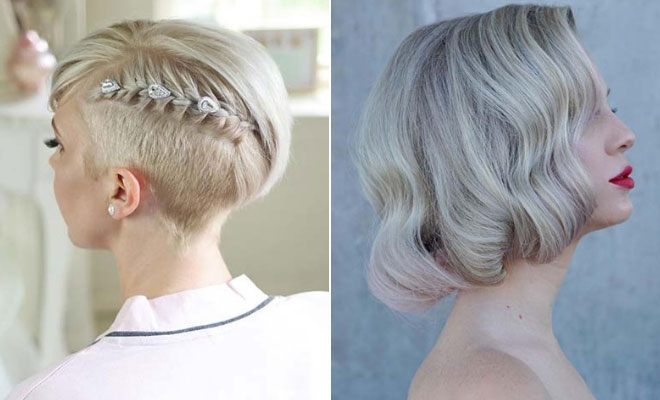 Instagram
Beauty
25 Trendy Prom Hairstyles for Short Hair
By
|
For a special event like the prom you want to look and feel your best. So, a lot of thought goes into choosing the right dress, makeup and hair. When searching online for a beautiful style, you will often find that these hairdos are great for the ladies with medium and long hair lengths. What about those with short hair? Well, at StayGlam we have you covered. We have found 25 stunning prom hairstyles for short hair. You will find braided styles, bobs, pixie cuts and more. There is something for everyone whether you want to look glamorous, edgy or elegant. What are you waiting for?! Take a look to find a beautiful prom hairstyle for short hair.
1. Chic and Elegant Hairstyle
The first hairstyle that would like to show you is so elegant and chic. This look features a cute short cut that has been worn on one side. The style has also been finished off with a stunning silver accessory. This is simple hairdo that looks effortlessly stunning. You can recreate something similar or try the hairstyle with a different accessory.
2. Short Bob with a Beautiful Braid
Bobs have become one of the must-have hairstyles and next we have a gorgeous way to style your bob for the prom. The hair has beautiful and relaxed curls complete with a side braid on the front section of the hair. We love the braid because it looks so elegant and stylish. This is an easy to wear hair idea and you can find tutorials for this type of braid online. You can also opt for a waterfall or fishtail braid instead.
3. Cute Pixie Cut with Bangs
If you want a simple and beautiful hairstyle for the prom, then consider something like this. Here we have a super cute pixie cut. The hair is styled straight with a little texture. If you have a pixie, then it shows a stylish way to wear it or if you have longer hair, then dare to go for the chop because as you can see, the chic cut looks amazing!
4. Short Hair with Sparkle
This next hairstyle is one of our favorites! Here we have hair that is shaved around the sides and it is longer on the top. The hair has been textured and styled to look edgy and it has been finished off with sparkles! We love the glitter because it is perfect for a such a special occasion. Hair like this is great for those who want to look trendy, cool and ready to party.
5. Stunning Vintage Style
Vintage style hair is always a popular choice for special occasions. When stunning hairdos like this are being created, we can see why! Here we have a short cut that has been styled into soft waves. This is a gorgeous idea and it has an old Hollywood glamour vibe. Pair this with a vintage style dress and makeup and you will have one chic and stylish look for the prom.
6. Short Bob with Glitzy Clips
Next, we have another cute and glam hairstyle. This time we have a short bob with beautiful curls. The hair has been finished off with four sparkling clips that are adorned with rhinestones. Adding clips to your hair will jazz up a simple style and it will make your hair look unique. Not only that, but this type of accessory is a must-have trend for this year. You can buy clips like these online and recreate a similar style or you can use them on shorter hair too.
7. Trendy Braided Style for Short Hair
The next hair idea that we have to show you is trendy and pretty! Here we have a short pixie cut and the top section of hair has been braided. As you can see, the braid looks so stylish. Keep it simple like this or accessorize with gems or flowers. You can find braid tutorials for short pixie cuts online. There are different braid styles that you can try too.
8. Short Curly Hairstyle with Flowers
Flowers are a beautiful way to accessorize your hair and next we have a stunning example. For this look, the hair is cut into a short bob and the hair has been curled too. The hairstyle is finished off with a floral accessory. As you can see, the flowers look so pretty. Try to pick flowers that color match your dress. If the dress is patterned, then just choose one or two colors similar to the pattern. You can buy floral hair clips or make one yourself if you like crafts. There are DIY tutorials online.
9. Swept Back Style
If all the accessories, more intricate styles and braids are not your thing, then you can choose something simple like this. Here we have a stunning swept back style. The hair is cut into a short bob and all of the hair has been swept backwards with a little volume on the top. It is such a smart, chic and sophisticated hairstyle. You can recreate this look or try the style on even shorter hair.
10.  Short and Shaved Hair with Gems
This next hairstyle was created for a bride but we think it would be a beautiful prom hairstyle too. The hair is shaved around the back and sides with longer hair on the top. One section of the hair has also been braided and accessorized with sparkling gems. This is a stunning, edgy and trendy style. Recreate this or you can try the braided look without the accessories.