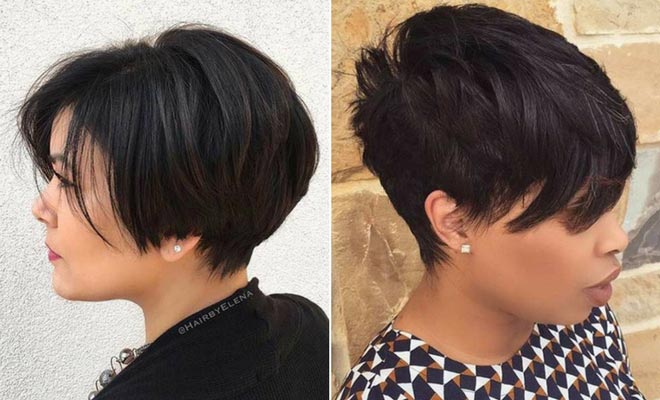 Instagram
Beauty
91 Best Short and Long Pixie Cuts We Love for 2021
By
|
11. Vintage Pixie Cut
Are you feeling this Betty Boop style?  We are!  You too can channel your inner Betty by getting this hairstyle. This is an amazing vintage hairstyle that will show off your character and style.  It looks exceptionally great with darker hair.
12. Short Pixie Style for Black Women
Many people tend to think that a pixie haircut won't suit them. How wrong are those people!  Today there are so many short haircuts that are so versatile and look great.  Pixie cuts on black women, whose hair is naturally thick and curly look stunning.  This pixie cut is short and the hair is relaxed which gives off a sexy pixie cut.
13. Pixie Cut for Thick Hair
If you have thicker hair, a pixie cut will look great on you. Having a pixie cut will instantly boost you hair as you hair is thicker and creates that extra boost.
14. Short, Beige Blonde Style
Going short and blonde is the perfect pixie cut for many people. We are thinking this is very Emma Watson.  It is low maintenance, elegant and classy.  It will enhance your eyes and make you feel fantastic!
15. Curly, Red Pixie Cut
Rock your curls. If you love your curls and want to embrace them, dye you hair a vibrant colour like this red shade and have a pixie cut.  Everyone will comment on how fabulous you look!  So don't delay, go and book your hair appointment so you are ready for summer.
16. Cute Pixie Cut with Long Bangs
Having a pixie cut doesn't have to be daunting. Many people that go from longer hair to short, pixie cuts are petrified because all they know is longer hair.  If you really are set on having a pixie cut and your hair is currently long, then why not opt for this style to begin with.  It is still a pixie cut but with the comfort of having longer bangs, which will make you feel confident.  When you do get used to this, you may chop off your bangs!  Try it and see.
17. Voluminous, Layered Cut
The traditional pixie haircut, is short and quite flat. If this is not for you, choose this voluminous, layered pixie cut.  It will always be bouncy and full of live.
18. Short, Platinum Blonde Cut
Are you ready to join the platinum pixie club? Brighten up your hair and go platinum blonde.  It is a gorgeous colour for this hairstyle if hairstyle and will show you hair and your face off.  Will you be the next member?
19. Long & Curly Style
We are loving this heavy long and curly pixie cut. Having a heavy fringe will give the illusion that your hair is longer but the back will be short.  It is very sexy and chic!  It is a great style for a daily or evening look.
20. Edgy Pixie Cut for Bold Women
Take the bold and brave route with this pixie haircut. Show your character and fun side with this kick ass style.  It's striking, stunning and will make your edginess shine through.  The colour will bring attention and then it will show off your pixie cut!