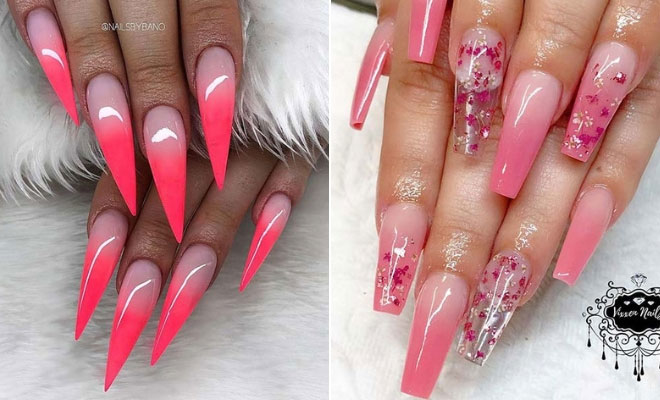 Instagram
Beauty
23 Pink Ombre Nails to Inspire Your Next Manicure
By
|
11. Pink and Orange Ombre
Next, we have another pink and orange mani to show you. One hand features pink and nude color with subtle sparkle over the top. While the other hand is orange and nude ombre with glitter. The colors are stunning and the colors on different hands look so glam. Recreate this trendy mani or mix the colors on one hand.
12. Neon Pink Nail Design
Love bright pink? If so, this mani could be perfect for you. Three nails are bold pink and two nails are nude with vivid pink ombre. It is statement making nail idea that is easy to wear. This is another design that is perfect for the spring and summer. Recreate this or jazz it up with some glitter or rhinestones.
13. Floral Jelly Nails
This next nail idea is one of our favorites! Three nails have simple pink ombre and there are two accent nails. One is ombre and is adorned with delicate flowers while the other is a clear jelly nail with the same decorations. This is another stunning mani that uses some of the must-have nail trends.
14. Trendy Pink Ombre
The next pink ombre design is perfect for the trendsetters. These nails have a light base color with bright pink ombre. Some nails are also decorated with rhinestones and one nail on each hand is adorned with gold rings. We love the dangling gold rings, they look so stylish with the pink. You can find rings for your nails and tutorials online.
15. Glitter Ombre
Earlier in the post we featured a pink ombre design with a chrome effect. If you loved that, then take a look at this. All of the nails have a stylish coffin shape. Most are pink and glitter ombre while two nails have a trendy chrome effect. This is a fun and easy to wear design and the art will look stunning with other nail shapes as well. Recreate this or put the chrome on all nails.
16. Ombre Nails with Hearts
Next, we have another cute and pretty look. Two nails have nude and pink ombre while the other two nails are nude with pink hearts. We love the hearts and this mani will be perfect for spring, summer, Valentine's Day and more. You can hand-paint hearts or buy nail stickers or stencils. The matte finish makes this mani even more beautiful.
17. Bold Orange And Pink Ombre
Love bold colors and striking nail art? If so, take a look at this. Here we have short coffin shaped nails. The base of the nail is bright pink and then the color blends to vivid orange. These colors look amazing together and the design really wows. Try the short nails or this ombre will look stunning on longer nails too.
18. Pastel Pink Stiletto Nails
Prefer more pastel tones? Then check out this mani. Here we have long stiletto nails and most of the nails have a different design. The nail art includes simple pink ombre and different styles of glitter ombre. It is a pretty and elegant mani and it will be perfect for the spring. The glitter glams up the nails, so you could wear this mani to a party or a special event like a wedding.
19. Pink Ombre With Glitter
The next mani is another sparkly one. This time the nails feature beautiful ombre that is created with soft and bright pink shades. One nail on each hand is also covered in sparkly sequins. The gold looks stunning with the pink and it really jazzes up the simple art. Recreate this or you can try other glitter colors such as silver.
20. Mystical Pink and Blue Ombre
Next, we have a mystical nail design to show you. These short nails start blue and then blend to light pink. Each nail is also decorated with stars and a stunning white moon. This is a fun and magical mani that will suit everyone. You can hand-paint stars and a moon or you can buy nail stickers.
21. Neon Nails with With Rhinestones
Be bold and daring with ombre art by trying something like this. Here we have long coffin nails. At the base of the nail, the color is neon pink and then it changes to striking yellow. Some nails are also decorated with rhinestones. We love the pink and yellow color combo, it is so summery, fun and tropical.
22. Glitter Ombre Nail Idea
We love this next nail idea! This mani features sharp stiletto nails. From what we can see, one nail is completely covered in glitter and the rest are clear with pink glitter. It is such a trendy and unusual design because the ombre is created with pink and the jelly nail trend rather than two block colors. Glam nails like these are great for parties and nights out.
23. Pastel Pink and Peach Ombre
The last nail idea features more pastel colors. These nails start pink and then blend to a soft and peachy orange color. Different art and textures are used as well. Some nails are sparkly, one is adorned with a rhinestone and the other features a stunning dragonfly. This is a quirky and bold mani. Recreate something similar or you can try the simple orange and pink ombre with no decorations.
We hope you have found a pretty pink ombre nail design to try!