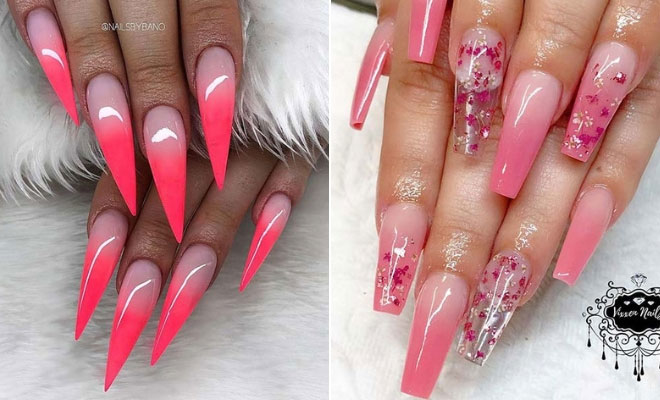 Instagram
Beauty
23 Pink Ombre Nails to Inspire Your Next Manicure
By
|
Ombre is one of the most stylish and popular nail designs. Many of you love it and the trend is here to stay. There are so many different ombre color combinations that you can try, but today we are showing you some amazing pink ombre nails. Pink is a fun and beautiful color. There are so many shades to choose from, so there is a pink tone to suit everyone and to suit any season. So, with that said, read on and take a look at these gorgeous nail designs. We have nails for special occasions, manicures that will brighten up your outfits for the spring and summer, plus many more!
1. Bold Pink Ombre Stiletto Nails
First up, we have these bold stiletto nails. For this look, the nails are soft pink and then the color blends to a bright and more vivid shade. The color and shape of the nails look amazing together. This is a fun and statement making mani that will be great for the summer. Keep it simple like this or you can jazz up the nails with rhinestones or glitter.
2. Pink and Purple Ombre
Pink compliments so many other colors, one of which is purple. Don't just take our word for it, check out these nails. These nails start purple and then blend to pink towards the tips. As you can see, the colors are so pretty and trendy together. You can recreate this or swap the colors around. A pastel version of this would look amazing as well.
3. Bright Pink Ombre Nails with a Floral Accent Nail
If you like pretty nails with floral art, then this is for you. Most of the nails feature nude and bright pink ombre and there is one accent nail. The accent nail is sparkly with pink flowers over the top. It is a stunning nail idea and it will be great for the spring, summer and special events like the prom. You can buy floral nail stickers or you can hand-paint beautiful blooms.
4. Pink Ombre with Flames
The next nail idea is so trendy and bold. These nails are long and feature vivid orange and pink ombre. One nail is nude with an ombre flame. We love flame nail art because it is so glam and fierce. The ombre effect is a must-have for the summer and vacations because it has a tropical vibe! You can find tutorials for flame art online and we have an article just for flame nails which you should check out.
5. Chrome Ombre with Glitter and Rhinestones
Next, we have a glitzy, glam and stylish ombre mani. Some nails are pink and sparkly while the others have nude and ombre art. There are two different ombre designs, one features rhinestones and the other is chrome. We love this because a few of the must-have nail trends have been used in one look. Recreate the whole mani or just one design on all nails.
6.  Subtle Pink Ombre Nails
Prefer more subtle nail art? If so, take a look at this. For this, the nails are a soft and light pink that blends to a brighter pink towards the tips. This is a more low-key way to wear ombre but you can create a bolder look by using more of the darker pink color. This design will look stunning on other nail shapes such as stiletto or coffin.
7. Peach and Pink
Another color that pink looks amazing with is orange. Here is a stunning way to wear it. Here we have nails that are painted in a peachy orange shade and then the color blends to bright pink towards the tips. It is a fun and bold nail idea that will suit everyone. Recreate this or use a more vivid orange. The colors used for this mani are all by company LONDONTOWN in colors Royal Wedding, Summer Fling and Britannia.
8. Pink and White Ombre with Glitter
One of the must-have nail looks is French ombre. When nails are French ombre, they will have the classic soft pink and white colors. Instead of striking tips, the colors are blended into ombre art. As you can see, it creates such an elegant nail look. These nails have been paired with glitter but you can just have French ombre on all nails.
9. Cute and Glam Pink Nail Idea
This next nail idea is so cute and glam! Here we have short stiletto nails and each nail has a different design. The nail art includes pink ombre, glitter ombre, rhinestone designs and more. Nails like these are perfect for those who like bold colors, statement making art and plenty of bling.
10. Pink Ombre For Short Nails
You don't have to have very long nails to have beautiful ombre nails. Next, we have a shorter mani to show you. Some of the nails have nude and pink ombre while the others are sparkly. It is a pretty and pink nail design that is perfect for short nails. You can, of course, try the design on longer nails too. This mani was created with colors Barbie Candy and Plush Cover from Glitterbels and 008 Iridescent Pink and Baby Pink Pearl Multi Mix from GlitterArty.