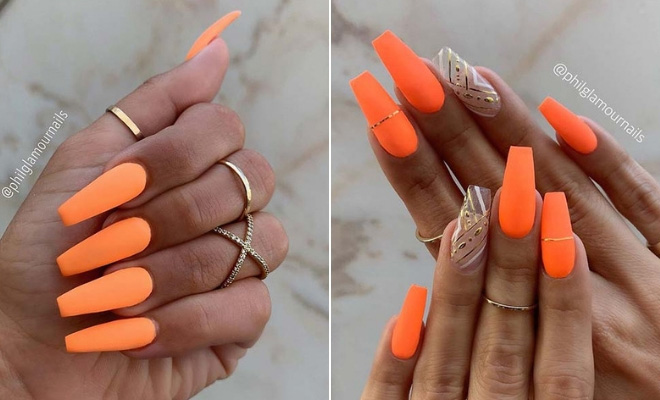 Instagram
Beauty
43 of the Best Orange Nail Art Ideas and Designs
By
|
31. Gorgeous and Bold Nail Design
This next manicure is another one of our favorites! The nails are a long coffin shape and most of them are clear. The clear nails are all adorned with different orange nail art including leaves, rhinestones and more. Some nails are simply orange. This is a statement making and glitzy mani that will make you stand out from the crowd in style.
32. Orange Marble
Marble art is so trendy and here is a way to wear it with bright orange color. These nails are a long and sharp stiletto shape. Some nails are yellow with gold foils and rhinestones. While the others have a white, orange and gold marble design. This mani is stunning. Recreate the whole look or put the marble on all nails. You can find marble art tutorials online.
33. Neon Orange Nails with Flames
Next, we have another flame design to show you. This time most of the nails are a vivid matte orange shade while one nail is clear with foil flames. We love everything about this from the color to the holographic flames. You can buy holographic flames for your nails online so you can try this look yourself.
34. Gold Foil Nails
Glam up your nails with a design like this one. Each nail has a different design including block color, gold foils and even marble art. The colors are stunning and the nail art is so trendy. A mani like this is great for those who want to be bold and statement making. Recreate this or you can try different shades of the pink and orange.
35. Different Shades of Orange with Glitter
Earlier in the post we featured a mani that uses different shades of orange. If you liked that idea, then take a look at this one too. Here we have a different way to wear the look. The nails are short and two different shades of orange have been used. One nail is also sparkly. This is a gorgeous nail design and you only need two orange tones instead of five.
36. Nude Nails with Orange Stripes
Maybe you want to try the orange trend but don't want nails that are too over the top? If this sounds like you, then check out this mani. Here we have nude coffin nails and each one has a diagonal orange stripe on the tip of the nail. It is such a pretty idea. Try something similar or you can have all nude nails with the orange stripe as an accent design.
37. Glam Mani with Rhinestones and a Flower
We love this next nail design! For this look we have long stiletto nails. All of the nails are a vivid and bold orange shade, but some of the nails are adorned with rhinestones and a beautiful white flower. This mani is stunning and it will make you stand out. Recreate this or you can just have the rhinestones without the flower. This design is perfect for parties.
38. Trendy Orange and Black Nails
Next, we have another trendy design to show you. The nails are short and a couple of different designs have been used. We have block color in two shades and the other nails feature unique black and orange art. This is a fun and bold design and it is great for those who want to try something new. Try this or you can put the patterns on all nails.
39. Glitzy Pastel Orange Stiletto Nails
The next nail design is another glam one. This time we have sharp stiletto nails where some are light orange and sparkly while one nail has a more glossy look. It is a beautiful nail design and it is perfect for parties and the summer. Orange shades like these will suit everyone and all nail lengths and shapes as well.
40. Zesty Orange Nails
Love the bright and zesty orange shades? If so, this mani is for you. For this look, most of the nails are the same statement making orange tone. While the accent nail is lighter orange with a darker orange frame. This is an easy to wear and fun design. It is another one that is great for the summer.
41. Modern and Unique Mani
If you like the modern, trendy and unique nail art, then you need to take a look at this. Most of the nails are bright orange and there is one accent nail. The accent nail features black line patterns with added silver. We love this mani and the color combination is stunning!
42. Orange Flame Nails
Flames seem to be very popular and next we have another hot design to show you. This time the nails are nude with orange flame art. The image shows how amazing the flames look on different nail shapes. We love this because the flames are trendy and statement making. You can find tutorials for flame art online.
43. Light Nails with Orange Tips
Love the more low-key ways to wear orange? If so, this is for you. Here we have short and light nails. Each nail also has an orange tip. The orange tips look so trendy and it allows you to wear the vibrant color without the nails being too over the top. You can use any orange shade for the tips.
We hope you love these orange nails and that you have been inspired to try the bold color!