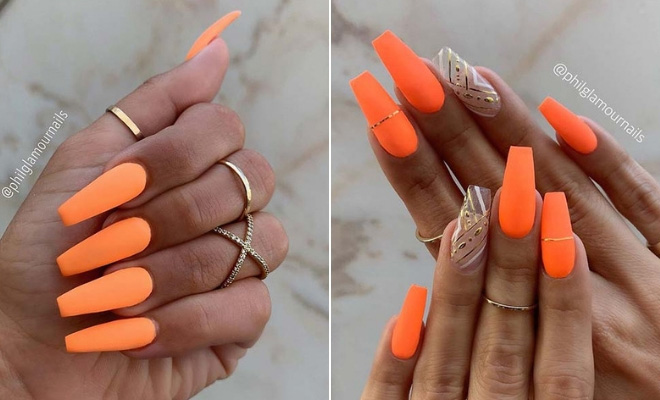 Instagram
Beauty
43 of the Best Orange Nail Art Ideas and Designs
By
|
21. Trendy Orange Almond Nails
This next nail idea is trendy and bright. For this look, two nails are simply orange and the rest have a nude, orange and silver design. We love the geometric patterns that have been used because they create such a stylish and modern manicure. Some of the nails also feature quotes too. You can recreate this look or you can take inspiration from it and try orange quote nails or use the geometric art without the quotes. Either way, your nails will be amazing.
22. Soft Orange Ombre
Love the ombre designs? If so, you need check this out! All of the nails are coffin shaped and have a soft, ombre design. The nails start in a darker nude and then blend into a pastel orange tone. This is such a gorgeous idea. Try this design or you can use two different shades of orange. Maybe you could use other colors too, orange and pink would look amazing together.
23. Orange Flame Nail Art
The next nail idea that we have to show you is bold, unique and fun. Each nail features a different orange design including glitter, orange slices and our personal favorite orange flames. It is such a striking and statement making idea. Recreate the whole look or you can just try the orange flames, that would look so cool! You can find flame nail art tutorials online.
24. Orange Nails with Sparkle
Next, we have a glitzy orange nail design to show you. For this look, some nails are a bright and zesty orange shade while the others are sparkly glitter. This is a fun and glam nail design. Two different types of sparkle have been used which you can recreate or just choose one.
25. Bold Nail Design with Butterflies
Love the bolder nail designs? If so, check this out. Here we have square shaped nails. Some have orange and nude ombre and some are just one block color. One nail is also adorned with beautiful butterflies. You can hand-paint the butterflies with a thin brush or you can buy butterfly nail stickers online. So, you can recreate something similar yourself.
26. Trendy Matte Orange Mani
This next mani is another one of our favorites! These nails are a stylish stiletto shape and each one is painted in a different matte orange shade. We love the colors used and the matte texture looks so trendy. All you need for this is five orange shades. You can recreate the matte texture with a matte top coat or leave the nails glossy. This design will suit all nail shapes and lengths.
27. Cute Orange Slice Nail Art
If you are looking for cute nail art, then this is perfect. For this look, the nails are short. They start with a light pink color and at the base of the nail, there is orange slice nail art! This is such a cute, fun and summery idea. Try something similar or recreate the design with bolder colors. You can find tutorials online for orange slice nails.
28. Wild Pink and Orange Nails
Give your nails a wild makeover with a design like this one. Each nail is half pink and half orange with a black tiger print over the top. This is such a fun and summery idea. You can buy animal print nail stencils online or you can recreate this design with a nail pen. This mani was created with CND Shellac in shades B-Day Candle and Pink Bikini.
29. Dainty and Pretty Mani
We love this next mani. Here we have long coffin nails. Some nails have nude and orange ombre while the others have unique orange nail art. If that wasn't pretty enough, some nails are also adorned with dainty rhinestones. This is a stunning mani and you can recreate the whole look or just one design.
30. Ombre Nails with Tropical Palm Trees
Looking for a cute summer nail design? If so, this could be perfect for you. Here we have short orange nails. There is also one accent nail that features orange and nude ombre with black palm tree art. A manicure like this one is perfect for the summer and vacations. You can buy palm tree nail stencils and stickers online so you can try this design yourself at home.