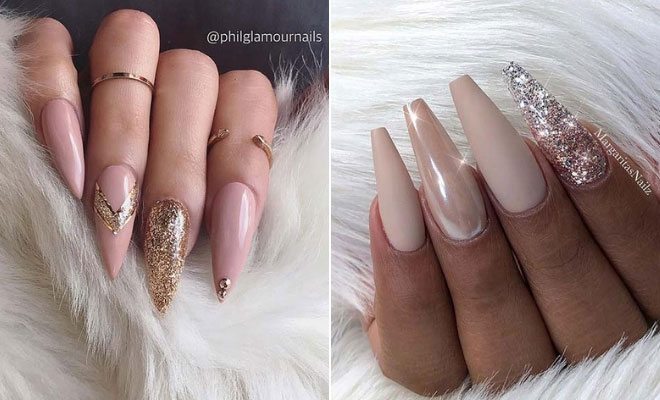 Instagram
Beauty
63 Different Ways to Wear Nude Nails This Year
By
|
31. Unique Nude Coffin Nails
Next, we have a nude nail design that will make you stand out from the crowd in style! Most of the nails are a light nude shade but there are two accent nails. The accent nails are translucent with cool nail art. This is a gorgeous and unique look that will suit everyone. A manicure like this would be perfect for a party or night out.
32. Cute Nails with a Heart Design
Love cute nail art and glitter? If so, you need to check these nails out! All of the nails are a light shade and two of them have glitter nail art. One nail has a stripe down the middle and the other has a pretty heart. You can create this look at home with nude and silver glitter nail polishes. Hand-paint both the stripe and heart or you can use a stencil.
33. Nude Nails with Crystal Accent Nails
Our next idea is another sparkly one! Here we have nude nails with two crystal accent designs on each hand. Two of the accent nails are the same and two are different. It is an elegant and glam manicure that would be perfect for a wedding or any other event where you want impress! Different sized gems like these can be bought online and you can stick them on in any pattern. So, recreate this or try your own crystal design.
34. Nude and Gold Glitter Nails
A chic color combination that you should consider trying on your nails is nude and gold. Here is a beautiful example of how to wear the two colors! Each nail has a different design which includes glitter, gems and more. We really love the nude nail with the trendy gold lines. A manicure like this is perfect for the glamorous ladies. Recreate the whole look or just one or two of the nails that you like.
35. Elegant Sparkly Nails
Next, we have a pretty and elegant design to show you. These nails are an almond shape and are painted in a light shade. All of the nails have a subtle sweep of glitter and one nail has a gem design too. Even though the nails are sparkly, they are still quite subtle. It is just a classy and stylish idea that will suit everyone.
36. Chic Nude Nails with Crystals and Stripes
If you love nail art that makes a statement then this is for you! All of the nails are long and are painted in a glossy, dark nude shade. Two nails on each hand have an accent design too. One of the nails has crystals on the tips and around the cuticle while the other nail features gems and a gold stripe. It is a very glamorous design and it is one of our favorites.
37. Trendy Matte Nails
Earlier in the post we shared a nail design where more than one nude shade was used. If you liked that idea, then you need to see this manicure. Each nail is painted in a different shade and two of the nails are quite dark. All of them are matte too. We love the colors used and the matte just gives the manicure a trendy edge. You can recreate the look with any five nude nail colors and just use a matte top coat.
38. Glam Nude and Marble Nail Idea
One of the must-have nail designs is marble and here is how to wear marble nail art in style. Three nails are nude, one is covered in glitter and one features marble art. As you can see, the marble looks stunning with the nude color. You can recreate with or without the glitter accent nail and there are lots of tutorials online that can help you create beautiful marble art.
39. Stunning Crystal Nails
You can create so many different designs with crystals and here is a gorgeous example. For this look, all of the nails are dark nude but each one has a different crystal design. All different sized gems have been used and some of them are different shapes too. We love this because it creates such a unique and glam look. You can have a go at creating something similar yourself. Just buy lots of gems and stick them on with nail glue in any pattern you like.
40. Nude Nails with Sparkly Silver Tips
Next, we have a pretty, stylish and sparkly idea. All of the nails are painted in a light nude shade. Each nail also has a sweep of silver glitter on the tips. The silver glitter compliments the nude color beautifully. A nail design like this one is perfect for a special occasion or for the days where you want to feel a little glam. It would also be great for the holiday season too.