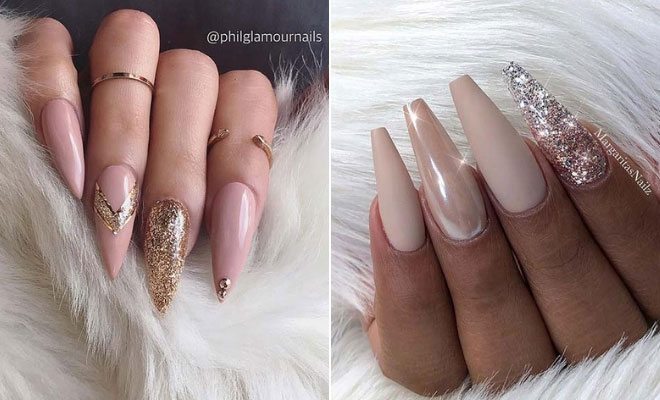 Instagram
Beauty
43 Different Ways to Wear Nude Nails This Year
By
|
11. Dark Nude Coffin Nails
Our next idea is pretty and glam. The nails are a light nude shade with two accent nails. One accent nail has sparkling rhinestones and the other is covered in pink glitter. The pink glitter looks gorgeous! If you are going to use pink, use a light shade so it compliments the nude color.
12. Dark Nude Ombre
Earlier we featured nude ombre, here is another way to wear the trendy look. These nails are not as subtle as the others and you can really see the color change. The lower half of the nail is a light nude and then the nail changes to a dark nude tone. It is a statement making mani and is perfect for the ladies who prefer a bolder look.
13. Sparkling Nude Nail Design
You can never have too much sparkle on your nails. Here we have a set of glitzy, statement nails that feature beautiful rhinestones and glitter. The nails are a chic, glossy nude shade with two accent designs. One is silver glitter and the other one is covered in rhinestones in all shapes and sizes. This is a stunning mani and it is a great design for anyone who likes to look glam.
14. Nude and Gold Glitter Nails
If you love glitter but want a subtler look then these nails are for you. These nails are all a light nude shade except for one nail. The one nail is covered in gold glitter. As you can see, the glitter still makes a stylish statement but the overall look is not as bold as the ones with lots of glitter and rhinestones. It is just a nice way to jazz up the simple nude. You can even make the glitter subtle to by adding just one coat of glitter polish.
15. Long Nails with White V Tips
Our next idea is like a French manicure with a trendy twist. All of the nails have been painted in a beautiful nude shade and each one has been finished off with a white v tip. It is a cool way to combine the classic nail look with modern styles. You can choose other tip colors too, maybe even choose glitter!
16. Nude Stiletto Nails with Gold Glitter
Next, we have a glam and stylish idea to show you. These stiletto nails feature a beautiful nude shade that has been paired with gold glitter and gems. Some of the nails are plain nude and there are three other gorgeous designs. One nail is all gold glitter, another nail has a gold and glitter chevron design and the last nail has two gems. It is a stunning look that will make a statement.
17. Nude Pink Nails and Sparkling Glitter
It is not just gold and silver glitter that look gorgeous with nude. You can try other colors too. Here we have nude pink nails with two glitter accent nails. The accent nails feature a pink and rose gold glitter. As you can see, the pink looks beautiful with the nude. It is a pretty and romantic mani idea that would be perfect for a wedding, prom, date night or even Valentine's Day.
18. Stylish Marble and Glitter Nails
Another cool nail trend you can try with nude nails is marble. This next idea features nude nails with two accent designs. One is glitter and the other has a chic, white marble pattern. It is a subtle but stylish nail art idea that will suit everyone. You can recreate this look or choose to have nude and marble nails with no glitter. You can check out tutorials online to help you create the marble look.
19. Easy and Elegant Nail Design
Nude and gold is such a chic combination. Don't just take our word for it, check out these nails. The nails are light nude with gold accent nails. For the accent design there is one gold stripe with a gold embellishment. This is such a stylish look! You can create a similar design with gold tape to get the stripe look and choose any embellishment. Gems would be nice too.
20. Matte Nude and Purple Glitter Nails
Purple is another color that goes beautifully with nude. Here we have nude nails with two purple glitter accent nails. As you can see, the two colors compliment each other perfectly. You can choose glitter like featured or just have a plain purple shade.