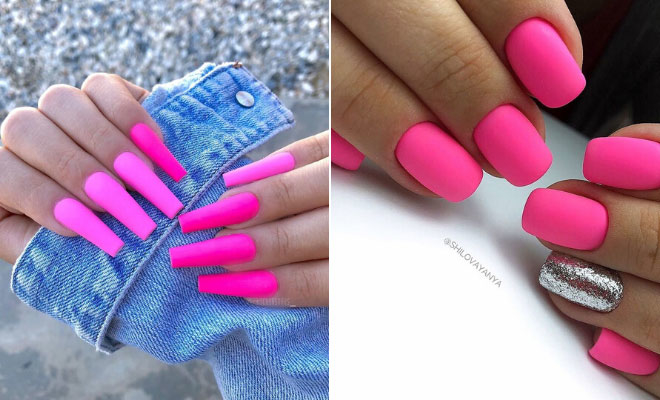 Instagram
Beauty
23 Neon Pink Nails and Ideas to Wear All Summer Long
By
|
At StayGlam we are always bringing you the must-have nail looks. This season we have been covering neon nails and today it is time for neon pink. Pink is one of the most popular nail colors and it's not hard to see why. There are so many different pink tones to try and pink suits everyone. The neon shades are just a little more vivid, fun, bold and summery. So, if neon pink nails sounds like something you would like to try, then take a look at our top 23 designs. We have glitzy nails, trendy nail art and even some matte designs. Read on to see some amazing nail art. You can also check out our articles on neon yellow and orange nails to.
1. Matte Neon Pink
First up, we have these gorgeous matte pink nails. The nails are long, coffin shaped and are painted in a bright neon pink shade. Three of the nails feature a darker pink shade. Even though the design is simple, it really makes a statement. Block color like this will look amazing on all nail lengths and shapes. A glossy texture would look pretty as well. As you can see, this nail color goes amazing with denim!
2. Glam Pink Nail Design
If you like your nails to be bold and glam, then this idea is for you. For this look, some nails are simply matte, some are jelly pink with sparkle and the others are decorated with rhinestones. We love this mani because it ticks some of the must-have boxes. It's got the jelly nail trend, hot neon pink and some sparkle too.
3. Neon Pink and Gold
Neon pink is a fun and stylish color that compliments many others. One of which is gold. The mani below shows just how gorgeous these colors are together. As you can see, some nails are matte pink and some have a gold foil design. The gold looks so glam and it really jazzes up the pink. You can try a similar look by using nail foils or you can use a gold nail polish instead.
4. Glossy and Chrome Nail Art
The next idea is one of our favorites! This mani features long coffin nails that are either glossy neon pink or pink with a chrome effect. The different shades of pink look amazing together as does the different texture. We love these nails because they remind us of Barbie, so they are perfect for those who like the fashion doll. This is another design that would suit other nail shapes and lengths beautifully.
5. Glitzy Pink Design
Like the ombre nail trend? If so, you should take a look at these nails. Here we have glitzy ombre. The nails start nude and blend to neon pink. One nail on each hand is also decorated with rhinestones. The ombre art looks stunning and it is a more subtle way to wear neon pink while the sparkly crystals just give the mani the wow factor. Recreate these nails or you can try different rhinestone patterns on your nails.
6. Neon Pink and Yellow Matte Nails
Another color that neon pink suits is neon yellow! As you can see on the image below, some of the nails are pink and the others are that bright and vivid yellow color. The two colors really make a statement and the combo is perfect for the summer season. Recreate this or you can add other neon colors as well. Orange would look amazing.
7. Nude Nails with Neon Tips
Want to try the neon nail trend but don't want to go too over the top? If so, this design could be perfect for you. These nails are nude with thin neon pink tips. As you can see, the bright nail art is trendy and fun but also low-key. Tips like these would look great on stiletto nails too, just follow the shape of the nail. You can recreate this design in any neon color.
8. Neon Pink Stiletto Nails
If you want fun, bold and glam nails, then check out this mani. Here we have sharp stiletto nails. The nails are either glossy pink, pink with rhinestones or are sparkly. It is such a vibrant, glitzy design. You can recreate this look or try using a different rhinestone pattern. Either way, your nails will look amazing.
9. Matte Pink Coffin Nails
This next idea is perfect for those who like pink but also like to look edgy too. The long, coffin nails are matte pink with trendy black edges. We love the combo of black and pink because it is both sweet and kick-ass. Art like this will look amazing on stiletto shaped nails and you can recreate it in a glossy or matte texture. We must admit, the gold rings go pretty well with the look. We dig it!
10. Neon Pink and Marble Nails
Next, we have a cute and trendy nail design to show you. These nails are short with neon pink color. While two of the nails also have a white marble design. The marble looks so stylish with the pink and together they make a statement. You can find marble nail art tutorials online that are easy to follow so you could recreate this look yourself at home.
11. Neon Pink with White Accent Nails
We love this next nail idea! Here we have short neon nails with white accent nails. The white nails also have elegant neon art. This is a pretty, bold and unique mani that will make you stand out from the crowd in style. The pink color used for this look is Indigo Bad Icon gel polish.
12. Pink & Orange Ombre Nails
The next nail design is another pretty and summery one. All nails are matte and feature a unique ombre design – neon pink to neon orange. It is a beautiful and eye-catching mani. This is perfect for parties, vacations and more. Recreate this design or jazz up the look with some sparkly rhinestones.
13. Glitzy Neon Pink Nails
Bring the bling to your look with a mani like this one. Here we have long coffin nails that feature matte pink, glitter and rhinestones. It is so glitzy, bright and fun. Nails like these are great for the occasions where you want your nails to stand out and impress. A similar design can be created on other nail shapes as well.
14. Gorgeous Pink Ombre Nails
Next, we have another ombre design. This one is simpler than the ombre mani that we featured earlier. These nails begin with a light base shade and then blend to neon pink. It is a trendy and easy to wear nail design. You can find tutorials online for ombre so you could try and recreate this yourself. We have seen some easy to follow tutorials that use sponges so you should check some of those out.
15. Neon Pink Jelly Nails
Jelly nails have become a must-have look and next we have a neon version to show you. These nails are coffin shaped and are a translucent neon pink color. The nails are also sparkly. This is a trendy and fun look that is perfect for the summer season. Recreate these nails or you can try the neon pink with other neon colored jelly nails.
16. Trendy Pink Mani
We love this next nail idea! This mani features short nails that are all neon pink except one. The accent nail is light pink with a gold outline all the way around. This color combination is stunning and statement making. You can recreate this or you can try just the pink colors without the outline. This is another mani that uses the Bad Icon nail color.
17. Ombre Pink Nails with Rhinestones
You can add other accessories to your nails. This mani features super stylish silver rhinestones. As you can see, the rhinestones look so cute with the pink ombre design. You can easily buy them online. Try the silver and pink ombre look or opt for other color combinations.
18. Neon Light Pink Mani and Pedi
This next idea is super cute as well. Here we have light neon pink nails and four nails also feature white stripe nail art. We love the white with the neon pink because it is unique, bright and statement making. You can easily recreate this look at home! Any neon color will work with this design.
19. Stylish and Bold Neon Nail Art
Can't decide which nail design to try? Then why not try a few?! You could choose a mani like this one. Each nail is different and includes ombre, glitter, neon tips and block pink color. It is a beautiful nail idea that features so many must-have designs. You can recreate these or add some other art such as rhinestones.
20. Light Pink Coffin Nails
These next neon nails are just stunning. This mani features long coffin nails. Some are just light neon pink, some have glitter ombre and one nail is covered in sparkling glitter. It is a vivid, vibrant and amazing mani that will give everyone nail envy. This nail design is perfect for the summer and festival season.
21. Neon Pink Tips
Give the classic French mani a fun and modern makeover with a design like this one. These nails are nude with tips like you would see with a French manicure. But instead of white, the tips are neon pink. As you can see, the pink looks amazing! This is a chic and stylish way to wear neon pink. Recreate this or you could even have sparkly neon tips, that would be fabulous!
22. Bold Coffin Nail Design
If you love the dazzling nail designs with rhinestones and glitter, then you need to check this out. The nails are coffin shaped and feature a variety of different art. We love the rhinestones used because they look so glam and bold. Nails like these would be great for a special occasion.
23. Matte Neon Pink Short Nails
The last nail idea features a beautiful neon pink and silver design. Most of the nails are pink and one nail on each hand is silver. It is a stunning look and silver compliments the bright pink perfectly. Nail art like this will suit all nail lengths and shapes. We love it because it is easy to recreate and eye-catching.
We hope you have found a beautiful neon pink nail design to try!