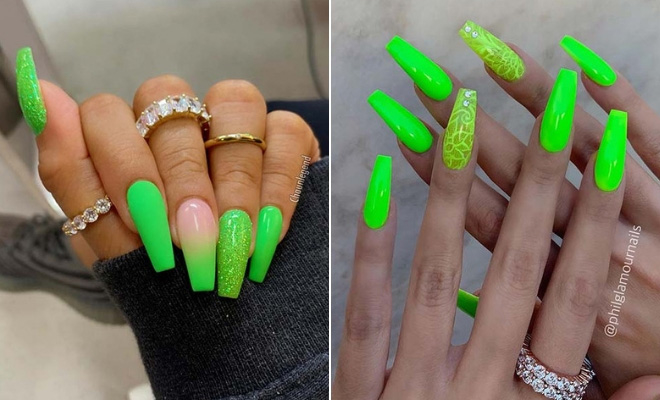 Instagram
Beauty
23 Neon Green Nails to Inspire Your Summer Manicure
By
|
11. Green Ombre Nails with Rhinestones
Love the ombre nails? If so, take a look at this next mani. For this look, the nails are nude with neon green ombre. Two nails on each hand are also decorated with rhinestones. The sparkly crystals really glam up the ombre. You can buy rhinestones online and stick them on with nail glue. Recreate this or try your own rhinestone design.
12. Neon Green and Glitter Nails
Next, we have another super stylish neon green look to show you. Most of the nails feature a different design. You can see ombre, glitter, trendy tips and more. This is perfect for the ladies who can't decide which nail art to try because you can use a few different ones. It is just a unique and amazing look that will make you stand out from the crowd in style.
13. Fruit Nail Design
Neon colors are perfect for the summer and the next nail idea is a must-have for the season. Some nails are matte neon green and the others are matte white. The accent nails are clear and also decorated with cute kiwi nail art. We love the fruit nail art with the neon colors, the combo is so summery and fun. You can recreate this look with pink, green and or even orange polishes and you can buy kiwi nail stencils online.
14. Long Coffin Nails
If you really want to make a bold statement with your nails, then this idea is for you. Here we have super long coffin nails. Most of them are green and nude and there is one accent nail too. The accent nail is clear with beautiful butterflies. We love this design cute nail design! Nails like these would be perfect for parties and festivals.
15. Neon Ombre Stiletto Nails
Next, we have another ombre look. This time the nails are mix of neon yellow and green. The green is placed at the base of the nails and the yellow starts towards the tips. This color combination is amazing and the two neon shades look amazing together! Recreate this or try neon green with a different color. Maybe orange or pink!
16. Bold Green and Blue Nails
Blue and green is another awesome color combo. Don't just take our word for it, check out this next look. The nails are stiletto shaped and one nail is green, the next blue and so on. We love the colors and the pattern. It is a unique, trendy and bold idea. Try a similar look or you can try matte color. The design would look gorgeous on different nail shapes such as coffin or ballerina.
17. Ombre, Matte Color and Glitter
The next idea features more glitter and stylish art. For this look, two nails are simply neon, two nails are sparkly and one nail has an ombre design. The combination of art and texture looks stunning. A mani like this is perfect for those who want to be bold with neon color but also have chic nails too.
18. Pink Flame Nail Design
If you love the pink and green color combo, then you need to check out these nails. Some nails are neon green and some are pink. The other nails are clear with amazing flame art. This is a very unique, quirky and bold mani that will wow. If you wanted to recreate the look yourself, you can buy foil flame nail stickers online. You could place the flames on colored nails, they do not have to be clear.
19. Matte Green and Yellow Neon Nails
Next, we have a trendy and simple design to show you. For this look, the nails are quite long and are all painted in combination of two neon colors – green and yellow. Even though the nails don't have embellishments such as rhinestones, they still make such a statement. This is an easy to wear neon nail design that will suit everyone. You can recreate this look with two neon nail polishes and a matte top coat.
20. Green and Rhinestone Nail Design
Glam up your nails with a mani like this one. The nails are painted in a vivid neon shade and one accent nail is decorated with rhinestones. We love the color and rhinestones because the combo is so stylish and glitzy. Nails like these are perfect for the summer and parties. This design will suit other nail shapes too, but it is best suited to longer nails.
21. Neon Green Jelly Nails
Jelly nails are one of the must-have looks and next we have a neon green version. The nails are nude with jelly green tips. As you can see, it is bold and quirky idea. Recreate this look or have the neon green covering the whole nail. Neon green will look amazing with other jelly colors such as pink or orange.
22. Ombre Nails with Diamonds
Next, we have another glitzy rhinestone idea. This time the nails feature vivid ombre with a super stylish rhinestone design on two of the nails. It is such a fun and glam look. We love how different crystal shapes and sizes have been used. Recreate this or put rhinestones on all nails.
23. Neon Yellow and Green Idea
The last nail design features neon yellow and green. Most of the nails are different and have flame nail art, ombre, glitter and more. Not only is the nail art amazing, but it shows how yellow and green compliment each other too. This is a bold and trendy mani that will wow. You can also add more neon green if you prefer.
We hope you have found a trendy neon green nail design to try!