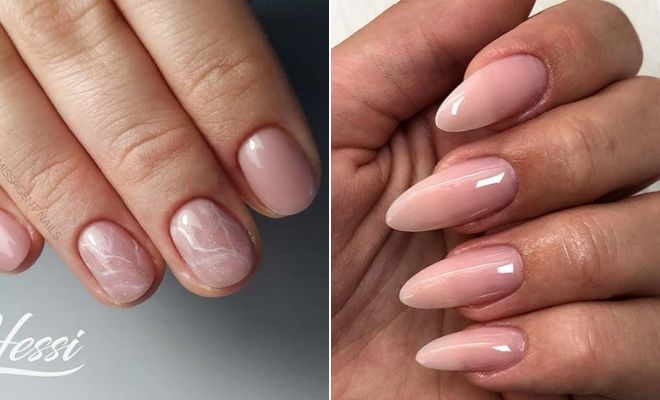 Instagram
Beauty
23 Natural Nail Designs And Ideas for Your Next Mani
By
|
11. Nude Nails with Subtle Dots
We love this next nail idea and it is another one of our favorites. The nails are a glossy nude shade and each one features a super small dot. These dots are sparkly but subtle so they won't be seen unless they catch the light or someone is up close. So, you get the glamour in a more natural looking way. You can create small dots with a toothpick and you can choose any color for them too.
12. Classic American Mani
There are different types of nails with white tips. For example, you have the French mani which usually has soft pink nails with a striking white tip. There is another version though called the American manicure. This version is more natural looking because it usually features a nude base with an off white and not as striking tip. These nails show how to wear it in style. You can check out our article on American manicures if you like this design.
13. Light Nails with Botanical Nail Art
Next, we have another botanical look. So for this, the nails are short and light nude with two accent nails on each hand. The accent nails are also nude but with white leafy nail art. This just shows another way that you can use botanical patterns to create pretty nail art. There will be similar stencils to these online so you can try a similar look yourself.
14. Natural Nail Designs for Short Nails
The next nail idea is so stylish and easy to wear. Here we have short nails and a few different nude shades have been used. We love this because you get to try a trendy nail design but as all the different tones are nude, the mani is still low-key and natural looking. This idea can be used on any nail length and shape.
15. Natural Nails with Moons and Stars
Add a touch of magic to your nails with a design like this one! For this look, the nails are natural and they have a subtle shimmer on the top. Each nail is also adorned with gold stars and a moon. With the shimmer and out of this world embellishments, this mani has a mystical vibe. You can buy these small decorations online and they would look great in silver too.
16. Light Nails with Subtle Glitter
If you do like nails with a little sparkle, then you should check out this mani. This time we have long nails that are a light and glossy color. The tips of two nails also have a pop of sparkly glitter. These nails are easy to wear but super glam. This design would be perfect for weddings, the prom and more.
17. Elegant Ombre Nail Design
This next nail idea is another one of our favorites! Here we have long almond nails and each one is nude and very glossy. This is a simple idea but is so elegant and chic. Nails like these will suit everyone and they can be glammed up or down for any occasion. If you need easy to wear and versatile nails, then this mani is for you.
18. Natural Nail Designs with Gold Foil Tips
Love the nude nails with the different colored tips? If so, this is for you. This mani features short, nude and natural nails. Instead of the classic white tips, these nails have gold ones instead! We love this because it really changes how the tips look. Recreate this or maybe try silver, that would look amazing!
19. Pretty Floral Nail Art
Next, we have a very pretty nail idea to show you. These nails are light and glittery and there is an accent nail as well. The accent nail also has a beautiful white flower. We love this stunning idea and it is perfect for weddings. You can hand-paint floral art, buy a stencil or even buy floral stickers. Try to keep the color white as it will suit the nude and natural nails perfectly.
20. Natural Nails with Cute Stars
The next nail idea is so cute and pretty. So, the nails are all light and two are adorned with silver stars. It is such a stylish idea and the stars make the nails look unique. You can buy foil stars online and you can recreate this or have stars on only one nail. Try this or you can use gold stars. Either way, your nails will look great!
21. Matte Nude Nails with Gold Dots
If you liked the dot nail design from earlier, then you need to see these nails too. This time we have short and nude nails and each one is adorned with gold dots. We love this because the gold dots look so glam and modern. You can hand-paint the dots or you can use a dotting tool. Any color can be used for the dots.
22. Natural Looking Nails with White Stripes
This next nail idea is so modern, trendy and cool. All of the nails are nude and two nails have two white stripes. The white stripes look so stylish and the look is easy to wear. You can try and recreate this mani at home. Just hand-paint the stripes or you can use a stencil. Keep the white stripes for subtler and more natural look or you can use any color.
23. Short Natural Nail Designs with Trendy Nail Art
The last nail idea is so stylish and glam. For this look, the nails are nude and there are three accent nails in total. The three accent nails have gold stripes and they look so gorgeous. You can buy gold nail tape online which will make recreating the mani a breeze but you can use gold nail polish.
We hope you have been inspired by these pretty natural nail designs!