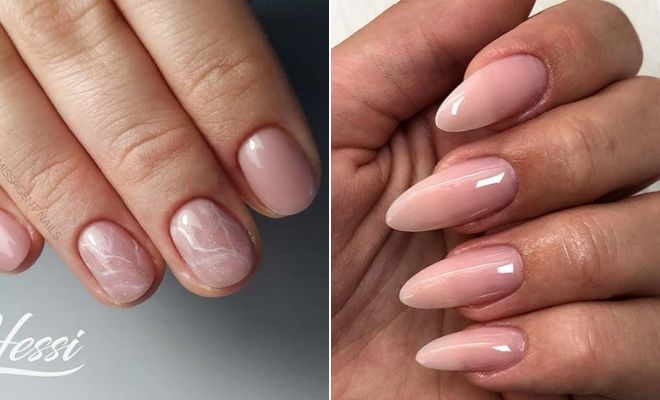 Instagram
Beauty
23 Natural Nail Designs And Ideas for Your Next Mani
By
|
When trying to find nail art, you will often find very bold and statement making ideas. However, these ideas are not for everyone. So if you prefer more natural looking nails, then this is the blog post for you. Today we have found 23 natural nail designs. All use soft and natural colors and there are different nail lengths and shapes. Not only that, but you can create many of these at home. Take a look and see what amazing natural nail designs can be created!
1. Simple and Stylish Natural Nails
First up, we have these simple and stylish natural nails. So, the nail has a soft pointed shape and each nail is painted in a chic nude color. These nails are so classy and easy to wear. The mani is versatile as it can be worn for any occasion. Recreate this or you can try a similar color on any nail shape.
2. Natural Short Nails
Next, we have another chic and elegant design. For this look, the nails are short and are painted in a light pink shade. We love the color and the nail length because both will suit everyone. Not only that, but the beautiful pink shade can be glammed up or down too, so you can wear it anywhere from work to a wedding!
3. Natural Nails with Elegant Nail Art
If you like natural looking nails but also like a little nail art too, then this idea is perfect for you. Here we have mid length nails that are a pretty pink shade. There is also one accent nail with elegant nail art. It is such a stylish look because the overall mani is simple but the accent nail makes it look more unique. You can recreate similar art with nail stencils which can be bought online.
4. Short Nude Nails
We love this next nail idea because it is glam but low-key and easy to wear too. These nails are super short and are all a classic nude shade. One of the nails is also adorned with gold foils! The gold foil looks so trendy and glamorous with the nude color. This is just a simple way to jazz up a natural nail design. Nail foils can be bought online and there are tutorials on how to use them.
5. Natural Nails with Glitter
Add a little sparkle to your nails with a design like this one. As you can see, the nails are short and nude. There is also one accent nail that is glam and glittery. This design is simple and so easy to wear. You can recreate a similar mani with any nude shade and any glitter color. The design can be used on any nail length and shape.
6. Trendy Natural Nail Design
Just because your want your nails to have a natural design, it doesn't mean that you can't have a little fun with nail art too. You could try something like this. For this look, the nails are short and light pink. There is also one accent nail with a funky and trendy marble like design. It is such a fun idea and you get the best of both worlds. You can create similar nail art with the water marble technique.
7. Short French Mani
Next, we have a classic and chic nail design. The nails are all nude and short with thin white tips. This French mani is so easy to wear, it will suit everyone and it can be worn for any occasion. It is just a beautiful and timeless design. Try a similar look or you can try the white tips on a longer nail.
8. Nude Nails with White Leafy Nail Art
The next nail idea is natural in more ways than one. So, the nails have a natural shape and color but one nail also has white botanical nail art. The white leafy pattern looks so stylish and it brings the outdoors onto your nails. This mani has a stylish and summery look. You can buy leafy nail stencils for your nails online.
9. Light Pink Nails with Rhinestones
Jazz up your nails by adding rhinestones! You could try something like this. Here we have light pink nails and two nails on each hand are adorned with rhinestones. It is such a pretty but low-key look. You can buy rhinestones online and they can be stuck on with nail glue. This mani is perfect for a special occasion.
10. Short Natural Nails with Marble Art
Another trendy look is marble art and here is how to try it in a low-key and stylish way. These nails are short and most of them are a light pink color. There are also two accent nails with subtle white marble art with a pop of gold  glitter. It is such a pretty idea. For an even subtler look, you can add the marble to just one nail.