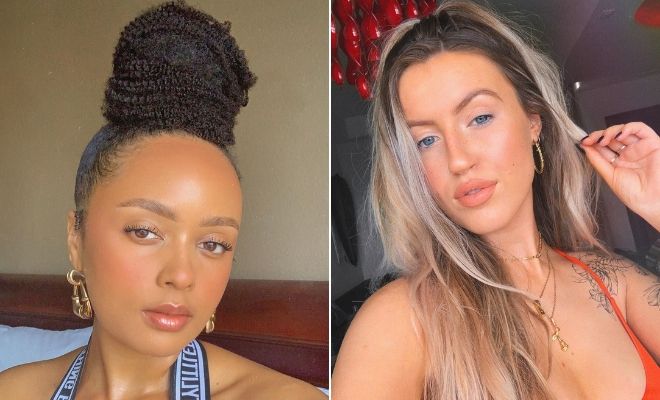 Instagram
Beauty
23 Natural Makeup Looks That Are Perfect for Summer
By
|
Makeup is always changing. New trends arrive with every season and beauty brands are always bringing out new eyeshadow palettes, lip colors and more. Even though all this makeup will look amazing, sometimes it is nice to strip it back and go for a more natural look instead. Natural looking skin, lips and eyes will never go out fashion and you can show off your own unique beauty at its best. So, with that said, we have put together 23 of the most stunning natural makeup looks. Take a look, you will want to show off your natural beauty more than you ever have before!
1. Natural Makeup with Freckles
First up we have this stunning natural look. The eyes have a light sweep of eyeshadow and mascara while the lips are a soft pink color. We love this makeup idea because it shows off her beautiful freckles which have been in the beauty spotlight lately thanks to celebrities like Meghan Markle. Makeup like this will suit everyone and it is easy to recreate. If you do not have natural freckles, then there are tutorials online to show you how to create them with makeup, we won't tell!
2. Soft Brown Eyeshadow and False Lashes
Looking for natural eye makeup that you can wear every day? If so, this could be perfect for you. The eyeshadow used is very soft and light while the eyelashes are simple and beautiful. This look was created with Urban Decay Cosmetics Gwen Stefani Palette and Sweed Lashes in Beroe. For an even subtler look, you can use mascara instead of false lashes.
3. Cute Natural Makeup Look
Just because your makeup is natural it does not mean that it is any less glam and chic than some of the bolder looks. Makeup like this is proof! The eyes feature beautiful eyelashes and the lips are a pretty peach color, while the skin is freckled and blushed. This is a gorgeous makeup look and it suits her brown eyes perfectly. Makeup like this would be perfect for a special occasion.
4. Light Mascara and Lip Color
This next makeup look is simple, easy to wear and stunning. The eyes are very natural with just a light coating of mascara on the eyelashes and her lips are left natural. Makeup like this would be perfect for busy days when you want to look cute but don't have a lot of time. The makeup was created with Huda Beauty Faux Filter Foundation, Gerard Cosmetics Brow Bar to Go, Anastasia Beverly Hills Radiant Blush Kit, Too Faced Better Than Sex Mascara and Maybelline Master Strobing Stick.
5. Subtle Natural Makeup
Next, we have a stylish and natural makeup idea. As you can see, the eyes just have a little mascara and the lips are glossy. This is so easy to wear and it is perfect for work, casual days and more. You can recreate this with any lip gloss just try to keep it light and close to your natural lip color.
6. Lots of Highlight + Natural Eyebrows
There are many makeup looks that feature very neat, precise and sleek eyebrows. For 2019 though, one of the trends to try is natural brows that have been brushed up. Here is how to wear that look in style! The eyes have soft eyeshadow and simple lashes, while the lips are glossy pink. As you can see, the eyebrows are brushed up and they are very natural. This is a trendy look that is a must-have this year.
7. Gorgeous Natural Makeup Idea
Looking for a more glamorous makeup idea? Then this is for you. The eyeshadows used are brown and natural, the lashes are long, and the lips are nude. It is a beautiful idea that uses more makeup than some of the others but the overall look is quite natural and it is just stunning. This look was created with Fenty Beauty Pro Pro Filtr Foundation, Gerard Cosmetics Brow Bar to Go, Mellow Cosmetics Sinopia Eyeshadow Palette, Too Faced Sweetie Pie Bronzer, Fenty Beauty Trippin Stick and Mellow Cosmetics x Pia Muehlenbeck Palm Springs Liquid Lipstick.
8. Natural Bridal Makeup Look
Our next idea would be beautiful for a special occasion. Her eyebrows look natural, the eyeshadows used are brown and subtle while the lips are soft pink. It is a gorgeous makeup idea that makes her look flawless and radiant. As you can see, a tiara is worn in the photo, so you know that this makeup would be perfect for a wedding or prom. It would be great for a boho wedding or a summery outdoor ceremony. You can, of course, wear similar makeup for any occasion.
9. Simple Natural Makeup Look
Next, we have a chic and stylish makeup idea. The eyes are left natural except for the lashes which have a subtle sweep of mascara. Her brows are defined and cleaned up with concealer, while the lips are nude. It is an easy to wear and barely there makeup look. You can brush your brows up with a spoolie brush then use clear eyebrow mascara to make sure the brows stay in place. If there are sparse areas, then you can fill those in with an eyebrow pencil or brow pomade.
10. Natural Eyes with Long Lashes
If you want a bolder natural look, then you can consider eyelashes like these. As you can see, there is minimal eyeshadow and lip color, but the lashes are quite long which really make a statement. It is a beautiful look that will suit everyone. Makeup like this can be worn for any occasion.