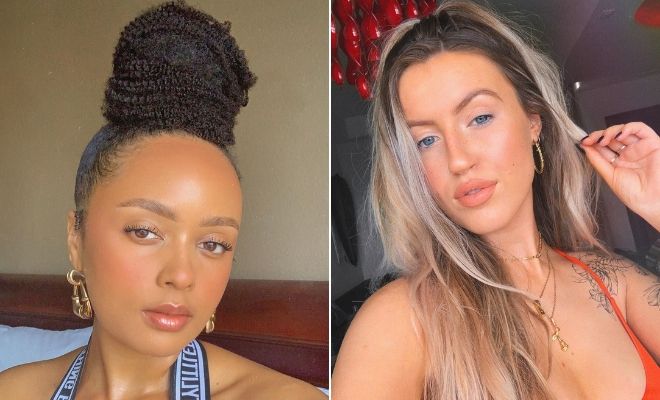 Instagram
Beauty
23 Natural Makeup Looks That Are Perfect for Summer
By
|
11. Chic and Glam Natural Makeup
Next, we have a makeup idea that uses pink shades. For this, the lips are a beautiful pink color and the eyes have pink tones too. The eye makeup is quite bold because of the colors but it still has a natural look. With makeup like this you get the best of both worlds – you can show off your makeup skills but still keep your makeup looking natural too. The products used to create this makeup were: Fenty Beauty Pro Filter Foundation, Gerard Cosmetics Brow Bar, Anastasia Beverly Hills Rich Amber Powder Bronzer and Too Faced Better Than Sex Mascara.
12. Natural Makeup Look for Blue Eyes
Our next idea is simple and beautiful. The eyes are natural except for a sweep of mascara and the lips are nude. It looks like a little bronzer has been used too, which gives the skin a glow and a sun-kissed look. Makeup like this would be perfect for the summer and it will be easy to recreate and wear too.
13. Simple and Stylish Makeup
If you have darker skin, then this is how to wear natural makeup in style! Brown eyeshadows have been used which makes her eyes stand out beautifully. The lips are left natural and her skin looks flawless. Makeup like this will keep you looking chic every day and it will suit everyone. To create this makeup look you will need: Fenty Beauty Pro Filter foundation, Too Faced Natural Eyes Palette, Anastasia Beverly Hills Sun Dipped Glow Kit, Anastasia Beverly Hills Blush Trio Cocktail Party, Benefit Cosmetics Brow Zing Medium and Gerard Cosmetics Slay All Day Spray or products like these.
14. No Makeup Makeup
Looking for no fuss makeup? Then this is for you. Her eyes only have a sweep of mascara on the lashes and glossy nude lip color has been used. The brows have been defined with a brow pencil. All you will need to recreate this look is your usual foundation, mascara and a cute lip gloss. It is perfect for busy ladies on the go that just need to look stylish fast. Any lip color can be used but try to keep it close to your natural lip shade.
15. Natural Eye Makeup + Red Lips
Want to make your lips stand out? Then try makeup like this! A subtle brown eyeshadow has been used on the eyes with a little mascara. The lips are colored in a matte pink shade while the skin is bronzed and highlighted. We love this makeup idea as the colors used really make the color of her eyes pop. Makeup like this will be perfect for the summer and vacations.
16. Easy Eye Makeup Look
Next, we have a beautiful look for the ladies with brown eyes. There is only a subtle sweep of shiny eyeshadow on the eyes, while the brows are perfectly shaped and defined.  It is a stylish and easy to wear look. You can dress this natural makeup up or down to suit any occasion and, of course, it can be worn on any skin tone and with any eye color.
17. Bold Brows and Neutral Eyes and Lips
If you love the bold brows, then this makeup idea is for you. The brows are sleek and neat like many other popular makeup looks. Her eyes feature eyeshadows in earthy brown colors and her lip color is quite subtle and natural too. It is a glam and beautiful look that is perfect for those who like to wear more makeup. You can check out a full list of the products used on the page below.
18. Glam Eyes
You can glam up your natural makeup by adding a few extra tones. This eye makeup is a beautiful example. The makeup starts light on the inner corner of the eye and it gradually gets darker towards the outer edges. A pair of natural looking eyelashes has been used to finish off the look. As you can see, the color change just jazzes up the eyes. It is gorgeous and minimal eye makeup and you can check out a tutorial on how to create the look on the page below. You can view the products used too.
19. Natural Eyes and Soft Pink Lip Color
Even though this post is all about natural makeup ideas, we couldn't help but add makeup with a little sparkle. These eyes are a light color with the subtlest silver sparkle. The lips are also colored in a soft pink shade. We love the low-key shimmer. A makeup look like this would be perfect for a night out or party.
20. Natural Summery Makeup
Our next idea is another natural look with lots of blush. For the eye makeup, beautiful neutral shades have been used, eyelashes are natural with a coat of black mascara. The neutral eyeshadow suits her skin tone and eye color perfectly. Makeup like this will give you a sun-kissed look which will be perfect for the summer.
21. Chic and Soft Makeup
Next, we have chic and stylish makeup idea to show you. A subtle rose gold shade has been used on the eyes, while the lips are a beautiful pink tone. False eyelashes have also been used, but you can just use mascara for a more natural look. Opt for these pink tones if you have blue eyes, they will make your eyes pop even more.
22. Simple Eye Makeup with Light Pink Lips
If you want to look very natural, then this is the makeup that you should try and recreate. The eyes have a dark brown eyeliner that has been smudged for a softer effect. Her brows are beautifully defined, while the cheeks have that naturally flushed look. The makeup is finished off with light lip color. It is a stunning idea and similar makeup will suit everyone.
23. Glam Natural Makeup
The last natural makeup look we have to show you is minimal but glam. Again, the eyes have matte neutral eyeshadow, while the lashes are wispy and glam. A little bronzer has been used and the lip color is super stylish. This is an easy to wear and beautiful makeup idea and it can be dressed up or down to suit any occasion.
We hope you have found the perfect natural makeup look to try!