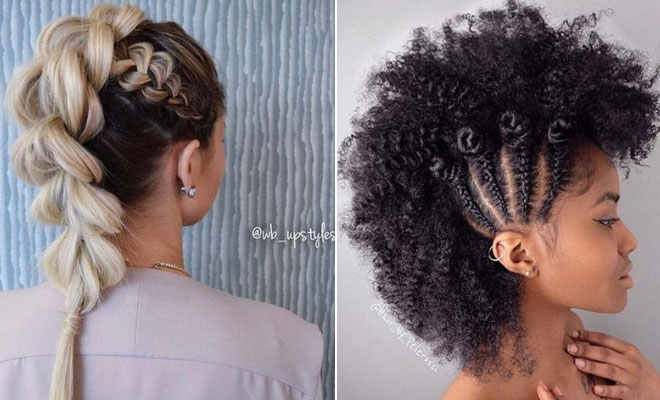 Instagram
Beauty
23 Mohawk Braid Styles That Will Get You Noticed
By
|
Mohawk braids are an edgy and cool hair trend. These hairstyles allow you to wear a mohawk without having to shave your hair, so it is not permanent and gives you the chance to try this awesome look. There are so many different ways that you can wear a mohawk braid, from big and bold styles, to subtle three stand braids. We love these hairstyles and think you will too, so we have found 23 of the best mohawk braid hair ideas on Instagram. There is something for everyone, so make sure to take a look. Any of these will let out your inner rock chick in style!
1. Braided Mohawk Hairstyle with Weave
The first hairstyle we have to show you is this long mohawk braid. For this look, the hair at the front has been styled into chunky braids which go all the way down the center of the head and into a long single braid ponytail. There are also trendy side braids too. This is a stunning hairstyle that will glam up your look. You can try a shorter single braid ponytail too.
2. Cool Frohawk Idea
Next, we have a cool and edgy frohawk style. A frohawk is a mohawk that shows off your natural, curly hair. This hairstyle is a gorgeous example. The hair has the classic mohawk look with stylish side braids and knots. This is a trendy hair idea that will suit everyone! There are tutorials online that show you how to create a similar style.
3. Braided Mohawk into a Ponytail
Our next hair idea features a mohawk with a boho vibe. The hair has a loose braid on the top and goes into a low ponytail. There is a cool side braid too. We love this hairstyle because it looks edgy and stylish. You can wear hair like this anywhere, from day to night. It would also be a great choice for bridesmaids if you were having a summer, beach or bohemian theme wedding.
4. Cool Mohawk Braid Style
Mohawk ponytails look so trendy. This mohawk style has a bold braid down the back of the head and then goes into a low ponytail. It is a stunning mohawk and it has a vintage vibe. A hairstyle like this is perfect for someone who wants a cool and edgy look. It is a great for the ladies who love vintage fashion and hair too.
5. Bantu Knots Mohawk
There are so many cool ways to create a mohawk and one of which is Bantu knots. The next hairstyle we have to show you features three large knots that are styled in line from the top of the head, to the back. There are also small braids in-between too. This is such a unique and statement making look. You can find tutorials online that show you how to create a similar style.
6. Trendy, Natural Mohawk with Hair Cuffs
You can jazz up any hairstyle with accessories and here is a gorgeous way to accessorize your mohawk. The hair is beautiful, natural and curly with a trendy design on the side. Glam hair cuffs have been added too, which finish off the look perfectly. You can recreate this style or you can add other beads and accessories.
7. Long Mohawk Braids
Looking for a glam and chic hairstyle? Then this is for you. Here we have long cornrow braids that have been styled to create a mohawk. We love this hairstyle because it gives you the best of both worlds. You get the edginess of the mohawk with the elegance of long braids too. A hairstyle like this would be perfect for any occasion.
8. Natural Hair Faux Hawk
Show off your amazing natural curls with a mohawk like this one. The hair is beautifully curly and has been swept up at the sides to create a mohawk style. You can check out a tutorial on how to create this faux hawk on the YouTube video featured below. It is a chic and stunning look and it will be great for a special event like a party.
9. Elegant, French Braid Mohawk
Speaking of hair for a special occasion, here is another mohawk that will make you look and feel glam for an event. The hair has been styled into a loose mohawk with elegant twists and a low ponytail. It also has sparkly, jeweled accessories too. A mohawk like this would be perfect for a wedding or party. You can add any type of accessories.
10. Braided Mohawk Updo
Want a bold hairstyle that will make you stand out from the crowd? Then this is for you. Here we have a stunning red mowhawk. The braid used here is large and chunky, and there are two small side twists, too. It is a mowhawk style that will wow everyone. Recreate the red look or try a similar hairstyle in a different shade.