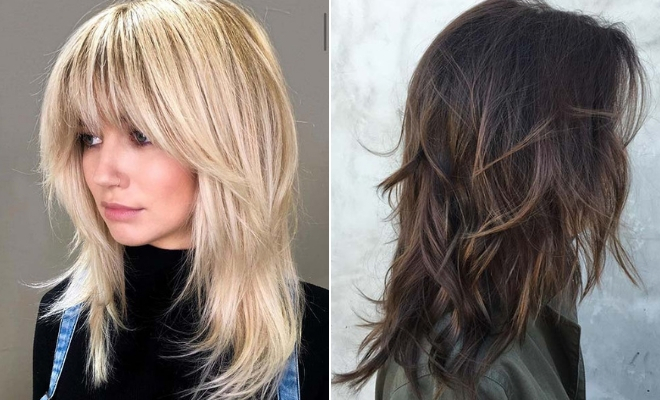 Instagram
Beauty
23 Medium Layered Hair Ideas to Copy in 2021
By
|
Has you hair been looking dull and lifeless? If so, you should consider adding layers to your hair! Layers can frame the face, create a more voluminous look and make your hair look softer and lighter. Not only that, but they look super stylish too. Today we have 23 medium layered hair ideas. Medium is a great hair length because it is not too short or too long so the hair is easy to maintain and style. Take a look and see what gorgeous hairstyles are on offer.
1. Medium Layered Hair in Blonde
First up, we have this trendy blonde style. For this look, the hair is just past the shoulders and features long layers. We love the style, the sun-kissed color and the loose waves. It is just a beautiful and easy to wear style. You can try the cut in any color but a similar blonde shade will be perfect for the summer.
2. Chic Hair with Short Layers at the Front
As with any other cut, there are different styles of layers that you can try. This next hairstyle features subtle layers. So, as you can see, the hair is medium length with the shortest layers at the front. Short layers at the front will frame the face beautifully and give the hair some shape. This is a chic and gorgeous way to layers and this cut will suit everyone.
3. Choppy Layered Medium Hair
If you want your layers to make more of a statement, this is perfect for you. Here we have choppy medium length hair. As you can see, the layers are quite short and textured so they are bolder than the ones above. This is a cute haircut and the beachy waves are great for the spring and summer. If you have straight hair, then you can still add texture to the layers without the waves.
4. Burgundy Layered Hair Idea
Next, we have a trendy cut and color to show you. The hair is a little shorter here and the length just hits the shoulders. Again, the layers are quite long but they do make a difference to the hair. The whole cut is finished off with a rich and dark burgundy. It is a stunning color and it really jazzes up the simple cut. Burgundy is a great color for the fall and winter.
5. Edgy and Textured Hair
Give your hair a little edge by choosing a style like this. The hair has a length that just hits the shoulder but if the hair was straight, it would be a little longer. These layers are quite long and the hair is styled into textured waves. The waves look so trendy and they will look differently depending on you wear them. One day the hair could have a boho vibe and one day have rock chic look. So, this style will suit everyone.
6. Beautiful Blonde Hair with Layers
The next hair idea is classy, chic and elegant. For this look, the hair is medium length and the layers are different lengths. We love this because it makes the hair look lightweight and full of volume. Hair like this is so easy to wear and it will suit women of all ages. It will look amazing in any hair color.
7. Cute Layered Haircut with Bangs
This haircut is one of our favorites and really want to try it! Here we have medium length layered hair. Straight across bangs have also been added to the hair. We love the bangs because they look so pretty and cute. The whole style also has a 70's vibe. This is a really stylish look and it is another style that will be perfect for the summer.
8. Stylish Ombre Shag Haircut
Speaking of the 70's, this next hair is inspired by that decade too. This hairstyle is a trendy shag cut. The style was very popular and had a rock'n'roll vibe. Here is a modern version. The style has the classic layered cut but with stylish ombre color. This is a fun hairstyle that will make a statement.
9. Easy to Wear Layered Hair with Highlights
Next, we have another stylish and easy to wear cut. For this look, the hair hits the shoulder and it has long and subtle layers. The whole style is finished off with summery highlights. It is a beautiful hair idea and it will really give your hair a makeover. Recreate this or you can opt for shorter layers.
10. Medium Layered Hair with Lots of Layers
If you like the waved look, then check this out. The longest layers of the hair hit the shoulders while the shortest look is about cheek length at the front. All of the hair is styled into textured waves. This is a pretty and cute style. You can try a similar cut, style and color or try the layers with straight hair in a color of your choice.